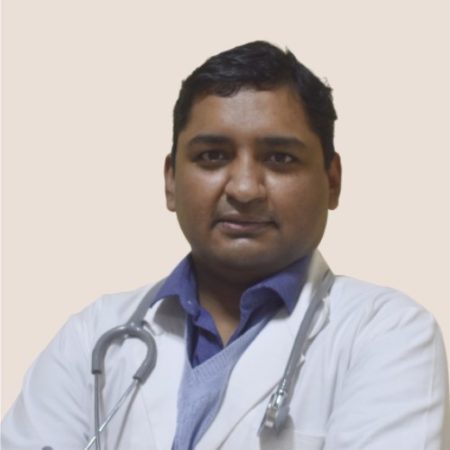 Dr. Abhijeet Singh
Consultant, Pulmonary Medicine
Dr. Abhijeet Singh is a qualified pulmonologist who has devoted 10 years of his experience in treating critically ill patients with respiratory diseases and sleep disorders. He has major contributions in the field of Pulmonology and Sleep Medicine and holds membership with various organizations.
His areas of expertise includes treatment of lung disorders, pulmonary vascular disorders and sleep disorders.
Degree:
MBBS, Government Medical College and Hospital, Nagpur, Maharashtra University of Health Sciences, Nasik (2005)
MD – Tuberculosis & respiratory diseases (TBRD)/Pulmonary Medicine, C. S. M. Medical University, Lucknow (2011)
DNB – Tuberculosis & respiratory, Post MD (2014)
DM (Pulmonary & Critical care medicine), VMMC & Safdarjung Hospital, New Delhi / Guru Gobind Singh Indraprastha University, Dwarka, Delhi (2017)
Experience: 10 years
Specialized training:

Medical ICU including laryngoscopic/bronchoscopic intubation, central venous line, arterial line, pulmonary artery catheter and hemodialysis catheter insertions, percutaneous tracheostomy, bedside
echocardiography and lung ultrasound in critically ill patients, mechanical ventilation including APRV and HFOV, non-invasive cardiac output monitoring, assisted in IABP placement
• Diagnostic intervention – Fibreoptic bronchoscopy, rigid and semi-rigid medical thoracoscopy, linear EBUS, EUS-B, radial EBUS, Cryobiopsy
• Therapeutic interventional pulmonology – rigid bronchoscopy, stent insertion, balloon bronchoplasty, endobronchial cautery, snare resection, Bronchial thermoplasty
• Pulmonary function testing
• Polysomnography with positive airway pressure titration
• Smoking cessation clinic
• Cardio-pulmonary rehabilitation
• Allergy testing and immunotherapy
OPD Timings:

Pulmonary & Critical Care team available from
Monday- Saturday: 10:00 am to 1:00 pm
Consultation Fees: First visit- Rs. 2000/-
Follow up visit- Rs. 2000/-
Recent Reviews
Patient reviews for Dr Abhijeet Singh
Dr. Abhijeet Singh Overall rating: ☆☆☆☆☆ 0 based on 0 reviews.
Anonymous