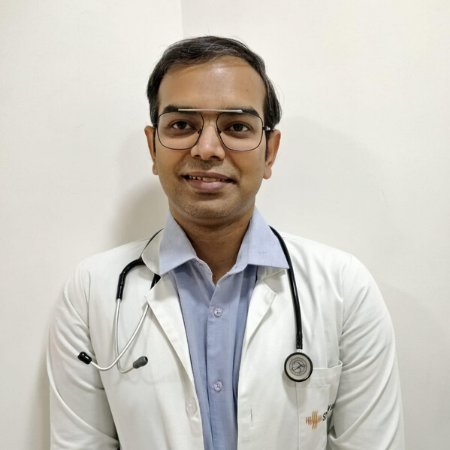 Dr. Abhishek Chatterjee
Consultant, Pediatrics
Dr Abhishek Chatterjee is a pediatric consultant who strives to provide the best care for children under his care. He can treat conditions like childhood infections, immunizations, allergy and asthma and growth and development related problems. He also has experience in Pediatric Intensive Care and Pediatric Cardiology.
Degree: MBBS, Government Medical College, Aurangabad (2010), MD (Pediatrics), Post Graduate Institute of Medical Education and Research (PGIMER) & Dr. Ram Manohar Lohia Hospital- Guru Gobind Singh Indraprastha University, Delhi (2015), Post Graduate program in Pediatric Nutrition, Boston, USA (2020)
Experience: 5 years
Key skills:

Echocardiography
Neonatal Advanced Life Support (NALS) and Pediatric Advanced Life Support (PALS)
Pericardiocentesis
For appointments please call us on 011 4211 1111.
OPD Timings:
Wednesday: 4:00 pm – 7:00 pm
Friday: 4:00 pm – 7:00 pm
Consultation Fees:
Rs 1100
24x7 Pediatric Support Available for Emergencies
Feel free to walk into our emergency anytime to get assisted by a qualified pediatrician round the clock.
Health Related Quality of Life in Children and caregiver with controlled and uncontrolled Asthma. Indian Pediatrics. Mar 2018
Primitive neuroectodermal tumor presenting with superior vena cava syndrome. Journal of association of chest physician. Vol 2. Issue 2. 2014
12 week old male baby with severe thrombocytopenia: Rare complication of Ebstein Barr virus infection. Journal of communicable diseases. Vol 4&5: 2013
Rupture of sinus of valsalva aneurysm: earliest presentation in association with ventricular septal defect and aortic regurgitation- journal of pediatric sciences. DOI: http://dx.doi.org/10.17334/jps.89271.
Atypical arthritis revisited Acute rheumatic fever, Ann Pediatr Cardiol 2016 May-Aug;9(2):164-6.
Factors determining constrictive pericarditis in patients with pericardial effusion at initial presentation. under review in Annals of Pediatric cardiology
Awarded Runners up Certificate of Merit in 8th IAP Quiz in Local & Divisional Round
Tips for Parenting and Child Care
Dengue symptoms in babies in Hindi |0-1 years|
Recent Reviews
Patient reviews for Dr Abhishek
Dr Abhishek Chatterjee Overall rating: ★★★★★ 5 based on 2 reviews.
Anonymous
Excellent services
★★★★★
"
Dr. Abhishek has been our sole contact for paediatric consultation and vaccination of our daughter since her birth. He is quite knowledgeable and approachable. We are satisfied with his services and would recommend him to others as well.
"
Dr Abhishek Chaterjee
★★★★★
"
He is a good doctor. Very accessible. Understand ing and humble. We are very satisfied with his consultation.
"