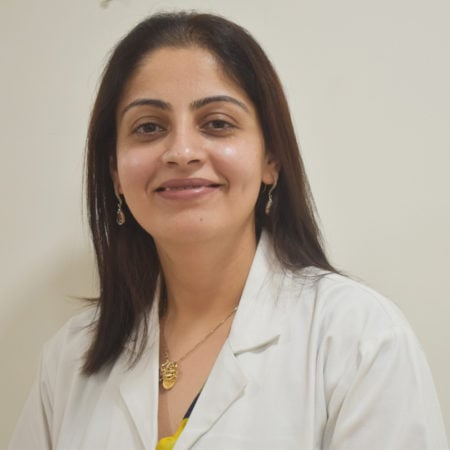 Dr. Amieleena Chhabra
Consultant, Pediatric Rheumatologist
Dr Amieleena Chhabra is an experienced  Pediatric Rheumatologist & Immunologist. She is an expert in treating children with swelling and pain in joints (Juvenile Idiopathic Arthritis), connective tissue diseases like Systemic Lupus Erythematosus, Vasculitis like Kawasaki & Takayasu Disease, inflammatory muscle disease, periodic and recurrent fevers with rashes, immunodeficiencies, gait disturbances to name a few of  autoimmune, autoinflammatory and immunodeficiencies in children.
Degree: MBBS, Krishna Institute of Medical Sciences.Karad, Maharashtra; MD Pediatrics, Himalayan Institute of Medical Sciences, Dehradun; Training in Pediatric Rheumatology & Immunology, PGI Chandigarh; Pediatric Rheumatology Fellowship,(RCPSC) BC Children's Hospital, University of British Columbia, Canada & EULAR Autoinflammatory Disease Fellowship, Boston Children's Hospital (Harvard Medical School) USA & Hospital for Sick Kids, University Of Toronto, Canada
Experience: 8 years
Keen interest and expertise in:

Children with arthritis
Connective tissue disorders
Inflammatory muscle diseases
Gait disturbances
Periodic fevers and autoinflammatory diseases
For appointments please call on 011 4211 1111.
FAQs about Pediatric Rheumatology
OPD Timings:
Friday: 4:00 pm – 6:00 pm
Consultation Fees: Rs 1600
What does a Pediatric Rheumatologist do?
A Pediatric Rheumatologist assesses and treats children with immune defects, painful and swollen joints and back pain. Conditions like juvenile idiopathic arthritis, rashes, recurrent and periodic fevers, systemic lupus erythematosus and other connective tissue disorders, inflammation of blood vessels causing vasculitis like Kawasaki disease & Takayasu diseases, inflammatory muscle diseases, gait disturbances.
If you notice painful joints, difficulty in walking, limp, backaches, recurrent fevers, recurrent stomachaches, recurrent breathing difficulties, periodic fevers, rash, recurrent sore throats, redness of eyes, low immunity in your child consult a pediatric rheumatologist.
What are the procedures offered by a Pediatric Rheumatologist?
Intraarticular medication injections for swollen and painful joints to get immediate relief from pain and swelling.
Skin biopsies -punch biopsies for confirming vasculitis, HSP and other rheumatic skin conditions.
Kidney biopsies for staging and planning treatment of kidney diseases in systemic lupus erythematosus, vasculitis, HSP, and other connective tissue diseases.
Bone marrow Biopsies for confirming Macrophage Activation syndromes and ruling out other conditions prior to therapy.
Chhabra A, Oen K, Huber AM, Shiff NJ, Boire G, Benseler SM, et al;ReACCh-Out Investigators. Real-World Effectiveness of Common Treatment Strategies for Juvenile Idiopathic Arthritis: Results from a Canadian Cohort. Arthritis Care Res (Hoboken). 2019 May 10. doi:10.1002/acr.23922. [Epub ahead of print]
Chhabra A, Lam JM, Rhemus W. Tongue Involvement in Parry-Romberg Syndrome. J.Rheumatol. 2017 Sep;44(9):1412.
Chhabra A, Huber AM ,Shiff N, Boire G,Oen K,Guzam J on behalf of the ReACCh-Out Investigators-Effectiveness of common treatment Strategies for Juvenile Arthritis in  Usual Practice: Results from the Research in Arthritis in Canadian Children emphasizing outcomes cohort .Arthritis Rheumatol 2017;69
Member of Childhood Arthritis & Rheumatology Research Association (CARRA), USA and Canadian association of pediatric rheumatology investigators (CAPRI) Canada and actively involved in clinical and transitional research for better treatment strategies and management of children with rheumatic diseases.
Distinction in pathology, microbiology and pharmacology in university exam in MBBS
Best oral presentation – Blistering Lesion in a Teen with SLE, Canadian Rheumatology Association Conference 2018
Final year MBBS ranked 6th in a batch of 120 students
2nd prize in poster presentation in Pedicon Uttarakhand Conference 2011
2nd prize in the paper in Pedicon Uttrakhand Conference 2010
Participated in IAP Quiz state level at Agra – September 2010
1st rank in Pediatric Residency exit exams.
Tips for Parenting and Child Care
Dengue symptoms in babies in Hindi |0-1 years|
Recent Reviews
Patient reviews for Dr Amieleena
Dr. Amieleena Chhabra | Pediatric Rheumatologist Overall rating: ☆☆☆☆☆ 0 based on 0 reviews.
Anonymous