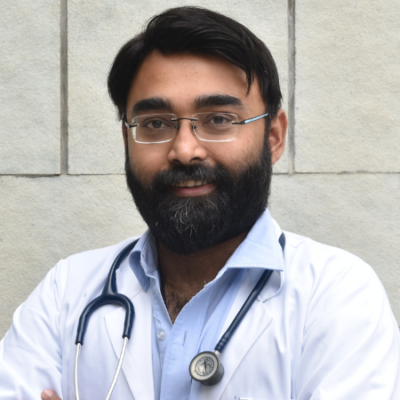 Dr. Kushagra Gupta
Pediatric Intensivist
Dr. Kushagra Gupta I Pediatric Intensivist
Dr. Kushagra Gupta is a Pediatric Intensivist, leading PICU services at Sitaram Bhartia. Other than being an exemplary clinician in terms of prompt diagnosis and effective management of a plethora of life threatening conditions, Dr. Kushagra also has stupendous leadership qualities and prompt decision making, which are critical in this field. His areas of expertise include mechanical ventilation (both invasive and non invasive), along with management of pediatric infections and respiratory ailments. His contributions to this field of pediatric critical care have been honoured with a gold medal during his fellowship days.
Degree: MBBS (2007-2013) K. J. Somaiya Medical College & Research Centre, SION, Mumbai; MD Pediatrics (2017) S.B.K.S. MI & RC, Vadodara; IFPCCM (2019) gold medalist in Pediatric Critical Care, B.J. Wadia Hospital for Children, Mumbai.
Experience: 4 years
Specializations include:
Pediatric Infectious Diseases
Pediatric Asthma and Allergies
Point of care Ultrasound and Intensive Monitoring
Quality Improvement
OPD Timings
Monday- Saturday: 1:00 pm to 4:30 pm
Consultation Fees
Rs. 1100
Henoch-SchonleinPurpura with sickle cell disease- A rare presentation
A study to evaluate risk of mortality patients admitted to PICU using PRISM score at a rural tertiary hospital
Oral Papers:
Neonatal Respiratory distress syndrome with bubble CPAP – NEOCON 2015
A descriptive study of cardiogenic shock in a tertiary care pediatric intensive care unit – PEDICON 2019
Outcome of central venous catheter in pediatric intensive care unit – PEDICON 2019
Dr. Kushagra Gupta Overall rating: ☆☆☆☆☆ 0 based on 0 reviews.
Anonymous