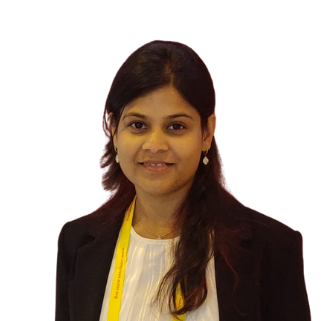 Dr. Nupoor Acharya
Rheumatology
Dr Nupoor Acharya has a keen interest in treating conditions related to immune system and treats every patient in a calm and compassionate manner.
Degree: MBBS, Mahatma Gandhi Memorial Medical College, Indore; MD (Medicine), Dr. Ram Manohar Lohia Hospital, Delhi; DM (Clinical Immunology & Rheumatology) Post Graduate Institute of Medical Education and Research, Chandigarh.
OPD Timings:
Tuesday & Thursday: 2:30 pm to 4:30 pm

Consultation Fees: ₹1000
For appointments please call us on 011 4211 1111.
Acharya, N., Sharma, S.K., Mishra, D. et al. Efficacy and safety of pirfenidone in systemic sclerosis-related interstitial lung disease—a randomised controlled trial. Rheumatol Int 40, 703–710 (2020).
Acharya N, Dhooria A, Jha S, Sharma A. Hemorrhagic Myositis: Fatal Presentation of a Common Muscle Disease. J Clin Rheumatol Pract Rep Rheum Musculoskelet Dis. 2018 Dec 21; doi: 10.1097/RHU.0000000000000978.
Acharya N, Chattopadhyay A, Sharma K, Sharma A.  Splenic granulomas: a rare manifestation of Mycobacterium avium complex in an immunocompetent host. Case Reports 2018;2018:bcr-2018-225788
Acharya N, Chattopadhyay A, Dhir V. 'DESIRABLE' or not? Annals of the Rheumatic Diseases Published Online First: 06 September 2019. doi: 10.1136/annrheumdis-2019-216236
Acharya, Nupoor MD; Chattopadhyay, Arghya MD; Jain, Sanjay DM Rhupus With Pyoderma Gangrenosum Treated With Immunosuppression and Skin Grafting, JCR: Journal of Clinical Rheumatology: January 29, 2020 – Volume Publish Ahead of Print – Issue – doi: 10.1097/RHU.0000000000001341
Acharya N. Glucocorticoid withdrawal in lupus – to do or not to do?Annals of the Rheumatic Diseases Published Online First: 10 March 2020. doi: 10.1136/annrheumdis-2020-217261
Chattopadhyay A, Acharya N, Mishra D, et al. 'MAINRITSAN2-the future', with some doubts! Ann Rheum Dis 2018: annrheumdis-2018-214486.doi:10.1136/annrheumdis-2018-214486
Sharma A, Naidu GSRSNK, Chattopadhyay A, Acharya N, Jha S, Jain S. Novel CECR1 gene mutations causing deficiency of adenosine deaminase 2, mimicking antiphospholipid syndrome. Rheumatol Oxf Engl. 2019 Jan 1;58(1):181–2.
Kumar P, Sinha N, Negi M, Tonk RS, Acharya N. ANCA-Negative Pauci Immune Crescentic Glomerulonephritis Presenting as Pyrexia of Unknown Origin. JIACM 2017; 18(2): 118-20.
Kumar P, Sinha N, Kaur G, Tonk RS, Acharya N. Nocardia  and  Pseudomonas  co-infection  complicating allergic  bronchopulmonary  aspergillosis. JIACM 2016; 17(4):324-26.
| | |
| --- | --- |
| | Winner EULAR travel bursary |
| | IRA travel grant |
| | TYSA (Torrent) Rheumatology |
| | Poster Presentation- 1st Prize IRA in 1st Vasculitis Symposium, PGIMER |
Recent Reviews
Patient reviews for Dr. Nupoor
Dr Nupoor Acharya | Rheumatologist Overall rating: ☆☆☆☆☆ 0 based on 0 reviews.
Anonymous