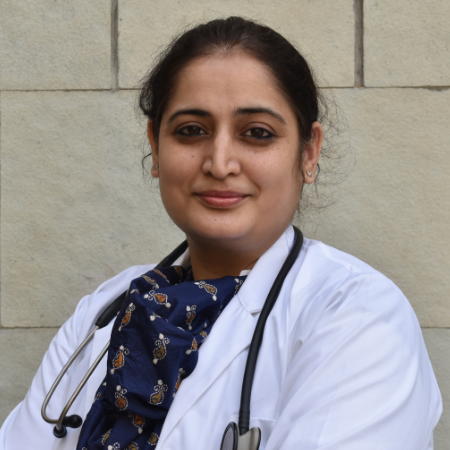 Dr. Panchampreet Kaur
Obstetrician – Gynecologist
A gynaecologist and an obstetrician with 13 + years of rich experience, well rounded professional who has worked with stalwarts in the field. After pursuing post-graduation from the prestigious Army Hospital (Research and Referral) Delhi Cantt, the premier institute of Armed forces of India, she completed her DNB following which she did her senior residency from VMMC and Safdarjung Hospital, New Delhi. She has successfully completed certified training in  Gynecologic oncology from Tata Memorial Hospital Mumbai and has done fellowship in laparoscopy under Dr. Vivek Marwah from Max institute of MAMBS, New Delhi. Having worked at many reputed hospitals of the country including Sir Ganga Ram Hospital and a brief stint at Fernandez Hospital, Hyderabad, she is on her journey to create a positive impact in women health and wellbeing. Dr. Kaur is an academician, an avid reader with national and international paper presentations, publications and book chapters to her credit and has also received young surgeon scholarship by Vattikuti Foundation, USA to attend Robotic surgeon Council meet in Goa in 2017.
Degree: MBBS, Govt. Medical College and Rajindra Hospital, Punjab (2005), DGO, Army Hospital Research & Referral, Delhi (2010), DNB, National Board of Examinations (NBE) (2012), MRCOG (Part One), Royal College of Obstetricians and Gynaecologists, London (2016), MNAMS: Member of National Academy of Medical Sciences (2018) Ultrasound training in Obstetrics and Gynaecology from ISUOG, United Kingdom (2021)
Experience: 13+ years
OPD Timings:
Monday: 04:00 pm – 07:00 pm
Wednesday: 01:00 pm – 04:00 pm
Thursday: 09:00 am – 04:00 pm
Saturday: 02:00 pm – 06:00 pm
Consultation Fees: ₹ 1100
For appointments please call us on 011 4211 1111.
Research and Publications
Original Research Article: "Office endometrial sampling: a comparison between Endosampler and Karman cannula number 4" published in International Journal of Reproduction, Contraception, Obstetrics and Gynecology. Int J Reprod Contracept Obstet Gynecol. 2018 Oct;7(10):3965-3968
Original Research Article: "Role of transvaginal sonography in preiduction cervical assessment. Is it helpful?" in International Journal of Contemporary Medical Research 2017; 4(7):1549-54
Original Research Article: "Menopause: But Where's the Pause?" published in 'Obstetrics and gynaecology International Journal' Obstet Gynecol Int J 3(3): 00080. DOI: 10.15406/ogij.2015.03.00080
Journal Scan in quarterly newsletter March 2019 issue of Asia Oceania research organisation on Genital Infections and Neoplasia, India.
Author of chapter on "Abnormal Vaginal Discharge" in Obstetrics and Gynaecology: a case based approach by Indrani Ganguli and Harsha Khullar ©Tree Life Media: 2015: ISBN-10:9383989106
Author of chapter on "Early Pregnancy Problems" in Obstetrics and Gynaecology: a case based approach by Indrani Ganguli and Harsha Khullar ©Tree Life Media: 2015: ISBN-10:9383989106
1st position (Silver Medal) in Obstetrics and Gynecology during under graduation
1st position (Silver Medal) in Preventive and Social Medicine
2nd position (Bronze Medal) in Ophthalmology
2nd position (Bronze medal) in Final year part – I MBBS
Stood 5th in Delhi University in Post Graduate Final examinations in Obstetrics and
Gynecology
Best paper prize in Fetal Medicine national conference at AIIMS, New Delhi
Best paper prize at YUKTI- FOGSI annual conference held in Hyderabad in 2012
Appreciation award in poster presentation in AOGD annual conference, 2020
Check out our Obstetrics & Gynecology Content Library
Educational Videos
A Glimpse At The Growing Cesarean Section Rates In India
Dr. Panchampreet Kaur Overall rating: ★★★★★ 5 based on 1 reviews.
Anonymous
Dr. Pancham Preet Kaur
★★★★★
" Dr. Pancham is a brilliant doctor. She is always all out to help. She is warm and caring and treats everyone with respect. Goes without saying that she is excellent at her work. Thank you Dr. Pancham."
- Ruchi Singhal