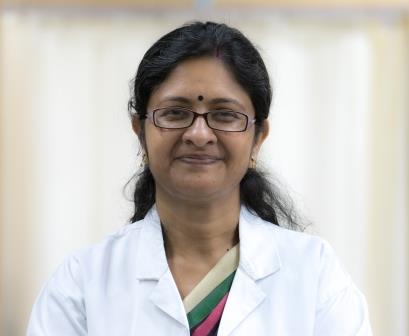 Dr. Rinku Sengupta
Obstetrician-Gynaecologist
Dr. Rinku Sengupta Dhar is a Senior Consultant Obstetrician – Gynecologist who has played a leading role in helping reduce caesarean section rates in our unit.
She has strong interests in:
Natural Childbirth
Vaginal Birth After Caesarean (VBAC)
Normal Delivery for Twins
Minimally-invasive surgery (key-hole surgery)
Vaginal gynaecological surgeries
Degree: MBBS, Lady Hardinge Medical College, University of Delhi (1991); MD, Obstetrics & Gynaecology, University College of Medical Sciences, University of Delhi (1997)
Medical Specialty: Obstetrics & Gynaecology

Experience: 22 Years
★★★★★

based on

19

reviews

Overall rating:
OPD Timings:
Monday: 9:30 a.m. – 4:00 p.m.
Thursday: 9:30 a.m. – 4:00 p.m.
Saturday: 9:00 a.m. – 1:00 p.m.
Consultation Fees
₹1000
Check Out Dr. Rinku's Patient Education Library
Recent Reviews
Patient reviews for Dr. Rinku Sengupta
Best hospital and gynae
★★★★★
"
Dr Rinku Senguta is just amazing. She is very good and supportive. She guided me during my first pregnancy and I delivered my daughter through normal delivery. Thanks Dr Rinku Senguta for all your support and guidance.
"
★★★★★
"
Rinku sen Gupta is a excellent doctor.she is very cooperative.
"
My Doctor Rinku Sengupta
★★★★★
"
Unforgettable, my experience with Dr Rinku Sengupta . My child is 11 years now, still I remember her with gratitude for her excellent guidance, kindness and support to me during that toughest phase in my life.
"
specialization of Dr. Rinku Sengupta
★★★★★
"
An excellent Doctor with excellent specialization in her field.
"
Big Thanks to Dr.Rinku SenGupta
★★★★★
"
A very very big thanks to Dr.Rinku,as she is the wonderful Gynae. I was expecting in year 2014 2015 and due to.ny short height i was worried about the normal delivery and bczz of Dr. RINKU's guidance she made possible for me.. She had made it by giving a normal delivery with all the impossibilities to YES.. I am.a proud n happy mother of 2yrs old son Ridaan.. Mam thank u so much i always says to u whenver i hear anybdys scary delivery history..i am proud to be under your assistance.. Women is in safe hands if it is You Dr. RINKU Sen Gupta.. Thanks Regards Namita Anand Gupta Delivery date 7th march 2015 Sitaram Bhartiya institute Delhi.
"
SRB n Dr.Rinkoo: The Best
★★★★★
"
Well,my association with SRB started from 2013 under the able guidance of Dr.Rinkoo Sengupta Dhar! From being a no non-sense, extremely calm, competent beyond words and the positive vibes that she throws in her own silent manner was enough to make her my personal favourite. Living up to her specialisation of Normal Delivery, my first born arrived in this world "normally" on 24th January 2014! It hardly took me a second thought when I had again conceived where to head to! My second born under Dr. Rinkoo's supervision arrived on 12th June 2017"normally"! The only difference, a positive one is in the first one it was one competent pair of hands and in the second visit under the concept of " Group Practice " of SRB the able team was a happy mix of Dr. Anita, Dr. Priya, Dr. Nibedita and more!! So, I was exposed to many caring minds this time round which boosted up my entire phase of pregnancy with ease and confidence. The labour was only 7 hours this time (thanks to the antenna workshops that Dr.Rinkoo urges her patients to attend ) compared to the insane 13 hours with my first born!! Also, the add on teams of Dietician to everyone else is accessible beyond works! Help desk Sarita and Priya along with Dietician Umang Jain needs Soecial mention here !! All in all a v happy experience with SRB!! Thank you!
"
★★★★★
"
I heard about Dr. Rinku through a friend. I had a normal delivery and can't thank Dr. Rinku enough for all the guidance and support she provided during my pregnancy. I would definitely recommend her to all my friends and family.
"
Thanks to Dr. Sen
★★★★★
"
I had a normal delivery in October​2016 nd all the credit goes to Dr. Rinku Sen Thanks a lot ma'am
"
The Best
★★★★★
"
She is simply the best!!
"
Awesome and a Trust worthy Doctor
★★★★★
"
My daughter was born in September 2012 and I own 100% credit to Dr. Rinku was helping me have a vaginal delivery. After the horrible labor pain for more than 24 hours, both me and my family gave up on vaginal birth and gave her a heads up for Cesarean. But it was only Dr. Rinku who wasn't ready for it. She kept insisting that if all the parameters of baby and mother are normal then why should Cesarean be performed. I feel privileged to have had associated with Dr. Rinku for my child's birth.
"
She is best doctor
★★★★★
"
My son was born in May'16. It was a normal delivery and it was only due to her constant support and instructions which we should follow as a patient. I was always motivated with her words. I recommend everyone to go to this hospital. Its one of the best hospital and it has a very good team management. Dr. Rinku and Dr. Anita helped me to go for normal delivery. It was a long struggle of about 12 hours but the doctors didnt loose patience. I am very thankful to entire team and specially to Dr Rinku for such support. Thank you Mam.
"
Perfectionist
★★★★★
"
My daughter was born in Feb'13. It was a normal delivery due to the persistent efforts of Dr. Rinku & her team for 18 hrs. Such dedication & professionalism is rare in this world.
"
★★★★★
"
My daughter was born in 2013. I am really thankful to Dr. Rinku for her support and guidance throughout my pregnancy. She is a thorough professional and a wonderful human being!
"
★★★★★
"
The best!! Normal Delivery of my son on January 2014!! Can't Thank her enough for the same!
"
★★★★★
"
My daughter was born by normal delivery last year. Thanks to dr. Rinku for the way she handled my case and encouraged me in my most stressful and crucial time of life. I am indebted to her for all her efforts and genuine care and concern.
"
★★★★★
"
Both my daughters were delivered by Dr Rinku.I don't have enough words to express the care she took in both the deliveries.I will always be grateful to her for life.Dr Rinku and her team are the best!
"
Lifetime Experience
★★★★★
"
We will like this opportunity to express our gratitude towards Dr. Rinku, Dr. Lata and the complete team for providing us with a lifetime experience in the past 5 months. The whole team was extremely motivated and cooperative in making sure that we are provided the best consultation. My wife was suffering from gestational diabetes, inspite of that Dr. RInku made us believe that normal delivery is a possibility. Efforts of the whole team paid off and we were gifted a son through normal delivery on 12th Sep'16. In todays time when every hospital is leaves no possibility untouched for minting money, Sitaram Bhartia is a true exception. We now recommend Sitaram Bhartia to everyone. A heartfelt Thank you to the complete team for everything !!
"
great experience!
★★★★★
"
Recently I took my niece for delivery to SBISR and had a lifetime experience. The whole system is devoted and dedicated for comfort and compassionate care . The smiling face of doctors, nurses and ancillary staff allays the anxiety of labour.
"
Awesome treatment to patients
★★★★☆
"
For first time moms , this is the best hospital. All the staff were friendly, helping and too caring. Nevr felt like dis with a hospital
"