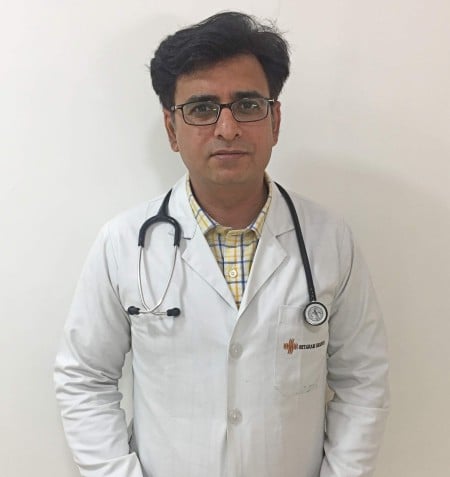 Dr. Vikas Verma
Attending Consultant, Pediatrics
Dr Vikas Verma has wide experience in newborns and children. He has been a guide for training 'NALS' course since 2014 and is actively involved in lectures, clinical rounds, clinical cases. He has organized many successful updates for pediatricians and general practitioners. He took active part in various camps organized by hospital for the community and schools.
Degree: MBBS, M.L.B Medical College, Jhansi (2001); MD Pediatrics, S.N. Medical College , Agra (2009);
Experience: 9 years
Key skills:
Advance neonatal and pediatric resuscitation
Pediatric & neonatal invasive as well as non invasive ventilation
Inserting central and peripheral venous catheters

Exchange transfusions, lumbar punctures, bone marrow aspirations, kidney & liver biopsies etc
Timings:
Monday: 11:00 am to 4:00 pm
Wednesday: 6:30 pm to 9:00 pm
Friday: 6:30 pm to 9:00 pm
Consultation Fees:
Rs 700
24x7 Pediatric Support Available for Emergencies
Feel free to walk into our emergency anytime to get assisted by a qualified pediatrician round the clock. Call us at 011 – 42111197.
Diagnostic Value Of Interferon Gamma Release Assay QuantiFERON-TB Gold In Tube in Childhood Tuberculosis, IJP 2010
'Excellence in Pediatrics' 2017 award by NIER
Tips for Parenting and Child Care
Dengue symptoms in babies in Hindi |0-1 years|
Recent Reviews
Patient reviews for Dr Vikas
Dr Vikas Verma Overall rating: ★★★★★ 5 based on 1 reviews.
Anonymous
Balanced approach
★★★★★
"
Excellent diagnosis and treatment done by Dr. Verma, my daughter was suffering Acute Bronchial asthma and admitted in Emergency under his observation. Her condition was critical but Dr. Verma and his team (Subordinate and seniors) did not leave the hope and continued their best. Finally, she recovered and doing well. Thanks to Dr. Verma and Sita Ram Bhartia hospital. .
"