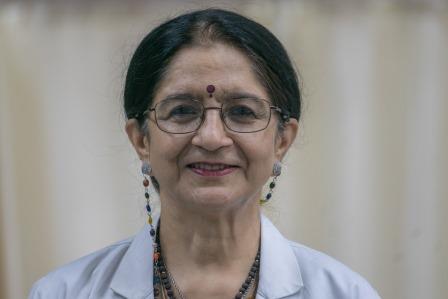 Dr. Poonam Chandra
Cytopathology
Degree: MBBS, All India Institute of Medical Sciences – AIIMS (1975); Certificate in Anatomic and Clinical Pathology from the American Board of Pathology (1982)
Experience: 34 Years
OPD Timings
Monday: 11:30 a.m. – 12:30 p.m.
Tuesday: 11:00 a.m. – 12:00 p.m.
Thursday: 11:30 a.m. – 12:30 p.m.
Friday: 11:30 a.m. – 12:30 p.m.
Recent Reviews
Patient reviews for Dr. Poonam Chandra
★★★★★

based on

1

reviews.

Overall rating:
Biopsy
★★★★★
"
I consulted Dr. Chandra for biopsy for breast tumor. Since, my mother had 4th stage of cancer in breast and kidney, I was very worried about the result. She explained me the possibility and made me feel relaxed before she can take the sample. Time is money for most professionals, I really thank her and team for taking time out to explain the procedure and chances.
"