The Emergency Care Services at Sitaram Bhartia Institute of Science and Research offer 24/7 critical care, qualified clinicians present at all times in the hospital premises, and upgraded ambulance services for patients seeking emergent help. Our state-of-the-art life support facilities have been designed to provide timely and effective first aid to adults and children alike.
Our Emergency team believes in fast response where it matters the most. We comprise of a team of trained professionals proficient in Advanced Life Support (ALS) and Neonatal Advanced Life Support (NALS).
Call Pick Up
within 3 rings
Ambulance Arrival
within 30 minutes
Assistance At Hospital
within 3 minutes
Avail our 24-hour Critical Care services such as:
Neonatal Intensive Care Unit (NICU)
Our Neonatology team specializes in the treatment and diagnosis of critical conditions in newborn or premature babies. We are equipped with a state-of-the-art NICU that deals with emergency cases in a timely fashion and provides tertiary newborn care services such as:
Newborn Resuscitation
Intensive care
Ventilation (Invasive & Non-Invasive)
Feeding and parenteral nutrition
Functional Echocardiography
Phototherapy & Exchange transfusion
Neonatal surgeries
Retrieval of sick newborns (Well-equipped ambulance/ Trained retrieval team)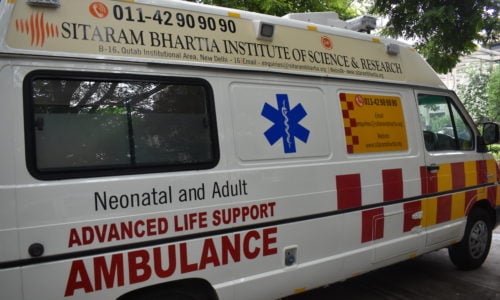 Pediatric Intensive Care Unit (PICU)
Our PICU is established to provide well-rounded care to children of all ages (infancy to adolescence) brought in as critical or emergency cases. We offer a wide array of specialized services and advanced procedures that are designed to provide the best treatment and care:
Pediatric mechanical ventilation including Non-invasive ventilation (NIV) excluding high-frequency mode of ventilation
Non-invasive and invasive hemodynamic monitoring

Pediatric fibre-optic bronchoscopy

Pediatric hemodialysis and peritoneal dialysis

Pediatric upper and lower GI endoscopy

Pediatric echocardiography

Minor surgical procedures
Intensive Care Unit (ICU)
At Sitaram Bhartia, our Intensive Care Unit consists of a team of well-trained nurses, skilled clinicians and anesthesiologists who are present on-site 24×7 for patients brought in as critically-ill or high-risk emergency cases. We cater to their intensive monitoring and management needs.
Labour & Delivery Room (LDR)
Our highly competent Obstestrics team works in tandem with a group of skilled professionals that include full-time anesthesiologists, pediatricians, and trusted nurses who are present on the floor at all times. Our OT (Operation Theatre), accessible blood storage facilities and nursery are well-equipped to handle normal and high-risk obstetrics cases alike. Some common conditions we treat include:
Ectopic pregnancy
Rupture
High BP during pregnancy
Bleeding during pregnancy or after delivery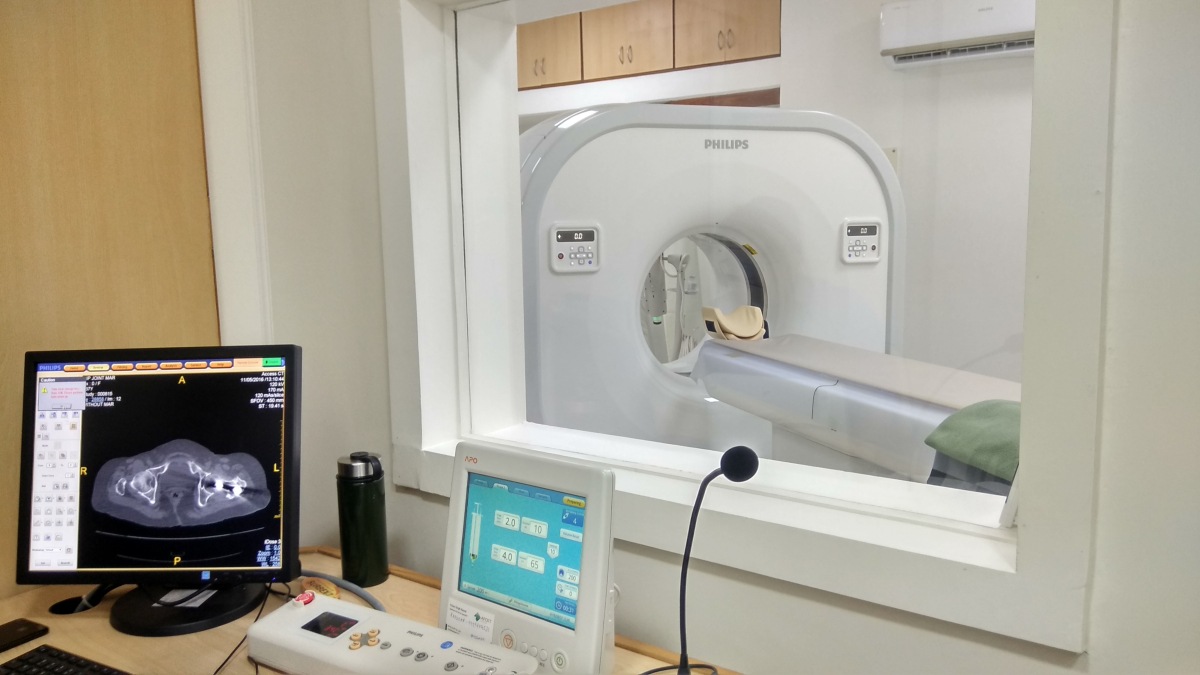 We have a fully functional CT scan facility present within the hospital premises that gives us a more detailed look at your body than a simple X-ray would be able to provide. This allows our clinicians to evaluate and treat your emergent needs holistically and without delay.
Our Blood Storage Center, as approved by the Drugs Control Department, Govt. of NCT of Delhi, is functional at all hours of the day and stores Blood components for emergency and critical cases.
Why Choose Our Emergency Services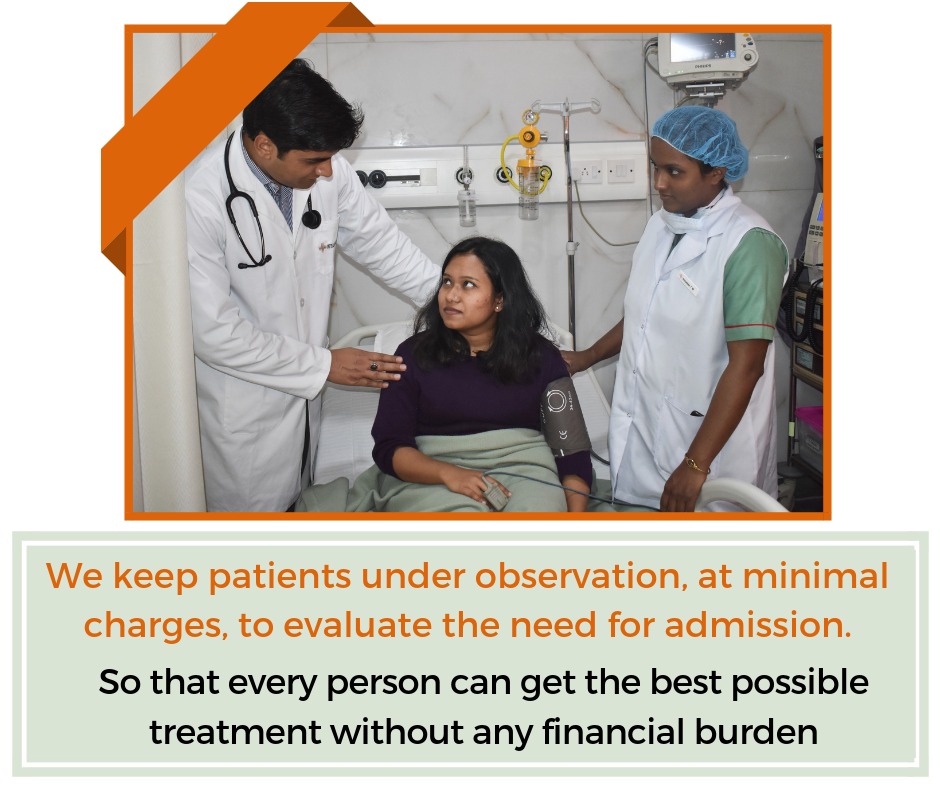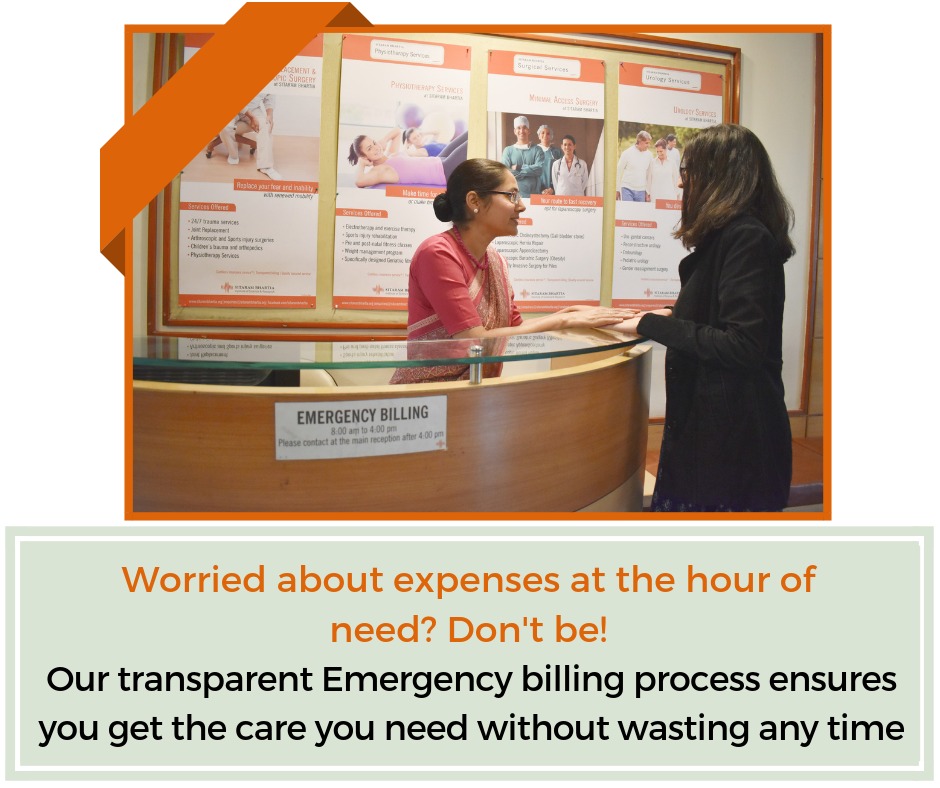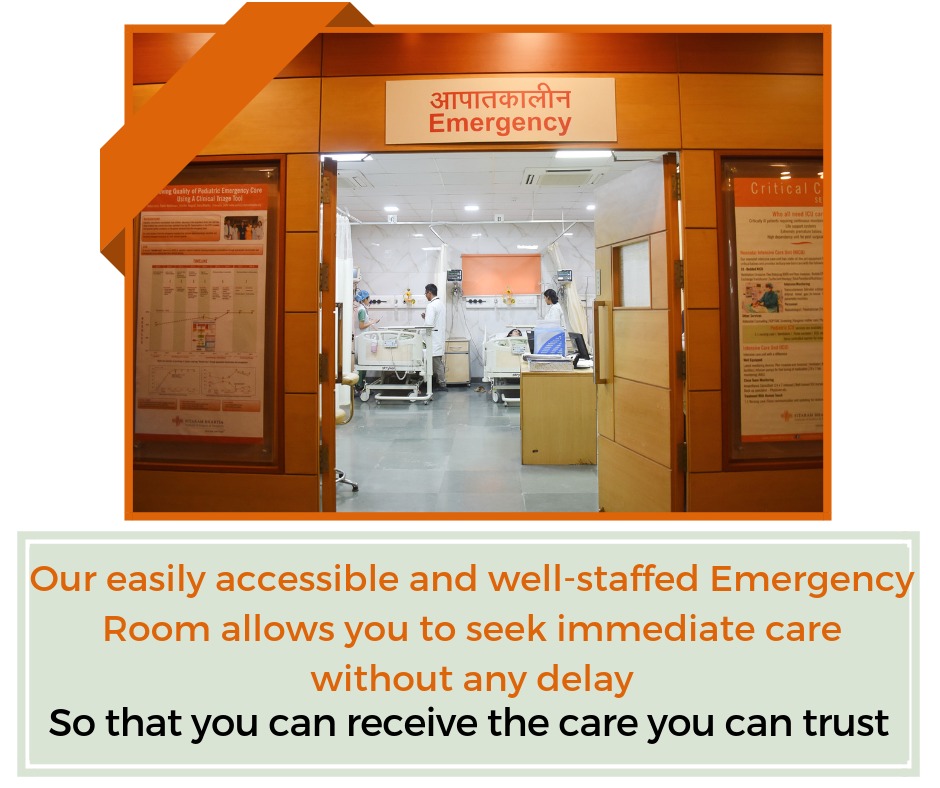 Pediatric Conditions
Our on-site Pediatric team comprises of qualified pediatricians, experienced clinicians, and pediatric superspecialists who can be called-in when the need arises.
If your child is experiencing high fever or sudden bleeding at odd hours of the night, don't hesitate to avail our emergency services and rush them to the Emergency Room (ER).
Do NOT hesitate to come into the hospital beyond OPD hours! We have a consultant pediatrician available at all times to treat and diagnose your child's urgent problems or injuries.
Adult Conditions
We are trained and equipped to deal with adult emergency conditions with the availability of our emergency ambulance services, fully functioning blood storage and CT scan facilities, and our 24×7 lab services. In addition to that, we also have senior orthopedic and medicine consultants accessible at all times, if required.
Some conditions we entreat patients to seek emergency help for include:
Blackouts
Blurred Vision
Injuries due to falls (geriatric age group)
Acute Abdominal Pain