A gallbladder stone surgery is needed for treatment of gallstones.
Dr Amarchand S. Bajaj, Laparoscopic Surgeon at Sitaram Bhartia Hospital says, "When a gallstone is lodged in cystic duct or biliary system of the gallbladder, you may experience severe abdominal pain, nausea or vomiting."
"The presentation of these symptoms indicate that surgery is necessary to avoid any possible complications."
Take Ritesh Jha, 32, for example. He experienced sudden and rapid pain in the upper right portion of his abdomen. The doctors in the Emergency Room advised an abdominal ultrasound to detect the presence of gallstones. The results confirmed their suspicions.
The doctor continues, "Sometimes there may not be any pain or symptoms but you may find out about gallstones in a preventive health care examination."
Just like Suraj Kapoor, 25, who found out about gallstones through an abdominal ultrasound as part of a preventive health check-up. Ritesh and Suraj were referred to Dr Bajaj for their treatment.
Do you need surgery to remove gallstones?
In most cases, a surgery is needed for treatment of gallstones.
Dr Bajaj explains, "Since gallstones can't be removed themselves, the gallbladder has to be surgically taken out for permanent pain relief. This also helps eliminate any possible risks in the future."
"The surgery can be done either through an open surgery or a laparoscopic cholecystectomy. The second one is the recommended treatment as it is a minimally-invasive surgery."
Is gallstone removal without surgery possible?
Dr Bajaj says, "There are few medications but they may not work for everyone."

"These medications may take years to dissolve gallstones but these stones might reappear when the medication is stopped. It doesn't eliminate the risk of the stone slipping down and does not provide a permanent solution."
Therefore a surgery is usually the suggested treatment for gallstones.
Looking for a permanent solution, they enquired more about the surgery.
Is gallbladder stone surgery dangerous?
A gallbladder removal surgery for gallstones is safe in the hands of an experienced surgeon.
Dr Bajaj says, "A laparoscopic cholecystectomy is usually less painful and risky. It also results in a shorter recovery time and minimal scars."
It maybe more dangerous if the gallstone is left untreated.
What complications may occur with gallstones?
The gallstone can slip down and get stuck in cystic duct or biliary system of the gallbladder resulting in extreme pain in the upper right portion of the abdomen, severe indigestion and other symptoms.
If it manages to slip even further down, it may lead to severe complications like obstructive jaundice and pancreatitis.
"If you've discovered gallstones before the manifestation of any symptoms, it may be a better idea to get the surgery done before to avoid any sufferance or complication altogether."
What else is there to know about gallbladder stone surgery?
Dr Bajaj explains, "Laparoscopic cholecystectomy is a minimally-invasive surgery which has incisions as small as a keyhole that is about 0.5-1 cm in length.
"It is safer compared to an open surgery and results in a shorter hospital stay, recovery time and smaller scars."
"Another thing to keep in mind is that removal of gallbladder doesn't impair your digestive system or affect your quality of life."/p>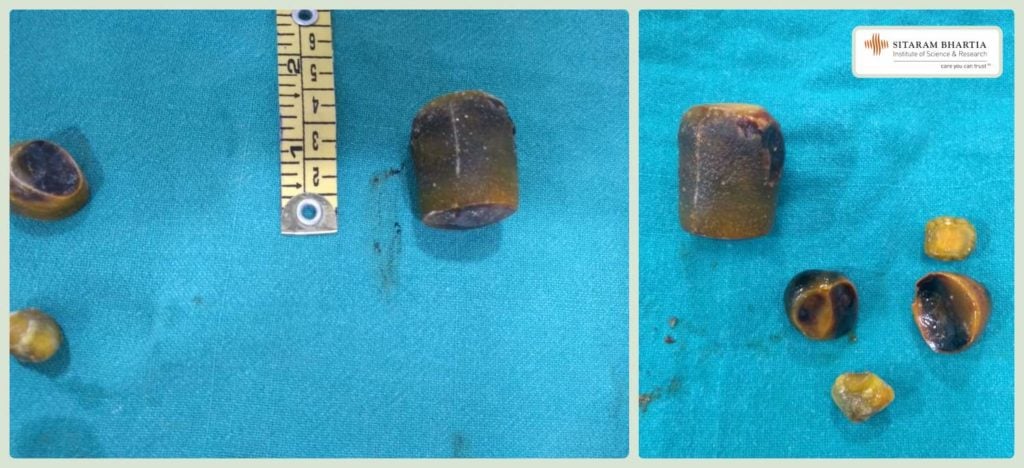 How long does it take to recover from gallbladder stone surgery?
Dr Bajaj answers, "In case of a laparoscopic removal of the gallbladder, you can leave the hospital within 24-36 hours."
"Most people are able to resume their routine within three days."
After careful consideration and answers to all their questions, Ritesh and Suraj both decided to get a laparoscopic cholecystectomy.
Dr Bajaj concludes, "When considering a laparoscopic cholecystectomy , don't hesitate to ask any questions from your surgeon. You should go ahead with the surgery when there are no doubts in your mind."
This blog post was written with editorial inputs from our General Surgeon, Dr. Amarchand S. Bajaj, who has over 15 years of experience in various capacities across Corporate Hospitals in Delhi NCR.