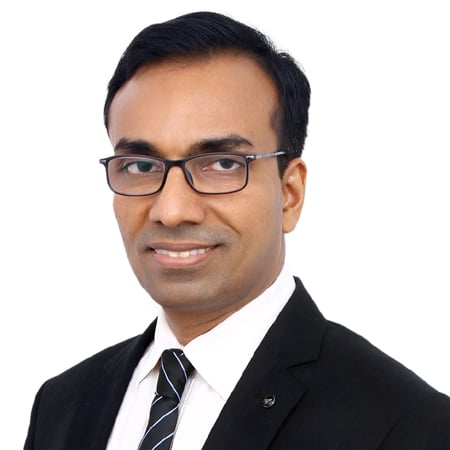 Dr. Amarchand Shankarlal Bajaj
Laparoscopic, Bariatric & General Surgery
Dr. Amarchand Shankarlal Bajaj
Dr. Amarchand S. Bajaj is a Senior Consultant (Laparoscopic, Bariatric & General Surgery) at Sitaram Bhartia. Previously, he has worked at leading Corporate Hospitals of Delhi-NCR in various capacities.
Degree: MBBS, Govt. Medical College, Nagpur (1997), M.S. (General Surgery), Govt. Medical College, Nagpur (2003)
Experience : 15 Years
His area of expertise includes:
Laparoscopic surgery
Advanced Laparoscopic surgery including upper GI and Colorectal
Laparoscopic Bariatric surgery
OPD Timings
Monday – Saturday: 10:00 a.m to 4:00 p.m
Consultation Fees
₹1100
Recent Reviews
Patient reviews for Dr. Amarchand S Bajaj
Bilateral Inguinal Hernia Surgery | Mr T Shamsu's Experience
★★★★★

based on

39

reviews
Overall rating:
Dr. A Marchand Bajaj treatment
★★★★★
"
I had consultation with Dr. Bajaj today only, and my most of tension is relived after first consultation, as I am suffering from piles his friendly behaviorhas relived me and I feel assured that I am under best treatment. Thank you so much doctor.
"
Dr. A Marchand Bajaj treatment
★★★★★
"
I had consultation with Dr. Bajaj today only, and my most of tension is relived after first consultation, as I am suffering from piles his friendly behaviorhas relived me and I feel assured that I am under best treatment. Thank you so much doctor.
"
Best Advise to Avoid surgery
★★★★★
"
I am grateful to Dr. Amarchand Bajaj that he advised me to avoid surgery and cure my problem with the help of some medicines and a proper diet plan. May God bless him.
"
My experience with Dr. Bajaj
★★★★★
"
I have been getting treatment for hemorrhoid for last two year. Recently my doctor suggested me to consult general surgeon. I preferred Sitaram Bhartia hospital because it was very near to my resident. When it got appointment to Dr. Amarchand Bajaj and diagnosed for fissure ano. This was surprising for me because till now i have been treating for hemorrhoid. After the prescription for a week i god relief , there was no blood in stool, no pain. I hadn't go through surgery and i god relief. I am happy and thankful to Dr. Bajaj.
"
Piles and Fissure Surgery
★★★★★
"
Dr Bajaj is a very friendly doctor who explains everything in a simple and detailed manner. I came To Sitaram Bhartia Hospital in a lot of pain and was advised surgery for piles and fissure both. I did have some initial hesitations about the surgery but Dr Bajaj's explanation helped me get rid of my doubts. I got the surgery done in May and I was able to join back in few days. I feel absolutely fine now.
"
hernia surgery
★★★★★
"
I had got my hernia surgery done in 2004 with some other doctor. Lately, I felt heaviness in my abdomen and I was greatly uncomfortable with it. I got a whole body checkup at Sitaram and found out that I had hernia again. I was referred to Dr Bajaj, who explained the whole surgery and process to us. This time the surgery was done laparoscopic ally and I feel much better now. He instilled confidence in me about the surgery and I got the hernia surgery on both sides as required.
"
Laparoscopic Appendectomy
★★★★★
"
Mr.Amarchand Bajaj, one of the best doctor I met, best as a doctor and a person, he make the overall surgery experience a good one! He is few of the ethical doctor I have met. He ensured that all my doubt are taken care of. It was super smooth surgery and smooth recovery. The hospital services are also patient friendly, nurses and staff are polite and helpful.
"
Gallbladder stone surgery
★★★★★
"
I'm writing this review on behalf of my mother-in-law who underwent a laparoscopic cholecystectomy done by Dr Bajaj a week ago. We discovered that she has gallbladder stones about a month ago and we specially, asked her to come to Delhi from Bhopal for the surgery. Since she is 76 years old with high BP, it was important for us that she get's the the best treatment. We were recommended Dr Bajaj by another doctor for the surgery and when we consulted him - all our worries and doubts evaporated in thin air. My mother-in-law was also much more confident about the surgery. Dr Bajaj explained us the whole procedure by making diagram which helped us understand everything better and evoked confidence. He didn't pressurize us about the surgery - he understood my mother-in-law's condition (she was suffering from constipation) and suggested that we wait 2 weeks before the surgery. After 2 weeks, we came in for the surgery and thankfully, everything went well. The very next day after the surgery, she was able to walk and resume her activities. We are very satisfied and we want to thank Dr Bajaj from the bottom of our heart.
"
Gall bladder removal surgery
★★★★★
"
I had come for a checkup because I was experiencing pain in my abdomen. I was already aware that I had gallstones (some 2 years back) and came to the hospital about the same. I was referred Dr Bajaj for the treatment of gallstones. During my consultation, he inspired trust and faith in me. His friendly nature put me at ease and after the consultation, I was sure that I wanted him to be the surgeon. I scheduled the surgery within 3 days of meeting the doctor for the first time. I was explained about the surgery and post-recovery process and I went ahead for it, despite my initial fears. It's been just 5 days after the surgery and I feel great and am able to do all my household work like before.
"
Laparoscopic Cholecystectomy
★★★★★
"
Sitaram Bhartia is a very nice hospital for me. It's not to say a second home but actually, it's a second home for me in hospitality. This time I came for a gallbladder surgery under the supervision of Dr. Bajaj. He is very wise and advised me not just like a professional doctor but as a good human being. He cleared all my queries regarding the surgery very very patiently. He is a very nice doctor besides a wise human being. Within a short time, he made my surgery very easy. As I was declared unfit to join IOCL. Now by his great effort, I am able to join IOCL as research officer R&D Faridabad.
"
Gall bladder removal surgery
★★★★★
"
I had slug in my gall bladder know for at least 2 years. On and off, I had sever pain and did temporary consultation and treatment. Never planned a surgery as I felt that its a complicated process even when once use laparoscopy. My family brought me to Sitaram (which is like a family hospital for us) three days after I had this terrible pain. I was admitted to the emergency. The doctors investigated the case and my family forgot to mention about my past history of gall bladder slug. I was not even in position to talk. When I was getting discharged, Dr. Bajaj told us that its his assumption that some small stone from the gall bladder might have slipped out and blocked the pancreatic duct. He said, he is making this assumption based on the blood test reports of slightly higher pancreatic amylase that might have now gone down as I was admitted three days post the first sign. At that moment, I knew that Dr Bajaj is great doctor and I can be assured to get the surgery done by him. Within a week of discharged, as recommended by him (only after checking all my past history) Dr. Bajaj agreed to do the surgery. Dr Bajaj is GREAT doctor and surgery. Post surgery, I am ready to join the work. I didn't had any post surgery complication. I really thank Dr. Bajaj for this support.
"
Fibroadenoma Surgery
★★★★★
"
Dr. Bajaj is an excellent doctor and has a great sense of humour which made me and my family very comfortable with the surgical procedure. I had a fibroadenoma in the axilla and he calmly addressed all our queries. He surely knows how to make his patients comfortable. Highly recommend him! Thank you doc!
"
Memberships
Life member Hernia Society of India

Life member of Indian Association of Gastrointestinal Endo-Surgeons

Life member of Asia Pacific Hernia Society

Life membership, Obesity & Metabolic Surgery Society of India (Affiliated to International Federation for the Surgery of Obesity and Metabolic Disorders – IFSO)


Fellowship
Fellowship in Minimal Access Surgery, FIAGES, Indian Association of Gastrointestinal Endo-Surgeons ( IAGES)

Fellowship in Advanced Laparoscopic Surgery – FALS ( Bariatric & Metabolic Surgery )
Speaker and Faculties in various national and international conferences including:
European Accreditation Council for Continuing Medical Education

International Colorectal Pelvic Floor Society

International Federation for the Surgery of Obesity and Metabolic Disorders – IFSO

Indian Cancer Congress

Hernia Society of India

International MGB/OAGB Conclave

Urological Society of India

More than 10,000 surgeries including laparoscopic, general and bariatric

Experience of more than 15 years

Practicing in South Delhi for more than 10 years
Read Some Posts Featuring Dr Amarchand Bajaj