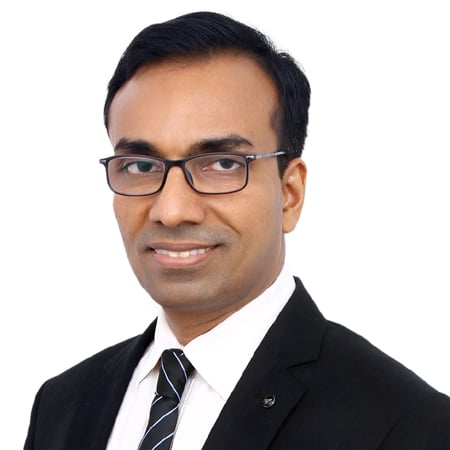 Dr. Amarchand Shankarlal Bajaj
Laparoscopic, Bariatric & General Surgery
Dr. Amarchand Shankarlal Bajaj
Dr. Amarchand S. Bajaj is a Senior Consultant (Laparoscopic, Bariatric & General Surgery) at Sitaram Bhartia. Previously, he has worked at leading Corporate Hospitals of Delhi-NCR in various capacities.
Degree: MBBS, Govt. Medical College, Nagpur (1997), M.S. (General Surgery), Govt. Medical College, Nagpur (2003)
Experience : 15 Years
His area of expertise includes:
Laparoscopic surgery
Advanced Laparoscopic surgery including upper GI and Colorectal
Laparoscopic Bariatric surgery
OPD Timings
Monday – Saturday: 10:00 a.m to 4:00 p.m
Consultation Fees
Rs 1000
Recent Reviews
Patient reviews for Dr. Amarchand S Bajaj
★★★★★

based on

32

reviews
Overall rating:
Gallbladder stone surgery
★★★★★
"
I'm writing this review on behalf of my mother-in-law who underwent a laparoscopic cholecystectomy done by Dr Bajaj a week ago. We discovered that she has gallbladder stones about a month ago and we specially, asked her to come to Delhi from Bhopal for the surgery. Since she is 76 years old with high BP, it was important for us that she get's the the best treatment. We were recommended Dr Bajaj by another doctor for the surgery and when we consulted him - all our worries and doubts evaporated in thin air. My mother-in-law was also much more confident about the surgery. Dr Bajaj explained us the whole procedure by making diagram which helped us understand everything better and evoked confidence. He didn't pressurize us about the surgery - he understood my mother-in-law's condition (she was suffering from constipation) and suggested that we wait 2 weeks before the surgery. After 2 weeks, we came in for the surgery and thankfully, everything went well. The very next day after the surgery, she was able to walk and resume her activities. We are very satisfied and we want to thank Dr Bajaj from the bottom of our heart.
"
Gall bladder removal surgery
★★★★★
"
I had come for a checkup because I was experiencing pain in my abdomen. I was already aware that I had gallstones (some 2 years back) and came to the hospital about the same. I was referred Dr Bajaj for the treatment of gallstones. During my consultation, he inspired trust and faith in me. His friendly nature put me at ease and after the consultation, I was sure that I wanted him to be the surgeon. I scheduled the surgery within 3 days of meeting the doctor for the first time. I was explained about the surgery and post-recovery process and I went ahead for it, despite my initial fears. It's been just 5 days after the surgery and I feel great and am able to do all my household work like before.
"
Laparoscopic Cholecystectomy
★★★★★
"
Sitaram Bhartia is a very nice hospital for me. It's not to say a second home but actually, it's a second home for me in hospitality. This time I came for a gallbladder surgery under the supervision of Dr. Bajaj. He is very wise and advised me not just like a professional doctor but as a good human being. He cleared all my queries regarding the surgery very very patiently. He is a very nice doctor besides a wise human being. Within a short time, he made my surgery very easy. As I was declared unfit to join IOCL. Now by his great effort, I am able to join IOCL as research officer R&D Faridabad.
"
Gall bladder removal surgery
★★★★★
"
I had slug in my gall bladder know for at least 2 years. On and off, I had sever pain and did temporary consultation and treatment. Never planned a surgery as I felt that its a complicated process even when once use laparoscopy. My family brought me to Sitaram (which is like a family hospital for us) three days after I had this terrible pain. I was admitted to the emergency. The doctors investigated the case and my family forgot to mention about my past history of gall bladder slug. I was not even in position to talk. When I was getting discharged, Dr. Bajaj told us that its his assumption that some small stone from the gall bladder might have slipped out and blocked the pancreatic duct. He said, he is making this assumption based on the blood test reports of slightly higher pancreatic amylase that might have now gone down as I was admitted three days post the first sign. At that moment, I knew that Dr Bajaj is great doctor and I can be assured to get the surgery done by him. Within a week of discharged, as recommended by him (only after checking all my past history) Dr. Bajaj agreed to do the surgery. Dr Bajaj is GREAT doctor and surgery. Post surgery, I am ready to join the work. I didn't had any post surgery complication. I really thank Dr. Bajaj for this support.
"
Fibroadenoma Surgery
★★★★★
"
Dr. Bajaj is an excellent doctor and has a great sense of humour which made me and my family very comfortable with the surgical procedure. I had a fibroadenoma in the axilla and he calmly addressed all our queries. He surely knows how to make his patients comfortable. Highly recommend him! Thank you doc!
"
Appendix surgery
★★★★★
"
I'm so glad that I got my appendix removal surgery from Dr Bajaj. From the first consultation itself, I felt that I was in safe hands. My appendix case was a complicated one - the appendix had swollen and there were many more complications along the way. With my age, I was really concerned about getting a surgery and the doctors around me didn't evoke trust. I came to Dr Bajaj for a second opinion and I felt that I found the right man for the surgery! He answered all my questions and erased any hesitation and doubts I had about the surgery. I was extremely confident about the surgery, even-though it was a complicated case. The surgery went smoothly and I'll be joining work soon.
"
Forehead stitches
★★★★★
"
Dr Bajaj is a very good surgeon and he is very approachable and friendly. He answered all my questions and evoked trust in us. My mother had a fall and required stitches, we were already very anxious but Dr Bajaj handled the situation well and my mother got the treatment she needed.
"
Inguinal Hernia Bilateral
★★★★★
"
Dr. Bajaj is very kind and experienced doctor .I was suffered with Inguinal hernia . I was little worried about my health, He examine my problem area in very earlier stage and operate very well. He cleared our all doubts at the consultation with a quick response. I am very thankful to Dr. Amarchand Bajaj that he operate me successfuly. Thanks
"
Gallbladder Operation
★★★★★
"
Dr. Bajaj is a very nice doctor in this field, his behavior is very good. I had an operation for my gallbladder and it was successfully done without complications. He cleared all of my doubts at the consultation, the hospital and the staff is also very cooperative and we had a quick recovery as well. Thank you Dr. Bajaj!
"
Gallstone removal surgery
★★★★★
"
I undergone the surgery of gall bladder stone operated by Dr Bajaj at Sitaram Bhrtia. It was a great experience to have surgery done at this hospital by Dr Bajaj. The post-surgery recovery was very fast. I started working with my regular daily routine after a few days of surgery and today, a month after the surgery, I feel perfectly fine. I am thankful to Dr Bajaj who helped me to overcome the severe pain of gallbladder stone.
"
Fissurectomy
★★★★★
"
Dr. Bajaj has been more than wonderful. This is the first time I have ever got a surgery done and he ensured that the whole process was seamless and pain free. I am very thankful to him for such a smooth experience. He has this extremely warm and positive vibe about him and I feel the patients feel better thanks to that itself. Would definitely recommend him to everyone!
"
Inguinal Hernia Bilateral
★★★★★
"
In my previous consultations at other hospitals, I was worried about the treatment plan suggested to me by the doctors for my inguinal hernia. Some said I would need to be on at least 3 months of bed rest and some suggested I shift my home from the second floor to the ground floor because it would be more convenient after the surgery. As a working man, having such restrictions on my movement was a cause of concern for me. But a friend of mine suggested getting a consultation from Dr. Bajaj and that was actually a great decision! His treatment plan promised a safe surgery and a short recovery period. I was back on my feet in a week - I could climb the stairs also a few days after the surgery itself! I am glad I came to Sitaram Bhartia Hospital and I strongly recommend everyone to come to Dr. Bajaj for their consultation.
"