Nilesh Thapar, 27, was made aware of the presence of stones in his gallbladder when an abdominal ultrasound revealed the same. From that day on, he wondered how to remove gallbladder stones without operation.
He tried home remedies and homeopathy medicines but nothing worked.
One day when Nilesh experienced excruciating pain in the upper right part of his abdomen, he realized that he couldn't avoid proper medical treatment any further.
He sought advice for his condition from Dr. Amarchand S. Bajaj, Senior Laparoscopic Surgeon at Sitaram Bhartia Hospital in Delhi.
Nilesh eagerly wanted to know options that didn't involve surgery and if there was any way to dissolve gallstones naturally.
पढ़िए – पित्ताशय में पथरी: क्या gallbladder stone का ट्रीटमेंट बिना ऑपरेशन हो सकता है?
Is it possible to remove gallstones without surgery?
"There are medications which can dissolve gallstones without surgery. But these drugs may take months or even years to dissolve the stones," said Dr. Bajaj.
"The probabilities of gallbladder stone disappearing with medication are very low. Even if they do disappear, the chances of recurrence are very high."
Medication is not a permanent solution for gallstones.
The doctor continued, "Also these medicines may not work for everyone."
This treatment option is usually advised for people who can't undergo surgery because of certain medical complications.
Nilesh became worried that this short-term solution may not bring him relief in the long run. He asked the doctor for other treatment options available to him. 
How can gallbladder stone be removed?
Gallbladder stones can only be taken out by surgically removing the gallbladder altogether.
Dr. Bajaj explained, "We usually advise laparoscopic cholecystectomy to remove the gallbladder. It is a minimally-invasive surgery which results in smaller, fewer cuts and a quicker recovery time – so you have a shorter hospital stay."
"Usually the patient is discharged within 24-36 hours of the surgery. You experience less pain and minimal scarring."
How soon can you resume your routine after gallbladder surgery?
Most people are able to resume a normal diet and movement within the same day of the surgery.
"Majority of patients can return to their daily activities, and even go to work, within the next three days," reassured Dr. Bajaj.
Nilesh felt relieved when he heard how soon he would be able to get back to his normal lifestyle. He still wondered, however, whether the surgery could be delayed a while.
What happens if gallbladder stones are not removed?
If gallbladder stones are not removed in time, they can lead to serious complications.
Dr. Bajaj explains, "Once you are experiencing pain and indigestion because of gallstones, it usually means that the stone has caused obstruction, which may be transient, in one of the ducts in the gallbladder. This condition is called acute cholecystitis."
"If the gallstone manages to slip further down, it may lead to more serious complications like obstructive jaundice and pancreatitis. Therefore it may be better to get the surgery as soon as possible."
This last piece of information made Nilesh realize that postponing the surgery may only put him in danger.
He felt confident about the surgery and was glad that the doctor had patiently explained the entire situation to him.
Conclusion
A few days after the laparoscopic cholecystectomy, Nilesh was so happy he had found a permanent solution to his problem.
He shared, "I was very stressed, especially when none of the home remedies for gallstones worked. But now I don't have to worry at all, because I've finally gotten rid of them – I feel so much better!"
This blog post has been created using the editorial inputs of General Surgeon, Dr. Amarchand S. Bajaj, who is known for his experience in the field of Laparoscopic, Bariatric & General Surgery.
Dr Bajaj is a full-time salaried consultant at Sitaram Bhartia Hospital with no financial incentives for recommending unnecessary tests or procedures.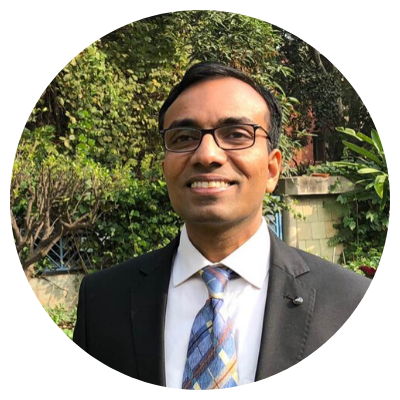 Dr Amarchand Bajaj
Star Rating:

4.8 ★★★★★ based on 39 reviews

Qualifications: MBBS, Govt. Medical College, Nagpur (1997), M.S. (General Surgery), Govt. Medical College Nagpur (2003)

 

Experience: 17 years
Interests: General, Laparoscopy and Bariatric surgery 
Special qualities:Friendly, uses diagrams to illustrate laparoscopic cholecystectomy process

  
Click to see Dr Bajaj's profile
Laparoscopic Cholecystectomy
★★★★★
"We live in Patparganj and despite the distance chose to get our laparoscopic cholecystectomy (for gallstones) done by Dr Amarchand Bajaj at Sitaram Bhartia Hospital in South Delhi. The hospital was referred by a friend. We felt there was a connection in the very first meeting with Dr Bajaj. He explained the procedure with diagrams and answered all our questions, unlike our experience elsewhere. We are very happy with our consultations before the surgery, the gallstone removal surgery itself and the post-surgery consultations." – Rakhi Saha 
Gall bladder removal surgery
★★★★★
"I had come for a checkup because I was experiencing pain in my abdomen. I was already aware that I had gallstones (some 2 years back) and came to the hospital about the same. I was referred Dr Bajaj for the treatment of gallstones. During my consultation, he inspired trust and faith in me. His friendly nature put me at ease and after the consultation, I was sure that I wanted him to be the surgeon. I scheduled the surgery within 3 days of meeting the doctor for the first time. I was explained about the surgery and post-recovery process and I went ahead for it, despite my initial fears. It's been just 5 days after the surgery and I feel great and am able to do all my household work like before." – Kirti Sansanwal
Come in for a consultation with Dr. Amarchand Bajaj! Chat with us on WhatsApp  to book your appointment.