Did you know that a study shows 80% of recorded hernia cases turn out to be Inguinal Hernia, making it one of the common forms of hernia in India? Inguinal Hernia, however, still goes untreated in many areas of the country.
Tarun Grover, 44, was unaware the bulge on his lower abdomen would require a check-up until, one day, he couldn't bend over due to the pain near his groin. He decided to consult Dr. Amarchand S. Bajaj, Senior Consultant, General & Laparoscopic Surgeon at Sitaram Bhartia Hospital, Delhi for advice.
After Tarun's physical examination, a diagnosis confirmed an Inguinal Hernia. Here are some doubts Tarun decided to clarify at the consultation.
What is an Inguinal Hernia?
"An Inguinal Hernia is a condition where the lower abdominal muscles (of inguinal area) weaken over time and the contents of the abdomen, usually the small intestine and omentum (fatty content), manage to push through," said Dr. Bajaj.
You might not realise you have a hernia as initial Inguinal Hernia symptoms may be painless. You should watch out for symptoms such as:
A bulge in the lower abdominal or groin area that disappears if you lie down or can be pushed back
Discomfort or feeling of heaviness near the groin
Severe pain when you bend, cough, or strain to lift things
How serious is an Inguinal Hernia?
This condition may not be dangerous immediately, but an Inguinal Hernia does not heal on its own. Without treatment on time, life-threatening complications may arise.
"As the hernia worsens or swells over time, it can become trapped in the groin and not reduce even after lying down. This indicates that the hernia is obstructed or strangulated, which may jeopardize the blood supply to the intestines and would require urgent medical attention."
Symptoms for obstructed or strangulated hernia include the following:
Extreme tenderness or sudden pain around the area of the bulge
Nausea or vomiting
Fever in some cases
What is the main cause of Inguinal Hernia?
Tarun wondered if anything he did could have contributed to his condition. The doctor assured him  that in some cases the causes behind Inguinal Hernia cannot be determined exactly.
"Hernias, however, may be more prevalent in older men because the muscles weaken over time."
You may also be at risk of developing a hernia due to the following factors:
An increase in abdominal pressure caused by chronic cough, chronic constipation, urinary problems due to BPH (Benign Prostatic Hyperplasia) etc.
Frequent heavy lifting of objects
History of hernias previously on some other site
Inguinal Hernia Treatment
Tarun was advised surgical treatment at the earliest as his condition could worsen without timely intervention.
"Do Inguinal Hernias always need surgery?" asked Tarun.
Dr. Bajaj urged him to keep in mind that surgery for Inguinal Hernia is the only option as it cannot be managed using non-surgical or medicinal methods.
Hernia operation is carried out using a minimally-invasive method (MIS) that results in fewer and smaller cuts. This keyhole or laparoscopic method is preferred as it is more specialized than open surgery and reduces the post-operative morbidities such as discomfort after surgery.
"How long does it take to recover from an Inguinal Hernia?" Tarun further questioned.
"This minimal-access surgery for Inguinal Hernia promises a faster recovery time and shorter hospital stay since minimal cuts are employed to treat the hernia. The post-operational pain is also lesser than open surgery and patients are free to resume their daily lives within a couple of days."
Tarun seemed visibly reassured after Dr. Bajaj's counselling. He realised delaying the surgery could cause more harm and agreed to go ahead with the surgical procedure.
After a successful surgery, Tarun experienced a speedy recovery and was back on his feet within a few days as expected!
Just like Tarun, Mr. Shamsu had been suffering from pain and swelling in his groin area for days before he decided to seek Dr. Bajaj's medical opinion. Pleased with his advice, here are Mr T Shamsu and Dr Shakila Shamsu talking about their experience at Sitaram Bhartia Hospital!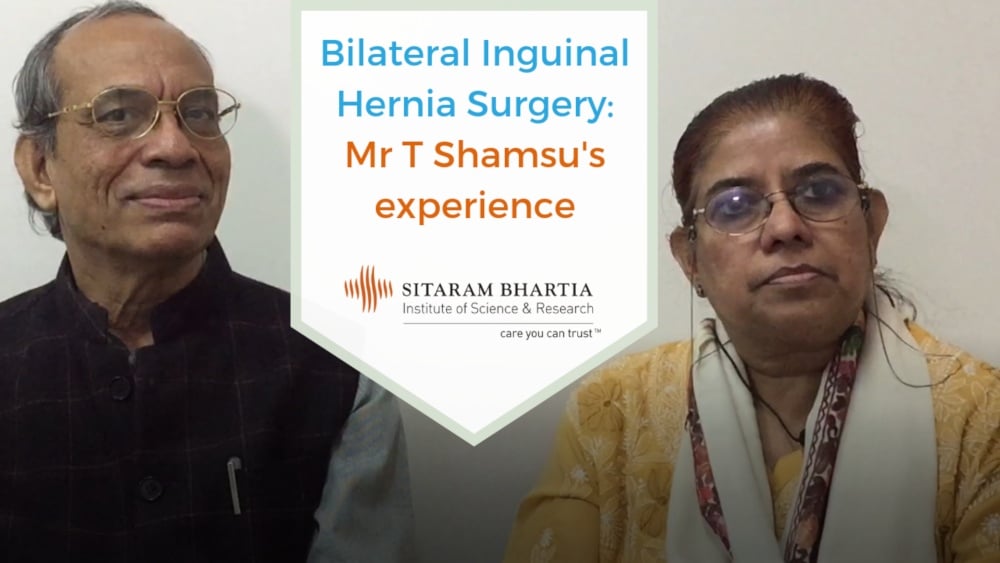 Come in for a consultation with Dr. Amarchand Bajaj! Call us on +918800816657 to book your appointment.