Riya Malik, 27, was excited about entering her third month of pregnancy. She had a series of questions lined up to ask the educators and her obstetrician at the hospital.
She wanted to know the changes her baby was going through and the changes she would experience.
She blurted out her questions as soon as she entered her doctor's room.
What size is the baby at 3 months?
Your baby is fully formed at the end of the third month of pregnancy. It's arms, hands, fingers, feet, and toes have developed.  
"At this time your baby is about the size of a pea. It is 5-6 cms long and weighs about 28g" explained Dr. Kusum Lata Bhardwaj, Consultant Obstetrician at Sitaram Bhartia.
As the baby is formed by the third month, the risk of a missed abortion or threatened abortion is low at this time.
Riya was in awe as she imagined what her baby looked like.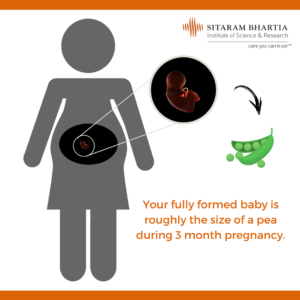 What bodily changes occur at 3 month pregnancy?
1. Tender and swollen breasts
Your body is undergoing hormonal changes in the first trimester. This might make your breasts grow and become more sensitive.
 "You might start experiencing tingling sensations or some pain in your breasts. You could invest in a supportive bra that shields from unnecessary friction" said Dr. Kusum Lata Bhardwaj.

2. Backache and Fatigue
"You could also experience backache or fatigue during 3 month pregnancy."
"Regular exercise, especially back strengthening exercises, can help ease the pain."

Don't forget to take short breaks to relax while working. A healthy diet also helps boost your energy levels.

3. Frequent urination
You may also feel the urge to visit the washroom frequently.
Diuretics like coffee, green or black tea, carbonated drinks like coca-cola, etc should be avoided, especially in case of your frequent urination.

If urination is accompanied by pain or burning, inform your doctor and get your urine tested for infection.

4. Emotional changes
"It is natural to have mood swings. Take care of yourself and let your loved ones support and encourage you during this time."
Now that she understood what changes to expect, Riya wanted to know what changes she should make to her diet and lifestyle and pregnancy precautions if any.
What food to eat during 3rd month of pregnancy?
If initial symptoms like nausea and loss of appetite still linger, your doctor might prescribe anti-nausea or antacid medications.
If your appetite has returned, you should consult your dietician for what 3 month pregnancy foods you should eat according to your pre-pregnancy weight.
Refer to the recommendations below and discuss your ideal diet chart with a dietician –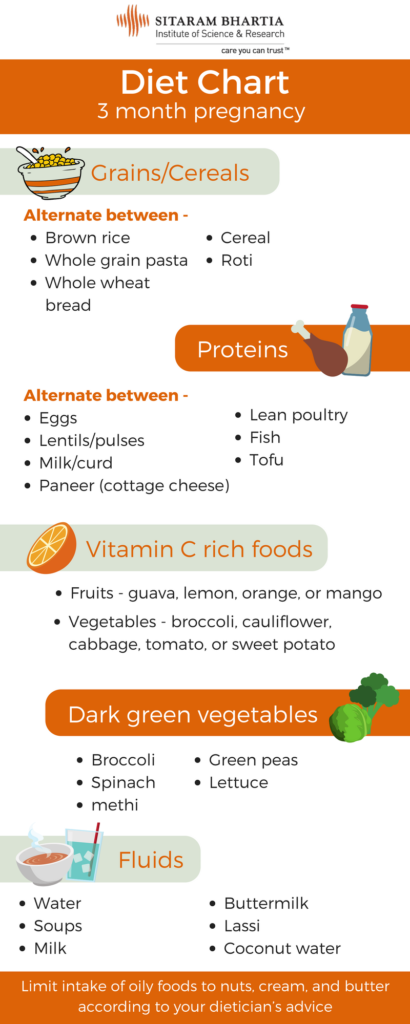 "The only lifestyle change that we advise is to incorporate regular exercise into your routine, especially if you haven't exercised before" said Dr. Kusum Lata Bhardwaj.
"Take a walk everyday for at least 30 minutes to build stamina and do some stretching exercises or yoga to improve flexibility. "
This goes a long way in ensuring a stress-free pregnancy and childbirth.

Riya was also concerned about any tests she should get done.
What is an important 3 month pregnancy scan?
The nuchal translucency scan is one of the first scans done in the first trimester. This scan measures the fluid at the back of the baby's neck and detects any chromosomal anomalies or common genetic errors in the baby like Down's syndrome.
Riya wanted to ensure she got the scan done on time.
When should NT scan be done?
The NT scan has to be done between 11 to 13 weeks and 6 days of pregnancy to look for anomalies.
Riya decided to immediately schedule her scan so she didn't have to leave it for later.
Content with the answers to all her questions, Riya left the hospital cheerful about her 3 month pregnancy.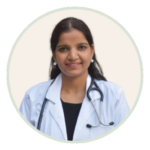 Medically Reviewed by Dr. Kusum Lata Bhardwaj
MBBS Panjab University, Chandigarh (2008); MD Panjab University, PGIMER, Chandigarh (2012); DNB National Board of Examinations (2013)
Experience: 10+ years
Seek expert advice from our expert gynaecologist..  Please call on +91 9871001458 to schedule a consultation.