When Rashmi Nambiar entered her 26th week, she became anxious about her baby's growth. Her baby bump was barely visible and it was hard to tell she was pregnant. Her 19 weeks level 2 scan was normal so she couldn't help wonder what else it may be.
During a routine antenatal checkup at 30 weeks, it was suspected that the amniotic fluid around the baby was slightly less.
"We then advised an ultrasound for assessing the growth of the baby along with doppler scan during the third trimester" said Dr Anita Sabherwal Anand.
A doppler scan is an ultrasound that is usually recommended in high risk pregnancies, when the mother is diabetic or has high blood pressure, or in the case of slow growing babies, twins, or a previous history of stillbirth. The doppler scan is usually performed during the third trimester and it assesses the blood flow going to the baby and within its  cord, heart and brain.
Preparing for Doppler Scan During Third Trimester
"How should I prepare for the doppler scan?" asked Rashmi.
"You do not need to specially prepare for a doppler scan. It is done like any other ultrasound and is safe. It only takes a couple of minutes more than a regular ultrasound.
Interpretations of Doppler Scan During Third Trimester
"What can I expect the scan to show?" asked Rashmi, concerned.
"The results allow us to compare the growth of your baby with the results from your previous scan at about 18-20 weeks. "
If Doppler flows indicate that there is an inadequate blood flow in the umbilical artery and the baby is not well oxygenated, then the scan may need to be  repeated to monitor the baby.  If the blood flow to the baby falls below critical level, then an early delivery may need to be done.  
"Does that mean I will have a cesarean?" Rashmi seemed upset.
"At Sitaram Bhartia, less than 10% of the mothers who have small babies or abnormal Doppler results need to have a planned caesarean " Dr Anita reassured her.
Comforted by the doctor's words, Rashmi understood she had nothing to be afraid of. She also realized the importance of the doppler scan during third trimester.
Rashmi's Doppler Scan Results
When Rashmi's doppler scan results arrived, she was relieved to know there was adequate blood flow to the baby. Repeat ultrasounds displayed a steadily growing baby.
She went into labour spontaneously at 39 weeks and delivered a healthy baby normally.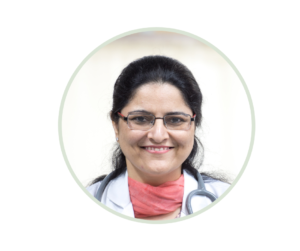 This article has been written with Dr. Anita Sabherwal Anand, Consultant, Obstetrician-Gynecologist at Sitaram Bhartia Hospital in South Delhi. Dr. Anita is a highly qualified gynecologist with 20+ years of experience who is trusted by low-risk and high-risk mothers alike for her guidance on having a healthy pregnancy and delivery.
Are you worried about your doppler scan results? Come in for an in-person consultation at our hospital in South Delhi. Please call on +91 9871001458 to schedule a consultation.