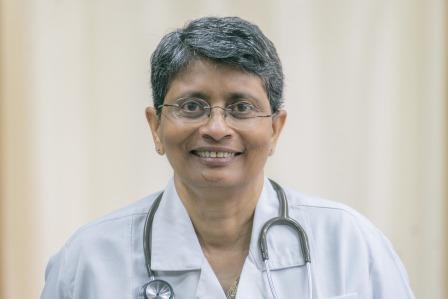 Dr. A.S. Lata
Diabetes & Endocrinology
Degree: MBBS, Lady Hardinge Medical College (1975)
Experience: 41 Years
OPD Timings
Monday: 9:00 a.m. – 3:15 p.m.
Tuesday: 9:00 a.m. – 1:15 p.m.
Wednesday: 9:00 a.m. – 3:15 p.m.
Thursday: 9:00 a.m. – 1:00 p.m.
Friday: 9:00 a.m. – 3:15 p.m.
Saturday: 9:00 a.m. – 1:30 p.m.
Consultation Fees:
₹ 1600
Please call 011 4211 1111 or 011 4211 1245 to schedule an appointment with Dr A.S. Lata.
Recent Reviews
Patient reviews for Dr. A.S. Lata
Excellent doctor
★★★★★
"
Dr. Lata is one of my favourite doctors for her. She is cheerful, competent and very experienced. I love chatting with her and always come out in a great mood somehow feeling positive. I highly recommend her and if you plan your appointments well and are on time for them, you will hardly have any waiting time. Her approach is simple and she happily answers all questions to
"
★★★★★
"
Excellent doctor ..great analysis and a great human being
"
Thyroid & Diabetes Centre
★★★★★
"
I have been consulting Dr Lata for around 10 years. She patiently gives you all the time you need and does a through examination every time. I would not go to any other doctor for my thyroid and she regularly monitors my thyroid levels and meticulously changes my dosage by even .25 mg if required as she understands the risks of increasing and reducing dosage unlike a lot of other doctors who often advise on thyroid. What is best is that sometimes if my thyroid levels have to be checked say within a few weeks again , i can call and give my blood test details and her team especially Bindu Mam is extremely efficient in checking with her and calling back as to what dosage I need to take and I don't have to physically visit the hospital after short periods unless its absolutely necessary. I am 38 and had my first baby this year. I sought her advice through the entire process and she monitored my thyroid levels every month with great care altering my doses . Over the years many of my friends and family have also starting consulting Dr.Lata for their diabetes and thyroid and even the most skeptical always say that they have not yet come across such a thorough and experienced doctor. She is very well organised and has all my details on her files, like weight, dosage of my medicine and all my earlier thyroid test reports. Most importantly she is very kind , gentle and patient !Thank you Dr.Lata and team and of course Bindu Mam for being you !!
"
Check out Dr Lata's Patient Education Library