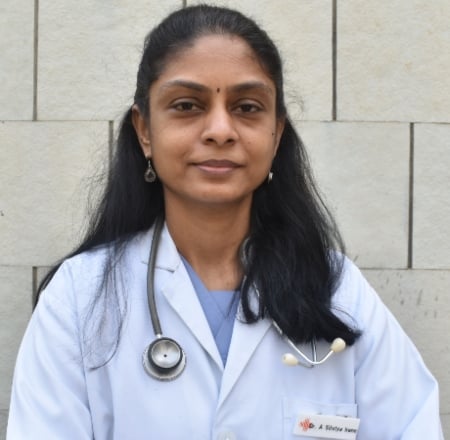 Dr. A Silviya Irene
Endocrinology
Degree: MBBS, Tamil Nadu Dr. M.G.R. Medical University, Tamil Nadu (2005); Diploma in Diabetology, Tamil Nadu Dr. M.G.R. Medical University, Tamil Nadu (2008); D.N.B (General Medicine), National Board of Examinations (2012); Senior Residency in Endocrinology from Safdarjung Hospital; Post graduate diploma in Endocrinology, University of South Wales (2019)
Experience: 10 Years
OPD Timings
Monday to Saturday: 09:00 am – 03:40 pm
Consultation Fees:
₹ 1200
Frequently Asked Questions
When should I see an endocrinologist?
An endocrinologist is a doctor specialized in the field of hormones, also called hormone specialist.  You should see an endocrinologist after you are diagnosed with hormonal problems. A physician might help you in the diagnosis but an endocrinologist will provide you with specialized care.
What diseases does an endocrinologist treat?
An endocrinologist treats any hormonal imbalance, dis-function or complication in your body such as:
Hyperthyroidism
Hypothyrodism
Preconceptional thyroid
PCOS
Obesity
Hirsutism
Uncontrolled Diabetes
Type 1 Diabetes
Type 2 Diabetes
Gestational Diabetes
How do I find a good endocrinologist?
It is always suggested to choose an endocrinologist who is experienced in the field of hormones. You can also check their background using internet. Once you're done with that, focus on your consultation. Your first consultation says a lot about your endocrinologist.
Who is a thyroid specialist?
A thyroid specialist is a doctor who specializes in the treatments related to thyroid glands.
Who is a thyroid specialist near me?
Dr Silviya Irene is a thyroid specialist near people living in Green Park, Hauz Khas, Qutab Institutional Area, Katwaria Sarai, Sarvodaya Enclave, Safdarjung Development Area, Adchini etc.
Who is a Diabetologist?
A physician who is specialized in maintaining the sugar levels of a person is known as diabetologist.
When do I need to see a diabetologist?
If your physician diagnoses problems like high or low sugar levels in your body, then you are suggested to see a diabetologist.
Are diabetologists and dieticians the same?
A diabetologist is the one who looks for the constant rise and fall in your blood sugar levels and further suggests you a treatment based on your condition. A dietician specifically works to provide you a diet that consists of all important nutrients that would also help you in maintaining your sugar levels.
Recent Reviews
Patient reviews for Dr. A Silviya Irene
★★★★★

based on

3

reviews.

Overall rating:
A thorough doctor
★★★★★
"
Have been consulting doctor for past 3.5 years, during my pregnancy for thyroid. Now my parents too consult her. She is very thorough and transparent in the way of working. Great to have found a doctor who is sincere.
"
Review
★★★★★
"
Dr Silviya is an incredible doctor. I have been consulting her for the past 2 years for PCOD, with her medications and advice on diet and regular exercise, I am leading a healthy lifestyle. I am very happy with her treatment and its effective.
"
★★★★★
"
i am very happy to share that Dr Silviya is treating my mother -in-law for high sugar levels because of which her sugar levels are under control.The medication that was prescribed has worked very well.Thank you Dr Silviya .
"
Check out Dr. Silviya's Patient Education Library