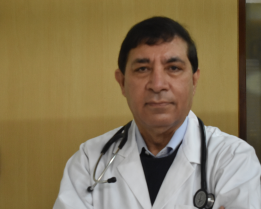 Dr. J.C Suri
Consultant, Pulmonary, Critical Care & Sleep Medicine
Dr. J.C Suri, former HOD of Pulmonology, Critical care and Sleep Medicine at Safdarjung hospital and former president of Association of Chest Physicians of India. He was instrumental in establishing the first of its kind dedicated Gynaecology & Obstetric Critical Care unit at Safdarjung Hospital to treat complex conditions such as peripartum cardiomyopathy, preeclampsia, acute pulmonary embolism etc. Dr. Suri has been actively involved in education and research and has contributed more than 100 research articles. He also has many contributions towards Govt. of India National programs. He is recipient of many prestigious awards and orations.
Under his guidance the Pulmonary, Critical Care and Sleep Medicine team will provide round the clock Critical Care services to both medical and surgical patients.
Degree:
M.B.B.S, University of Delhi (1977)
DTCD (1981)
M.D. (Pulmonary Medicine 1984)
D.N.B. (Respiratory Medicine 1985), FNCCP
Received formal training in Critical Care Medicine at Loyola University Medical Centre, USA as WHO Fellow
Formal training in Sleep Medicine from Stanford University Sleep Centre, Paulo Alto, California, USA as WHO Fellow
Experience: 40 years+
OPD Timings:
Pulmonary & Critical Care team available from
Monday: 10:00 am to 11:00 am
Tuesday:10:00 am to 11:00 am
Thursday:10:00 am to 11:00 am
Friday: 10:00 am to 11:00 am
Consultation Fees: First visit- Rs. 2000/-
Follow up visit- Rs. 2000/-
For appointments please call us on 011 4211 1111.
Charu Chanderchur oration at Gorakhpur- Dec.1998.
Shurveer Oration at RNT Medical College, Udaipur- August
1999
DR. N. C. Joshi Memorial oration for the year 2000 organised by
Delhi Medical Association, DMA House Daryaganj, New Delhi.
Glaxo Oration delivered in Jan. 2001 at the annual conference of
Academy of Pulmonary and Critical Care Medicine, Kerala
Guest oration during the Foundation Day 18th March 2002 of
Department of TB and Chest Diseases, K.G.Medical College,
Lucknow.
German remedies oration delivered at National Conference on
Pulmonary Disease, NAPCON –  Nov 22nd 2002
KJR Murty ICS Oration delivered at National Conference on
Pulmonary Disease, NAPCON
VISHISHT Chiktsa Rattan Award by Delhi Medical Association- 2012
First – Dr S R Kamat Oration at KEM Hospital, Mumbai- 9th
February 2018
Prof Dr K Kottilingam Endowment Oration- 11th August 2018
Recent Reviews
Patient reviews for Dr. J.C Suri
Membership in National and International Professional Societies
Founder President & Chairman – Indian Sleep Disorder
Association.
Past-President – National College of Chest Physician
Vice President of Asian Society of Sleep Medicine
Fellow National College of Chest Physicians & Indian Chest
Society
Fellow American College of Chest Physicians
Hon. Fellow of Indian Sleep Disorders Association, International
Medical Sciences Academy
Dr. J.C Suri Overall rating: ☆☆☆☆☆ 0 based on 0 reviews.
Anonymous