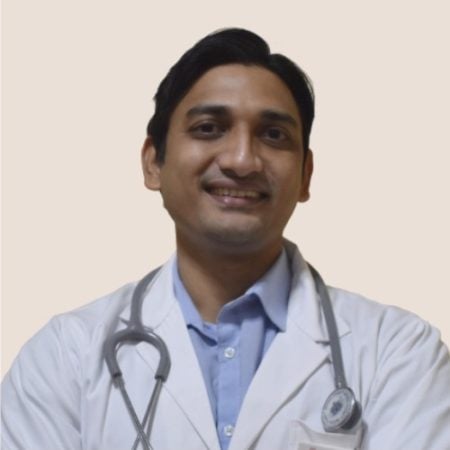 Dr. Nikhil Narayan Bante
Consultant, Pulmonary Medicine
Dr Nikhil Bante is a Pulmonologist and an Intensivist with a keen interest in the care of critically ill patients with special focus on difficult to treat conditions such as ARDS, septic shock and poisonings.
Degree:
FNB, Critical care medicine, National board of examinations (DNB Board), Apollo hospital, Delhi (2018)
EDIC (PART 1), European society of Intensive care medicine (2018)
DNB Pulmonary medicine, VMMC & Safdarjang hospital, New-Delhi (2014)
MBBS, MGM medical college, Maharashtra (2008)
Experience: 7 years
Key skills:
USG guided Central lines, Arterial lines, Vascular Catheters for CVVHDF, PiCCO, PICC, PCWP, Pacemakers, LumbAr Punctures, ICD.
Proficient in ACLS
Fiber optic and rigid bronchoscopy, Medical thoracoscopy. Linear EBUS and Radial EBUS Interventional Bronchoscopy ( Stent insertion, Balloon dilation, Endobronchial Cautery, Snare resection, Foreign Body Removal) Pulmonary function testing; Polysomnography with PAP titration.
Chest drain insertion, Ascitic tapping , lumbar punctures,Percutaneous
Tracheostomies
Endotracheal intubations ,Advanced airways devices, Fibre-optic
bronchoscope and AMBU scope assisted Intubations
Proficient in various USG guided procedures such as Lung scan ,FAST scan , USG guided tapping.
Pulmonary & Critical Care team available from
Monday- Saturday: 10:00 am to 1:00 pm
Consultation Fees: First visit- Rs. 2000/-
Follow up visit- Rs. 2000/-
For appointments please call us on 011 4211 1111.
Recent Reviews
Patient reviews for Dr. Nikhil Narayan Bante
Dr. Nikhil Narayan Bante Overall rating: ☆☆☆☆☆ 0 based on 0 reviews.
Anonymous