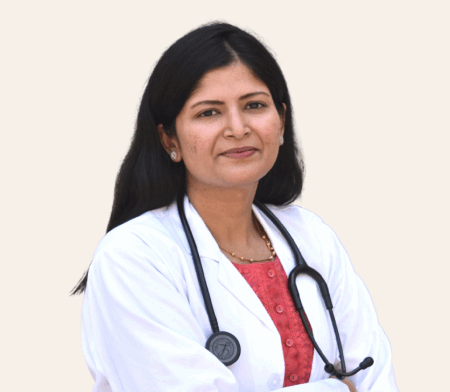 Dr. Pankush Gupta
Consultant, Advanced Fertility Solutions
Dr Pankush Gupta is a gynecologist who has extensive experience in reproductive medicine and assisted reproductive techniques. She is an expert in diagnosing and strategizing the best treatment for her patients.
Degree: MBBS, AIIMS, New Delhi (2014);  Doctor Of Medicine Obstetrics and Gynecology, AIIMS, New Delhi (2017); DNB Obstetrics and Gynecology,  DM Reproductive Medicine, AIIMS, New Delhi (2022)
Experience: 8 years
OPD Timings:
Tuesday & Thursday: 09:00 Am to 11:00 am
Consultation Fees: Rs.1300
Gupta P, Choudhary A, Srigyan D, Malhotra N. SARS- CoV-2 is not detectable in cervicovaginal secretions from women with active COVID-19 infection- a pilot study. JBRA Assist Reprod. 2022 Jan 7. doi: 10.5935/1518- 0557.20210103. Epub ahead of print. PMID: 34995047.
lyer VK, Malhotra N, Singh UB, Gupta P et al. Immunohistochemical evaluation of infiltrating immune cells in endometrial biopsy of female genital tuberculosis [published online ahead of print, 2021 Nov 1]. Eur J Obstet Gynecol Reprod Biol. 2021;267:174-178
Anil Sharma, Pankush Gupta, Aijaz Ahmad, Venkateswaran K. Iyer, Neena Malhotra, Urvashi B. Singh, Nomita Chandhiok, Evaluation of implantation markers and immune cell infiltration in endometrial biopsy of female genital tuberculosis, Indian Journal of Tuberculosis, 2021,
Malhotra N, Singh UB, Iyer V, Gupta P, Chandhiok N. Role of Laparoscopy in the Diagnosis of Genital TB in Infertile Females in the Era of Molecular Tests. J Minim Invasive Gynecol. 2020;27(7):1538-1544.
'Torrent Young Scholar Award' in Obstetrics & Gynecology 2017.
Recent Reviews
Patient reviews for Dr Pankush
Dr. Pankush Gupta Overall rating: ☆☆☆☆☆ 0 based on 0 reviews.
Anonymous