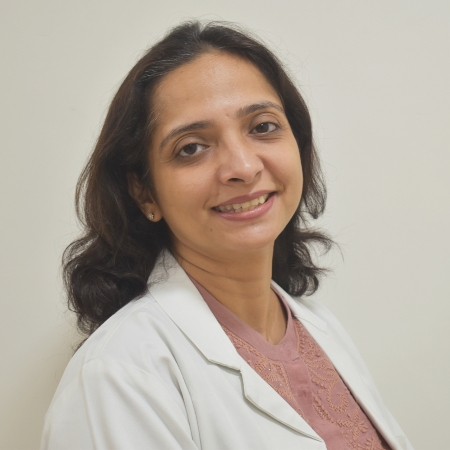 Dr. Priti Arora Dhamija
Obstetrician – Gynaecologist
Dr Priti Arora Dhamija is a Consultant, Obstetrics & Gynecology and Infertility expert at Sitaram Bhartia Institute of Science and Research.
Her approach to treating women is unique in the sense that she makes them partners in their healthcare journey. She takes the time to listen to them and understand in depth their problems. She emphasizes minimum medical interventions and is very selective in choosing patients for IVF treatment. In her experience, proper preconception counseling and creating a treatment plan customized to a couple's needs can go a long way in helping them conceive.
She has also helped many women with PCOS conceive naturally by enabling them to regulate their hormones. Her calm and composed nature instills in women the confidence to navigate their healthcare journey with ease. She often guides women over 40 and those with low ovarian reserves on planning a pregnancy by understanding what matters the most to them.
Dr Priti recently obtained a master certification from the Indian Fertility Society in various topics such as andrology, embryology and reproductive endocrinology. This training furthers her skills in Assisted Reproductive Technologies (ART) and fertility enhancing laparoscopy. At Sitaram Bhartia, she runs a successful IUI and IVF program which is based on Quality Control principles. She works closely with the Sitaram Bhartia maternity team which provides a full spectrum of care, from conception to delivery, under one roof.
Degree:  MBBS, Maulana Azad Medical College, Delhi (1999); M.D, Lady Hardinge Medical College (2004); DNB Obstetrics & Gynecology (2004); Diploma in Pelvic Endoscopy, Kiel, Germany (2014)
Interests: Infertility and IVF, Pelvic Endoscopy
Experience: 16 years
OPD Timings:
Monday: 09:30 am – 04:00 pm
Wednesday: 09:30 am – 04:00 pm
Saturday: 09:00 am – 01:00 pm
For appointments please call us on 011 4211 1111.
★★★★★

based on

13

reviews.

Overall rating:
Recent Reviews
Patient reviews for Dr. Priti Arora
Dr. Priti Arora
★★★★★
"
She is a wonderful doctor. Made me comfortle regarding my problem despite seeing me nervous, she ensured all my doubts are cleared to my complete satisfaction.
"
Dr preeti
★★★★★
"
I have been consulting her for more than a month. She has been very polite and very helpful in explaining all the procedures with great patience. I am hoping for best results in future with her great endeavours
"
Dr preeti
★★★★☆
"
Takes time to understand & answer all queries. Waiting time needs to be managed.
"
Dr preeti
★★★★☆
"
Best Doctor. Highly recommended.
"
very professional
★★★★★
"
while consulting Dr. Payal Chawdhary, we were asked to see another doctor - for just in case at the time of delivery our doctor is not available. Dr. Priti seems the best Alternative. She's sweet and very professional while answering all our queries. We felt at ease with her and her expertise.
"
Greatest Than Any Doctor
★★★★★
"
She is very good and very Experienced gynecologist Doctor i refer many patient and All Patient are happy. And i m very thankful
"
Another God to me
★★★★★
"
Dr. Priti is another God to me. This was my first pregnancy and she tried hard for normal delivery but it was my luck we had to go for c section. By knowing each positive and negative point of my pregnancy she always suggested me with the best advice. As this was my first pregnancy I am very much emotionally attached to Dr Priti. I wish if we plan for the second baby she again will be my doctor.
"
Thanks!
★★★★★
"
Dear Doctors and support staff of Sitaram Bharatiya hospital As we are ready to go back from hospital with best blessings of our life Aksha (Our Newborn). We are so thankful for everyone who helped our baby to arrive safely. Your positive attitude and loving smile had always made us to be motivated for normal delivery. Your knowledge is a huge asset to new moms who don't feel prepared. Your calm demeanor helped to us stay focused and comfortable while labor. If a problem does arise, you approached it quickly and professionally, keeping our worries to a minimum. So, thank you very much. Our families and we will never forget what you've done for us. Special thanks to Dr Rinku Sengupta, Dr Priti Arora, Dr Payal Chaudhary, Dr Anita Sabharwal, Dr Niru Jain, Dr Sweta Kumari, Anju Sharma, Rita George, Shali Thomas and all support staff. Regards Anindita & Ronnie
"
Angel
★★★★★
"
Dr. Priti is so calm, composed and caring at the same time. I'm thankful to her for a successful surgery and look forward to have a healthy pregnancy with her support.
"
★★★★★
"
Dr. Priti came as an angel to me during my pregnancy spell. Her politeness and humble nature makes her so different from others. She helped and motivated me in every phase of my pregnancy. My heartfelt thanks to her and the entire team of SBISR for guiding me and making my experience of childbirth the most memorable moment of my life.
"
★★★★★
"
Thanx a lot to Dr Priti. Your always smiling & calm behavior made the entire process memorable for my wife.We are very thankful for your support during the entire period.
"
★★★★★
"
Thanx a lot to Dr Priti. Your always smiling & calm behavior made the entire process memorable for my wife.We are very thankful for your support during the entire period.
"
specialisation
★★★★★
"
A heartfelt thanks to Dr. Priti, with her efforts and excellence, we have a normal healthy delivery on 6th oct., 2017. It is because of her and the team that my wife had a normal delivery with baby wearing double loop around his neck. she is a wonderful doctor.
"
Check out Dr Priti's Patient Education Library