Preetika Mehra, 30, was consulting a diabetologist at the insistence of her gynecologist to treat gestational diabetes. Within a few weeks, however, she realized something was amiss with her treatment plan. As she read up on how to control diabetes during pregnancy, she understood the importance of a coordinated approach between the specialists involved in her care. 
When a friend happened to mention the Diabetes Center at Sitaram Bhartia Hospital in South Delhi, she jumped at the opportunity to try it out. 
At 30 weeks pregnant, Preetika had her first consultation with Dr Silviya Irene, Diabetologist to understand how to reduce blood sugar level during pregnancy.
"I was apprehensive about changing my doctors so late in my pregnancy, but I realized it was better to get a second opinion than to regret not getting one at all," she said.
Once her reports and glucose profiles were reviewed by the doctor, she asked her most pressing concern.
How can I lower my blood sugar during pregnancy?
"The best way to reduce blood sugar levels during pregnancy is to get guidance on 
how

to eat rather than what to eat as part of your

gestational diabetes diet

amount of physical activity

how often to monitor sugar levels and

 the required dosage of medication 
so it is great you decided to get help," reassured Dr Silviya.
At ease with the doctor's words, Preetika decided to get a better understanding of each of these aspects. Her first query related to her gestational diabetes diet.
What pregnant diabetic should eat?
"What you can eat depends on your sugar levels, which is why we advise monitoring your sugar levels multiple times a day," said Dr Silviya.
The doctor put Preetika in touch with a Diabetes Educator, so she could discuss in detail an Indian diet and list of foods to eat with gestational diabetes.
What to Eat with Gestational Diabetes
The Diabetes Educator stressed on the importance of consuming foods that are rich in folic acid, calcium and iron. 
"Your major meals of the day should consist of 50% green vegetables, 25% lean proteins and 25% whole grains."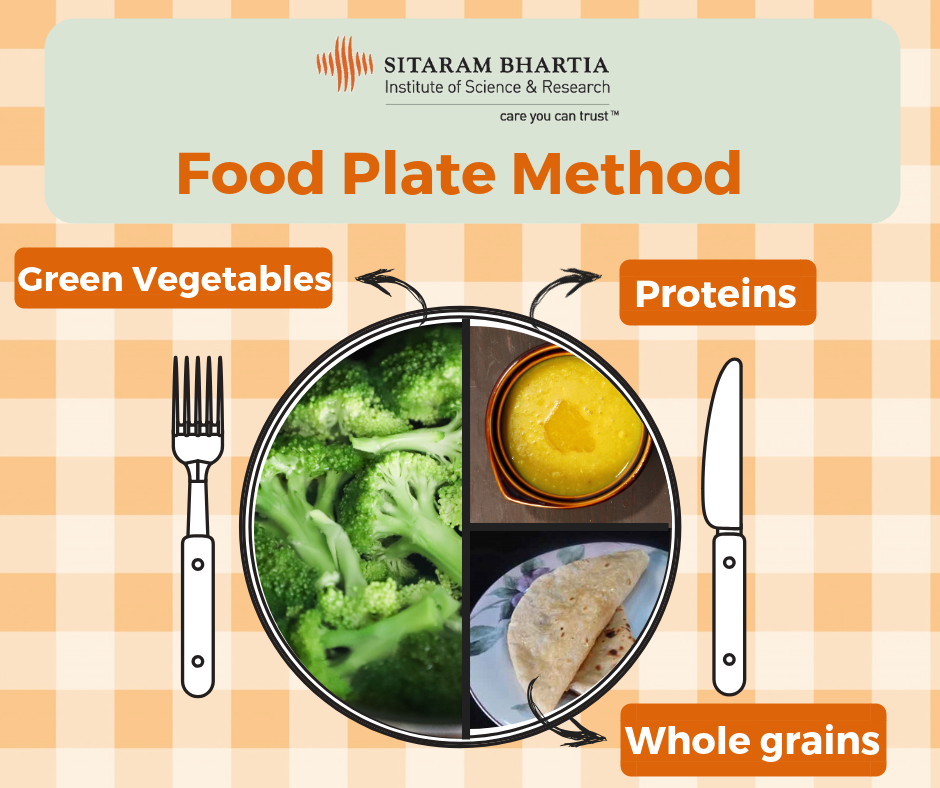 Foods to Avoid with Gestational Diabetes
As a general guideline, however, women should avoid foods that have a lot of starch and those with a high glycemic index, because these foods tend to cause a spike in blood sugar levels. 
Examples of Indian foods to avoid in your gestational diabetes diet include:
Potatoes (aloo)

Tapioca (sabudana)

White bread, pasta etc

Fruits like mango (aam), grapes (angoor), sapota (chikoo), banana, custard apple (sharifa)

Popular ready to eat cereals that claim to be packed with nutrients, other packaged foods

Soft drinks that are high in sugar 
Preetika, like many women, wondered whether she could fast during Navratras or the upcoming Karva Chauth.
"We do not advise pregnant women to fast or keep long gaps between meals," said Dr Silviya.
"Instead, you should eat small meals every 2-3 hours to prevent irregularities in your blood sugar levels." 
Another question on her mind related to feasting. "With Diwali around the corner, and the constant spread of ladoos, mithai and various sweetmeats, is there anything I should strictly avoid as part of my gestational diabetes diet?"
"We understand it's hard to completely sacrifice sweetmeats during the festive season. If you do feel like having an occasional barfi or ladoo, check your sugar levels before and after, so that your next meal can be accordingly adjusted."
It is even more important to check your sugars when you don't know how certain foods impact your sugar levels so that you can make changes if required.
All this discussion around food made Preetika hungry. She asked about snacks for gestational diabetes.
The Diabetes Educator suggested menu ideas for her gestational diabetes diet such as:
Sprouts, which are rich in proteins and don't raise blood sugar levels

Curd (dahi) and an apple, which contain calcium, proteins and iron

Boiled lentils such as daals, black chana/chickpeas or rajma (kidney beans). You could add some coriander, tomatoes or onions for some flavour.
Preetika knew that a careful diet was one part of the entire treatment plan. She wanted to know how to control diabetes during pregnancy through physical activity. 
How to Control Diabetes During Pregnancy: Exercise to Control Sugar Levels
"We recommend walking for 30-45 minutes every day to lower your blood sugar levels and keep you fit," said Dr Silviya.
"If you want to take up other exercises, you could consult our physiotherapy team which works closely with us and the maternity team. They regularly guide expecting women about the best exercises for labour keeping in mind your medical history and conditions."
Read: 5 Safe Antenatal Exercises for Pregnant Women (Videos) 
Medicine for gestational diabetes
If your sugar levels are not controlled by your diet and physical activity, you may be advised medicines. 
"Make sure to take these as instructed by your diabetologist."
If during the course of your treatment, it is felt that the medicines have not had the desired effect, you may be suggested insulin.
"Don't be alarmed, " said Dr Silviya, noticing the tense look on Preetika's face.
"Insulin is safe for both mother and baby and is the safest way to reduce high blood sugars in expecting women."
"We make it a point to have people take their first shot in front of us to ease them into the process."  
"Will I have to take insulin forever?" asked Preetika, concerned.
"You will have to take it till delivery. After delivery, you will be taken off it."
How to Control Diabetes During Pregnancy: Monitor Blood Sugar Levels Six Times a Day
Expecting women must check their blood sugar levels at least six times a day, to understand the impact of your diet and exercise routine. You can use a glucometer that makes it easy to test your sugar no matter where you are. 
"It is also important to follow up with your doctors regularly, to understand whether your treatment plan needs to be modified in any way."
The ideal blood sugar levels during pregnancy are: 
Fasting – less than 90 mg/dl

Pre-meal or before eating- less than 95 mg/dl

1 hr post meals – less than 140 mg/dl

2 hr post meals – less than 120 mg/dl
Preetika wanted to understand how gestational diabetes could affect her unborn child.
Diabetes during pregnancy: Effects on baby 
With uncontrolled gestational diabetes, mothers are at risk of having a too-large baby that can cause complications during delivery.
Babies born after uncontrolled GDM can experience low blood sugar and respiratory problems after birth. They are also at risk of becoming overweight and diabetic later in life.
The good news is that all these complications can be avoided if sugars are well controlled!
Cesarean section for GDM
Concerned about the risk of a large baby, Preetika was worried that she would have to have a cesarean.
"A cesarean is not always necessary, even with bigger babies, " reassured Dr Silviya. 
75% mothers with gestational diabetes at Sitaram Bhartia Hospital have gone on to have a normal delivery, with the support they have received from the gestational diabetes care team.
Read: C-Section Delivery: 9 Indications Where It May be Avoidable 
You may be induced at 38-40 weeks if labour does not begin before that. It is also believed that breastfeeding at birth helps keep the mom and baby's weight in check. So make sure that the hospital you select encourages breastfeeding at birth.
What Happens After Pregnancy?
"Gestational Diabetes disappears after pregnancy, but it could recur in subsequent pregnancies." 
You should test your sugar levels about 6-13 weeks after the birth of your baby and every year after that, especially if you are planning to conceive. 
Satisfied with a thorough consultation, Preetika decided to continue with Dr Silviya and the gynecologists at the hospital. With the support of her gestational diabetes care team (the diabetologist, diabetes educator and gynecologist), she was able to reduce her blood sugar levels without much trouble. 
"I'm very glad I switched hospitals in my last few weeks. The care that I got from each member here, the diabetologist, diabetes educator, gynecologist and even the physiotherapist, was unlike any experience I had even heard of before," Preetika exclaimed after delivery. "They really treated me like family!" 
We hope this article helped you understand how to control diabetes during pregnancy. If you have any concerns, or would like to make sure you're properly treating gestational diabetes, don't hesitate to come in for a consultation with our diabetologist in South Delhi.
Please call on +91 8800816657 for appointments.