A hysteroscopic myomectomy is advised for submucosal fibroids, wherein the fibroids are pressing on the uterine lining.
Anusha Saxena, 27, was diagnosed with submucosal fibroids shortly after she approached us for preconception counseling. 
"My husband and I had been trying to conceive for a year before we visited the doctor," says Anusha. 
"Anusha mentioned that she had heavy and painful periods, which is why we advised blood tests and an ultrasound to determine the cause of her heavy bleeding and unsuccessful attempts at conception," says Dr. Priti Arora Dhamija, Consultant Gynecologist & Fertility Expert at Sitaram Bhartia Hospital in South Delhi.
"Anusha had submucosal fibroids as we suspected."
The doctor went on to explain why the findings were significant. 
How do submucosal fibroids affect fertility?
A systematic review by Klatsky et al. states, "Submucosal fibroids had the strongest association with lower ongoing pregnancy rates, odds ratio, 0.5; 95% confidence interval, 0.3-0.8, primarily through decreased implantation."  
Other studies suggest that some submucosal fibroids distort the uterine cavity leading to problems with implantation and miscarriages. 
Having understood why she was unable to get pregnant, Anusha seemed receptive to the idea of a  hysteroscopic myomectomy.
She wanted to clarify her chances of pregnancy after surgery. 
Can I get pregnant after a myomectomy? 
A hysteroscopic myomectomy is known to improve fertility outcomes in many women.
"The chances of pregnancy greatly depend on the woman's age, the number, type and size of fibroids for which surgery is needed and other factors," says Dr. Priti. 
Since Anusha was younger than 35 years and had one submucosal fibroid with a diameter less than 2 cms, there seemed to be good chances of pregnancy after surgery.
Once aware of the possibility of pregnancy,  she asked about details of the procedure.
How is a hysteroscopic myomectomy performed?
A hysteroscopic myomectomy is performed by inserting a long thin instrument called a hysteroscope through the vagina into the uterus.
There is no need for an incision as the hysteroscope is inserted through a natural opening. The uterine cavity is filled with fluid. 
The hysteroscope allows the gynecologist to see the uterus. An instrument known as a resectoscope is then inserted through the hysteroscope. Once the fibroid is located, a loop of wire is swung around the base of the fibroid and then gently removed.
The gynecologist examines the uterus with the hysteroscope again to ensure there are no remnants.
Anusha winced as the gynecologist explained the procedure. She couldn't help asking, "Is hysteroscopic myomectomy painful?"
"The procedure may feel uncomfortable but not painful as you will be given anesthesia," explains Dr. Priti.
Is hysteroscopic myomectomy major surgery?
The procedure takes about an hour and does not involve making incisions. In a few cases, fibroids may need to be removed in multiple sittings. 
Is hysteroscopic myomectomy safe?
The surgery is safe when performed by an experienced surgeon.
A hysteroscopic myomectomy may involve few risks such as blood loss, infection, damage to the wall of the uterus or adhesions.
Anusha was glad that the doctor walked her through the pros and cons of getting surgery. She asked how she should get ready for the procedure.

How do I prepare for surgery?
Before the procedure
Inform your doctor of any medications you  may be taking, especially blood thinners

Take any medications as prescribed by the doctor before the surgery

Let the anesthetists know of any reactions you may have to anesthesia
Day of the procedure
Bathe yourself properly before the procedure

Arrive at the hospital with necessary documents

Remove jewelry, nail paint and keep your finger and toe nails short
You will be asked to lay on your back on the operating table while the anesthetist administers the anesthesia. After this the gynecologist will insert the hysteroscope.
After the procedure
You may be asked to rest in the hospital for a few hours 

You can return home the same day

You may observe few

side effects

of the

hysteroscopic myomectomy

such as bleeding or discharge for a few days 

Take medicines as prescribed by your doctor
Anusha made a note of the details provided by the doctor. Finally she asked about the recovery time.
How long does it take to recover from hysteroscopic myomectomy?
Usually women recover in 1-2 days after hysteroscopic myomectomy surgery. 
"But preparing for the procedure and going through it can be stressful, so it is normal to feel more sensitive at this time," emphasized the doctor. 
Anusha also wanted to know how long they'd have to wait to try for pregnancy after a hysteroscopic myomectomy. 
The doctor recommended waiting for three to six months before trying to get pregnant.
Conclusion
Anusha went ahead with the hysteroscopic myomectomy after getting answers to all her questions.
When she visited the doctor for a follow up consultation, she looked and sounded more optimistic than before.
"The hard part is over!" exclaimed Anusha.
"Now we can focus our energies on what is important – making changes to our eating and sleeping habits and incorporating physical activity – so that when the time comes, there are no more hindrances to conceiving. "
In agreement with her thoughts, the doctor proceeded to guide them on what to keep in mind  for their pregnancy.
This article has been written with inputs from Dr. Priti Arora Dhamija, who has over 16 years of experience as a fertility specialist and obstetrician-gynecologist.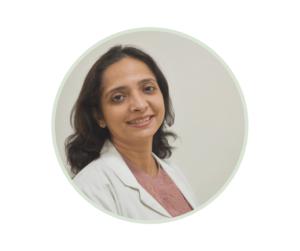 Dr. Priti Arora Dhamija, MBBS, Maulana Azad Medical College, Delhi (1999); M.D, Lady Hardinge Medical College (2004); DNB Obstetrics & Gynecology (2004); Diploma in Pelvic Endoscopy, Kiel, Germany (2014)
Read the next part of their journey here: Pregnancy after Myomectomy: Must Know Tips to Conceive