For women with fibroids and infertility, surgery is suggested to improve their chances of pregnancy after a myomectomy. The type of surgery and the interval till the next pregnancy will depend on the number, type and size of fibroids.
Is pregnancy possible after a myomectomy?
In most cases pregnancy after myomectomy is possible. 
"But the chances depend on the age of the woman, the number, size and location of fibroids for which surgery was done and other associated factors," says Dr. Priti Arora Dhamija, Consultant Gynecologist & Fertility Expert at Sitaram Bhartia Hospital in South Delhi. 
Age
Few studies demonstrate a higher pregnancy rate in women younger than 35 years or who experienced infertility for less than 3 years. 
Number of fibroids
According to a 2018 study, "women with >6 myomas removed were less likely to become pregnant, more likely to require fertility treatment, and less likely to have a term birth when compared with women with ≤6 myomas removed."
Size and location
Women with submucosal fibroids have been seen to experience a successful pregnancy after myomectomy. 
According to a study published in the NCBI, "Submucosal leiomyomas or fibroids are estimated to be the cause of 5–10% of cases of abnormal uterine bleeding, pain, subfertility and infertility." 
"Your gynecologist will determine whether any implantation, miscarriage or problems with conception could be attributed to fibroids and will accordingly suggest the type of myomectomy," says Dr. Priti.
A hysteroscopic myomectomy is recommended for women with submucosal fibroids.
Fibroids that are in the wall of the uterus (intramural) or outside (subserosal) can be removed through a laparoscopic myomectomy.
Fibroids bigger than 5 cm may require an abdominal myomectomy or open surgery.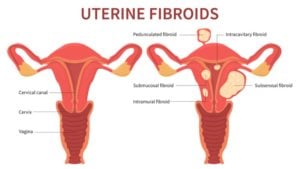 How long does it take for the uterus to heal after myomectomy?
The scar on the uterus heals in about 3 to 6 months with a myomectomy. 
"This is why we advise trying to get pregnant after this period."
Preparing for Pregnancy after Myomectomy
"We encourage women to start preparing for pregnancy immediately after surgery," explains Dr. Priti. 
Here are a few tips to keep in mind that may help you have a successful pregnancy after myomectomy. 
Consuming a balanced diet

"Soon after surgery, you should consume a healthy diet that is rich in protein. This will help the scar to start healing from the very first day and help strengthen the uterus."

"You should also keep yourself hydrated and drink plenty of fluids from the first month post surgery."

"Focus on your overall well-being and on regaining your strength and improving blood flow." 

Tracking your menstrual cycles


Your symptoms will fade away 2-3 months after surgery and your periods should resume as normal. 

"Be in touch with your doctor throughout this time. " 

Assessing Tubal Factors


In case your doctor was concerned about your fallopian tubes prior to surgery, the right time to get a tubal patency test would be 3 months after surgery. 

Resuming Exercise


When you feel healthy enough, you should gradually restart exercising as this helps increase your stamina. 

"Consult your doctor 6 months after myomectomy, to discuss and plan your pregnancy."

Your doctor will review your progress and may check the uterine lining.

A uterine lining more than 10 mm thick is considered the normal size of endometrium for pregnancy.

If you have a good lining and your periods are back on track, you may be able to conceive naturally. 

If your doctor thinks that natural conception may not be possible, this would be the best time to plan for IVF. 
How long after myomectomy can I do IVF?
About six months after surgery would be an appropriate time to try.
Achieving Pregnancy after Myomectomy
The signs of pregnancy after myomectomy are the same as with any other pregnancy. "The main sign is a missed period. Some women also tend to feel nauseous, light-headed or tenderness in the breasts."
Read: How to Confirm Pregnancy in 3 Reliable Ways
One of the many success stories we have seen of women achieving pregnancy after myomectomy is of Anusha Saxena, 27 who conceived six months after surgery.
She narrates the story in her own words.
Pregnancy after Myomectomy: Success Story
"My husband and I tried to get pregnant twice before getting help from a  fertility expert," says Anusha.
"We were unsuccessful despite trying for a year and keeping track of my fertility windows."
"We followed the doctor's advice and got the necessary investigations. "
"When she suggested a myomectomy, we decided it was worth a shot."
"I vividly remember the day we were told how long to wait to try for pregnancy after a myomectomy. That's the day we decided to go all in – strictly exercise, eat small, home-cooked meals- and maintain an optimistic frame of mind."
"We decided it was now or never and so we made it a point to stick to this regime," adds Anish, her husband. 
"Finally, about a month after we tried, we got lucky." 
"We were elated!" beams Anusha as she recalls the life-changing moment. 
"I'm currently in my second trimester and wanted to share this story because having been there myself, I know how every story can lend some hope."
Questions around Pregnancy after Myomectomy 
Should I be worried about the risk of scar rupture after myomectomy?
According to the American College of Obstetricians and Gynecologists, "It appears that the risk of uterine rupture in pregnancy after a laparoscopic myomectomy or hysteroscopic myomectomy is low."
Does this mean I will have a cesarean delivery?
The risk of the uterine scar rupturing during labour should not preclude many women from attempting a vaginal delivery. 
"However,  some women may require a planned cesarean, depending on the type of the incision."
Hear from Deepti Menon, who had a normal delivery despite a myomectomy and a previous cesarean.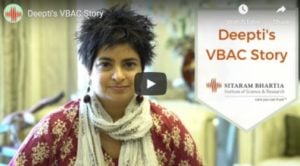 How fast do fibroids grow back after myomectomy?
There is no definite answer on the time frame within which fibroids recur after surgery. The recurrence is also associated with the age of the woman, the number and size of the fibroids.
Do fibroids in pregnancy cause miscarriage or other complications?
If present during pregnancy, fibroids don't usually cause complications. Sometimes, however, women may experience pain. "Your gynecologist will advise you on how to lessen the pain."
Watch Anjali and Nishant share how things progressed when a fibroid was discovered during their pregnancy.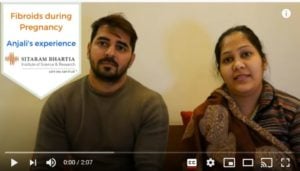 Conclusion
With proper guidance throughout the process, many women have a successful pregnancy after myomectomy.
This article has been written with inputs from Dr. Priti Arora Dhamija, who is a qualified obstetrician-gynecologist and fertility expert with over 16 years of experience. She strongly believes in minimum medical interventions and therefore is very careful about selecting patients for IVF treatment.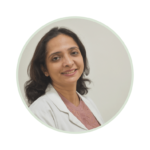 Medically Reviewed by Dr. Priti Arora Dhamija
MBBS, Maulana Azad Medical College, Delhi (1999); M.D, Lady Hardinge Medical College (2004); DNB Obstetrics & Gynecology (2004); Diploma in Pelvic Endoscopy, Kiel, Germany (2014)
You may also like:
Liked this article? Follow us on Facebook, Twitter, Youtube and Instagram for more content!
Come in for a consultation  Please Chat with us on WhatsApp to schedule an appointment.