Mrs Madhu Arora, 57, was advised a vaginal hysterectomy for her prolapsed uterus a long time back. In severe and long-standing cases of prolapsed uterus as well as of fibroids, endometriosis, abnormal bleeding and chronic pelvic pain – a hysterectomy may be the only option.
Madhu had been putting off the surgery but she couldn't ignore the discomfort and sagging feeling in her pelvis anymore. She finally came to Sitaram Bhartia Hospital for a gynaecological consultation.
An examination confirmed that a vaginal hysterectomy or surgical removal of the uterus through the vagina was required.

When is  a Vaginal Hysterectomy Needed
Madhu was visibly anxious and asked, "Is uterus removal the only option?"
"We always explore non-surgical treatments before advising a vaginal hysterectomy but when medicines and non-surgical treatments fail to provide any relief – a vaginal hysterectomy with repair of muscles is the only solution" answered Dr. Kusum Lata Bhardwaj, Consultant Ob-Gyn at Sitaram Bhartia Hospital.
Risks Involved in Uterus Removal
Madhu immediately asked, "What are the risks involved in a vaginal hysterectomy?"

"A vaginal hysterectomy is a very safe and routinely performed surgery " says Dr. Kusum Lata Bhardwaj.
Women cannot have children after the surgery.
"Like all surgeries, it does carry risk of infection and possibility of heavy bleeding. But these risks should be minimal with a good surgeon and hospital."
Watch: Video Testimonial of Hysterectomy
Pain During and After Vaginal Hysterectomy
Madhu asked, "Will I feel any pain during or after the uterus removal?"

"You won't feel any pain during the surgery because of anaesthesia" assured Dr. Kusum Lata Bhardwaj.
"You may feel a little pain after vaginal hysterectomy but that can be managed with medications and care."
Recovery Period after Vaginal Hysterectomy
"As compared to other types of hysterectomy, a vaginal hysterectomy requires a shorter hospital stay and has a quicker recovery time" added Dr. Kusum Lata Bhardwaj.  
Upon hearing this, Madhu relaxed a little and asked "What is the average recovery time after a vaginal hysterectomy?"
"You will be hospitalized for 3-4 days and it'll take upto 2-3 weeks for a full recovery."
"During this time, refrain from lifting anything heavy or engaging in sexual intercourse. If you feel any pain while urinating or a leakage from the incision, you should contact your doctor" elaborated Dr. Kusum Lata Bhardwaj.
After a long discussion with Dr. Kusum Lata Bhardwaj and advice from her family, Madhu scheduled her vaginal hysterectomy surgery for the next week.

She recovered within 2 weeks and soon resumed her daily activities with greater comfort and energy. With the pulling feeling in her pelvis gone, she felt much happier and relaxed now.
"I'm happy I finally got the vaginal hysterectomy done – my mobility is no longer restricted and I'm finally free of the discomfort I used to face."
Do you still have questions regarding your condition? Come in for a consultation with Dr. Kusum Lata Bhardwaj! Please call on +91 9871001458 to schedule an appointment.
This article has been written in close collaboration with Dr. Kusum Lata Bhardwaj, practicing obstetrician-gynecologist for 12+ years.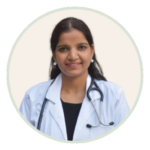 Medically Reviewed by Dr. Kusum Lata Bhardwaj
MBBS Panjab University, Chandigarh (2008); MD Panjab University, PGIMER, Chandigarh (2012); DNB National Board of Examinations (2013)
Experience: 10+ years
Liked this article? Follow us on Facebook, Twitter, Youtube and Instagram for more content!