Gayatri Gupta, 26, came in for a consultation when she experienced thick, curdy discharge, itching and redness in the vaginal area.
"I waited for a few days thinking it would get better, but it didn't!" she exclaimed.
"If you face discharge with severe itching, it is best to consult a doctor immediately and check for vaginal infection" recommended Dr. Priti Arora Dhamija, Senior Obstetrician – Gynecologist at Sitaram Bhartia.
Gayatri was anxious to know how the infection occurred and what she could do about it.
1. Causes of Vaginal Infection
"What causes vaginal infection?" asked Gayatri.
"The vagina has good bacteria called lactobacilis along with other bacteria and fungi. Their ratio helps maintain the pH level of the vagina which is acidic in nature" explains the doctor.
"If there is a disturbance in vaginal flora, it leads to vaginal infections. This can cause extreme discomfort and irritation."
Other causes may include not using a condom during intercourse or not changing your sanitary pad frequently or even using scented products in the vaginal area.

During the consultation Gayatri mentioned she was suffering from viral fever just a few days ago and was taking antibiotics for the same.

"Antibiotics may lead to suppression of healthy bacteria and establish dominance of fungi in the vagina, resulting in fungal infection."

2. Symptoms of Vaginal Infection
Excessive, discoloured or foul smelling discharge are symptoms of an infection. Along with this symptom, itching and discomfort are also experienced.

"You shouldn't ignore vaginal infection as it not only causes great discomfort but also other serious complications. If you ever experience any of these symptoms, consult an expert right away."

3. Treatment of Vaginal Infection
"But how can I treat it now and in the future?" Gayatri wailed.
" Medications for the infection depend on the type of infection and symptoms faced. You should drink plenty of water and use pH balanced vaginal wash" counseled the doctor.
Gayatri was prescribed a few medications and briefed about how to prevent vaginal infections in future.
Prevention against Vaginal Infection
Maintaining good hygiene and using protection during sex are effective measures against vaginal infection.

For good vaginal hygiene, using pH – balanced feminine hygiene products and wearing clean, cotton underwear are a must. When you're menstruating, changing your sanitary pads every few hours is essential for vaginal hygiene.    

Assured by the guidance and prevention measures, Gayatri went home and started her course of medication.

Meet Dr. Priti for your concerns. Please call on +91 9871001458 to schedule an appointment.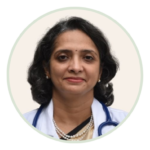 Medically Reviewed by Dr. Priti Arora Dhamija
MBBS, Maulana Azad Medical College, Delhi (1999); M.D, Lady Hardinge Medical College (2004); DNB Obstetrics & Gynecology (2004); Diploma in Pelvic Endoscopy, Kiel, Germany (2014)
Experience: 17+ years
Liked this article? Follow us on Facebook, Twitter, Youtube and Instagram for more content!