Mr and Mrs Khanna had been trying to conceive for close to a year now but with every negative pregnancy test result – they were slowly losing hope. The couple were almost convinced that one or both of them could have fertility issues and this was the reason behind their repeated unsuccessful attempts at conceiving.
They decided to consult an infertility expert at Sitaram Bhartia Hospital. Although the thought of infertility scared them, they knew that getting help was the only way forward. Holding each other's hand, both of them walked in with lots of questions on their mind.

What is infertility?
"A couple who has been not been able to conceive for more than a year despite regular unprotected intercourse needs to be assessed for infertility" asserts Dr. Priti Arora Dhamija.
"In fact, this may reduce to 6 months for couples beyond 35 years of age."  

Infertility can affect men, women or both the partners.
What are the factors affecting fertility?
Lifestyle
"One of the major factors affecting fertility is an unhealthy lifestyle with more men and women being obese or having a higher Body Mass Index (BMI) than ideal " pointed out Dr Priti.
"The absence of nutrients (especially antioxidants) in your diet, comprising majorly of junk food when combined with decreased physical activity negatively affects fertility levels. Similarly, a lower BMI is also detrimental to mental health."

She continued, "Possible causes of infertility may be exposure to certain pesticides, solvents, metals and high temperatures especially among men, along with many factors like age, smoking, alcohol or drug intake, and high stress."
Age
"Is age a major cause of concern?" asked Mrs Khanna.
"Fertility naturally begins to decline in women after the age of 30 years. Age affects the number of eggs produced and their quality" stated Dr Priti.
Who should meet an infertility expert?

Any couple who has not been able to conceive for a year should look for any signs of infertility and seek help.  
"Women who have persistent, irregular periods and who have long standing pelvic disease should come in" recommends Dr Priti.

"Men who've had abdominal or groin surgery, any accidents around the pelvis area or mumps may require expert guidance and treatment for male infertility."
The couple disclosed that they had none of these issues. They were then advised them to get some basic tests. The results of the tests were later reported as satisfactory. She reassured them that everything is fine, and explained ovulation and fertility windows.

The couple thereon decided to amend their schedules and spend more time together.

What changes are required?
Dr Priti stresses "Couples should exercise at least 3 times a week, eat food rich in antioxidants, and destress their lives".
The couple was asked to come in for a review after 3-6 months for further evaluation and treatment.

Mrs Khanna was prescribed a few prenatal vitamins while Mr Khanna, an IT professional, was asked to avoid sitting in one place for long hours and putting laptops on his lap.

The couple left the hospital much happier and positive than before. They even went on a vacation, joined couple gym classes and changed their diet following the doctor's advice. After the changes, they were able to conceive after a few months and were beyond happy.

What to do if you're unable to conceive even after lifestyle changes?

If you are leading a healthy lifestyle or have made the required changes and are still unable to conceive,  consider visiting an infertility expert. The doctor will evaluate both partners and determine the course of infertility treatment best suited for you.

The management usually starts with tests that determine possible dysfunction in egg release (ovulation) along with tube test and uterine lining assessment in women and semen test in men.

Based on these tests, which may take nearly a month to complete (as they are done on different days of the menstrual cycle), the treatment plan is individualized for each couple in our fertility clinic at Sitaram Bhartia Hospital.

If you have any doubts, come in for a consultation with Dr Priti Arora Dhamija and get all your questions answered. Please call on +91 9871001458 to schedule a consultation. Consultation is available at our hospital in South Delhi and online.
This blog post was written with the editorial inputs from Dr Priti Arora Dhamija, infertility-specialist with over 13 years of experience. She has keen interest in infertility with a special focus on minimal intervention. She is well-known for her thoughtful nature and medical expertise.
Learn more about Fertility Services at Sitaram Bhartia
This article has been written with inputs from Dr. Priti Arora Dhamija, who has over 16 years of experience as a fertility specialist and obstetrician-gynecologist. She has received training from the Indian Fertility Society in Assisted Reproductive Technologies and fertility enhancing laparoscopy.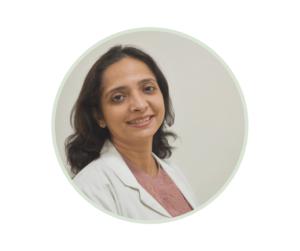 Dr. Priti Arora Dhamija, MBBS, Maulana Azad Medical College, Delhi (1999); M.D, Lady Hardinge Medical College (2004); DNB Obstetrics & Gynecology (2004); Diploma in Pelvic Endoscopy, Kiel, Germany (2014)
You may like to read: 
3 Things to Know for IVF Pregnancy: Procedure, Success Rate and Center Selection
IUI Procedure: The Story of How We Conceived
5 Myths and Truths About Infertility You Need to Know