Ruchi Arora, 30, was timely diagnosed with anaemia in pregnancy in the middle of her second trimester.
"It is important to treat anaemia in pregnancy" asserts Dr. Priti Arora Dhamija, Senior Gynecologist & Fertility Expert at Sitaram Bhartia Hospital in South Delhi.
"If left untreated, women risk being unable to tolerate the usual blood loss during delivery."
"It can also lead to low birth weight and low iron stores in the baby at the time of birth. "
Symptoms in Anaemia in Pregnancy
"I used to feel fatigued and breathless but I thought it was normal to feel exhausted during pregnancy" says Ruchi.
"People told me I looked drained and that I didn't have the pregnancy glow on my face. I didn't realize I had a problem until I mentioned the symptoms to my doctor and did the blood test as advised. "
Diagnosis of Anaemia in Pregnancy
According to Dr. Priti, "Your hemoglobin (Hb) dips naturally as you move into your third trimester, so we expect to see variations in your Hb counts around the time."
"However, we diagnose anaemia in pregnancy if your Hb falls below 11.5 in the first half of your pregnancy or below 10.5 in the second half of your pregnancy."
"If we detect low Hb in early pregnancy, we'll conduct investigations to rule out Thalassemia minor, a genetic disease that leads to anemia."
Women with Thalassemia minor have low Hb levels despite an adequate iron intake.
How to Increase Hemoglobin During Pregnancy
You can increase hemoglobin during pregnancy by following the steps below.
1. Take Iron Tablets During Pregnancy
Iron tablets during pregnancy are not routinely prescribed because of their side effects, except when a nutrition gap exists.
Women can experience nausea, vomiting, diarrhea, bloating, or acidity.
You may also see dark stool when you begin taking iron supplements, but it is no reason to worry.
"Since Ruchi's anaemia was diagnosed in the second trimester, she was prescribed iron supplements"  says Dr. Priti.
2. Consume Indian Iron Rich Foods for Pregnancy
Vegetarians can add higher quantities of Indian iron rich foods like black chana, beetroot, pomegranate, apples, and figs to their pregnancy diet.
"You can add more citrus to your diet to help with iron absorption. Also avoid having tea or coffee with your food" says Dr. Priti.
Meat eaters can add more mutton or organ meats like liver to their diet.
Normal Delivery with Anaemia in Pregnancy
Since Ruchi received her treatment in a timely manner, she was able to restore her iron levels and deliver her baby safely.
"Nothing compares to having a happy, healthy baby in your arms" Ruchi told us. "I'm so glad my anemia in pregnancy was diagnosed in time and I could avoid blood transfusion."
This article has been written with inputs from Dr. Priti Arora Dhamija, who has over 17 years of experience as an Obstetrician-Gynecologist and has handled high-risk and low-risk pregnancies successfully. She is loved and appreciated by couples not only for her expertise but also for her optimistic and supportive nature.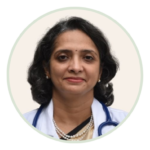 Dr. Priti Arora Dhamija
MBBS, Maulana Azad Medical College, Delhi (1999); M.D, Lady Hardinge Medical College (2004); DNB Obstetrics & Gynecology (2004); Diploma in Pelvic Endoscopy, Kiel, Germany (2014)
Experience: 17 years
Meet our gynecologists. Please call on +91 9871001458 to schedule an appointment!
Liked this article? Follow us on Facebook, Twitter, Youtube and Instagram for more content!