Menstrual cycles can be painful but if you have endometriosis, pelvic pain during periods can be unbearable.
"Most women often assume this pain to be 'normal'. But pain due to endometriosis increases with each cycle and eventually forces them to take painkillers" says Dr Priti Arora-Dhamija, Senior Gynecologist & Fertility expert at Sitaram Bhartia Hospital in South Delhi.
"Too often, women suffer unnecessarily for years before seeking help."
Read this post in Hindi
What is Endometriosis?
Endometriosis is a chronic pelvic disease in which the menstrual blood that is supposed to flow out through the vagina, travels up through the fallopian tubes and accumulates around the ovaries.
This results in formation of lumps or cysts on ovaries which can sometimes lead to infertility.
Watch Endometriosis – Meaning and Symptoms below:
Endometriosis symptoms
Symptoms suggestive of endometriosis are severe pelvic pain during your menstrual cycle accompanied by
severe pain while passing stool during periods and
intense pain after sexual intercourse
Test for Endometriosis
If your gynecologist suspects that your symptoms are caused by endometriosis, she may ask for an ultrasound or even a surgery to look into your pelvis.
The surgery is done laparoscopically and provides the most reliable diagnosis.
Endometriosis treatment
"There is no one best treatment for endometriosis. Treatment is based upon whether the primary complaint is pain or infertility and duration of the disease."
Usually the first line of treatment is hormonal therapy.
It includes oral contraceptive pills, progesterone pills, injections and inserts that can help stop the pain and formation of lumps.
"If medical treatment has not been effective, your doctor may advise laparoscopic surgery to remove accumulated blood around the ovaries and pelvis."
"When indicated, surgery can provide great relief without compromising fertility."
Can you get pregnant if you have Endometriosis?
"You can get pregnant if you have endometriosis" assures Dr Priti.
"Conceiving naturally is easier in initial stage. However, you may need fertility treatments like IUI if the disorder is more advanced."
Pregnancy may help reverse the pelvic disorder as it stops your menstrual cycle for 9 months and regulates your hormones.
Getting pregnant – Prerna's Story
Prerna Mehra, 32, recalls feeling hopeless when she was diagnosed with Endometriosis 2 years ago.
"I never thought that I'll be able to conceive. I was distraught" says Prerna.
"But I was reassured when I met Dr Priti. She started me on hormonal pills that relieved the pain and helped me get pregnant within six months."
Prerna urges other women, "Don't ignore extremely painful periods. If you've been suffering from chronic pain, get yourself evaluated so that you can begin effective treatment."
Do you still have questions regarding Endometriosis? Come in for a consultation with Dr. Priti!
This article has been written with inputs from Dr. Priti Arora Dhamija, who has over 17 years of experience as a fertility specialist and obstetrician-gynecologist. She has received training from the Indian Fertility Society in Assisted Reproductive Technologies and fertility enhancing laparoscopy.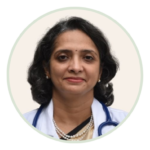 Dr. Priti Arora Dhamija
Senior Gynecologist & Fertility Expert
MBBS, Maulana Azad Medical College, Delhi (1999); M.D, Lady Hardinge Medical College (2004); DNB Obstetrics & Gynecology (2004); Diploma in Pelvic Endoscopy, Kiel, Germany (2014)
You May Also Like to Read: