"The first few days after my baby's delivery were beautiful. I was just so happy that I finally had my son in my arms" remarked Ruchi Mishra, a 33-year old mother. "He's my first child and I was really looking forward to becoming a mom. I wasn't expecting the baby blues at all."
Approximately seven to 10 days after her delivery, Ruchi spiraled into a low mood. According to her, she was constantly fighting back tears and kept feeling sad. "At that time, I couldn't understand what was happening" she tells us. "Why was I always crying if I had wanted to become a mother for so long?"
Ruchi's low mood carried on for almost three weeks. During this time, she also lost her appetite and faced some trouble with feeding her son. "I felt like a complete failure when I couldn't feed him" she said. "And I felt so guilty because I wasn't able to take good care of him for a few days."
The baby blues are a commonly seen phenomenon in new mothers. "Most of the time, women have the baby blues because there's suddenly a lot of change to deal with" says Dr. Kusum Lata Bhardwaj. "Physically speaking, your hormones are imbalanced and your body's trying to adjust to a new schedule with considerably less sleep than before. It's only natural for you to feel fatigued and irritable for a few days."
As Ruchi recounted her story, she shared a little bit about how overwhelmed she felt because of all the work she had to do after going back home with her baby. "For the first week or so, I was taking care of my son, I was cooking all the meals, and trying to manage the house" she said. "All of this was happening on barely five hours of sleep. And even those five hours didn't come together."
Ruchi's exhaustion was to be expected. Breastfeeding can become quite challenging for mothers who are not well-rested, which might make them feel upset or depressed. In such situations, it's important for fathers to step forward and take on a bigger share of the responsibilities.
"A new mom needs a lot of attention and care, especially with taking care of her baby" says Dr. Kusum Lata Bhardwaj. "It's important for fathers to take on an equal share of that responsibility and to get involved in baby care. A woman feels very supported when her partner helps out more."
At other times, women also feel ignored or overwhelmed by friends and family members who are solely focused on the newborn baby's welfare. "For a while, I felt like every person I met had some kind of advice to give me about how to take care of my baby" says Ruchi. "I was told how to eat, how to dress, how to feed my son, and even when I could or couldn't step outside my house."
Too much advice can easily become confusing for the mother. Once again, the role of a supportive partner becomes crucial in managing these changes after the baby arrives. Couples can prepare themselves for what's ahead by taking a childcare class, where they can learn how to manage these changes from a medical expert.
Additionally, it's important for women to schedule some time for themselves. "To make sure you're well-rested, try and sleep when your baby is sleeping" says Dr. Kusum Lata Bhardwaj. "Focus on eating well and take out at least an hour a day for yourself. Go for a walk, do a little light yoga, or get a massage. It'll help you feel a lot better."
Read: Postnatal Care: 5 Simple Tips Every New Mom Needs to Know
The baby blues are a transitional phase after a pregnancy.
Most times the symptoms resolve on their own once the hormonal imbalance settles. New mothers may have to deal with the baby blues whether they've had a normal delivery or a caesarean section.
However, the baby blues are different from postnatal depression, where these symptoms extend for a much longer time. Generally, postnatal depression requires immediate attention. "Talk to your healthcare provider if you're constantly feeling sad, or crying, or feel like you just can't take care of your baby anymore" reminds Dr. Kusum Lata Bhardwaj. "You may need medical help if these symptoms persist for longer than three weeks."
Ruchi's baby blues passed when she had more rest and support from her partner. "I made sure I asked my husband to help whenever I began feeling overwhelmed" she said. "Eventually, I was able to sleep better and find more time for myself. And all of that helped me feel happier and pay more attention to my son."
This article has been written with inputs from Dr. Kusum Lata Bhardwaj, Consultant Obstetrician-Gynecologist at Sitaram Bhartia Institute of Science and Research in South Delhi.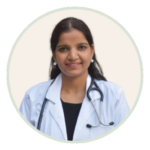 Medically Reviewed by Dr. Kusum Lata Bhardwaj
MBBS Panjab University, Chandigarh (2008); MD Panjab University, PGIMER, Chandigarh (2012); DNB National Board of Examinations (2013)
Experience: 10+ years
We can help you manage the blues! Consult our gynecologists. Schedule an appointment by calling +91 9871001458.
Liked this article? Follow us on Facebook, Twitter, Youtube and Instagram for more content!