"I thought I had a free pass to eating everything. I really didn't think I needed to watch my weight gain during pregnancy!" – Niti Singh, 29, first-time mother.
This is a usual exclamation when women discover they've gained too much weight during their pregnancy and need to be put on a strict diet. "It's so easy to give yourself permission to literally 'eat for two'" says Dr. Swati Sinha. "But the weight comes on really fast and you may end up putting yourself and your baby at risk. We'd much rather see you gain the right amount of weight slowly over time."
What is the right amount of weight gain for every woman? The answer depends on your pre-pregnancy weight.
"Before pregnancy, if your weight was in the normal range, then you shouldn't gain more than 9-11 kgs" says Dr. Swati. "Women who are obese or overweight shouldn't gain more than 6-8 kgs, and underweight women may need to gain between 15-19 kgs of weight."
When Niti was planning her pregnancy, her weight was normal and she was in good shape. "I already had a pretty strong exercise routine before I got pregnant and I thought I was eating really healthy food" she said. "But after my first trimester, the food cravings became intense and I kept indulging myself."
Niti's incident is a good reminder for women to keep a close watch on their caloric intake when they're pregnant. According to Dr. Swati, if women gain too much weight while they're pregnant, they place themselves at a higher risk for medical complications like diabetes and high blood pressure and a caesarean delivery. "Labour dysfunctions are more common with obese women who sometimes fail to progress in labour and require medical intervention."
On the other hand, underweight women who don't gain enough weight could be at an increased risk of delivering low birth-weight or preterm babies.
What you eat and how you exercise largely determine how much weight you gain during pregnancy. "Eat a healthy balanced diet that's rich in fiber" reminds Dr. Swati. "Small and frequent portions, lots of fluids, and plenty of fruits and vegetables. And don't forget to add in at least 30 minutes of moderate exercise every day."
Average Weight Gain During Pregnancy
In your first trimester, you will only gain around 1- 2 kg and in fact some women may even lose weight because of their morning sickness. So most of the weight gain will happen in the second half of your pregnancy. "On average, most women gain around ½ kg per week once their second trimester begins" says Dr. Swati. "But it's important to keep in mind that the mother's weight gain is not directly proportional to her baby's weight gain." In other words, the baby may be growing well even if the mother is putting on less weight.
The weight you gain during pregnancy comes from your baby and the surrounding fluid, the placenta, an increase in your blood volume, and of course from the fat you gain. After your baby's delivery, you will shed a few kilos but the rest of the weight loss will come from shedding your body fat.
"Weight must be managed sensibly" warns Dr. Swati. "Even if you're overweight, we don't want you to focus on weight loss when you're pregnant.
For healthy weight gain during pregnancy, women must remember not to eat for two. On average, pregnant women need to add just 300 extra calories from healthy grains and fats to their daily diets. "You need to eat food rich in the right nutrients" says Dr. Swati. "What you eat provides fuel for your baby's development, so it's important to make healthful choices."
This article has been written with editorial inputs from Dr. Swati Sinha, who has decades of experience as an Obstetrician-Gynecologist and has handled high-risk and low-risk pregnancies successfully. She is loved and appreciated by couples not only for her expertise but also for her optimistic and supportive nature.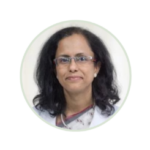 Dr. Swati Sinha, MBBS, Maulana Azad Medical College, New Delhi (1996); MD (Obstetrics & Gynaecology), Lady Hardinge Medical College, New Delhi (2001); MRCOG Part 1 (October 2010)
Seek expert advice from our expert gynaecologist. Come in for a complimentary consultation. Please call on +91 9871001458 to schedule a free consultation.