When Divya Singh went for an ultrasound in her 37th week, she was told that she should have an elective cesarean section because her baby had a double loop of cord around neck. She couldn't help wondering 'Is normal delivery possible with cord around the neck?'.


Divya had been preparing for a normal delivery since she discovered she was pregnant. She was exercising, eating healthy and attending antenatal classes.
Read: Cord around the Neck in Hindi (गर्दन पर लिपटी हुई नाल – क्या शिशु के स्वास्थ्य के लिए घातक है ?
Everything was going smoothly for her until now.  Still keen to try for a normal delivery, Divya and her husband came to Sitaram Bhartia Hospital in Delhi for a second opinion. Anxious, she put forth all her questions to Dr. Anita Sabherwal Anand, Senior Obstetrician-Gynecologist at Sitaram Bhartia Hospital in South Delhi.
What happens if the cord is around the baby's neck?
About 1 in 3 babies are born with a cord around neck without any adverse outcome.
Still, many expectant parents imagine that the cord around the neck is like a rope that will strangulate their baby during labour. This is not true.
Divya was relieved to hear that her baby was not in danger. She asked about what may cause a single or double loop of cord around the neck and any risks to know.
What causes umbilical cord around the neck?
The umbilical cord sometimes gets wrapped around the baby's neck as it moves in the womb. The cord itself is long,  soft and filled with a jelly-like substance that cushions the blood vessels carrying oxygen and nutrients to the baby. 
What are the risks of umbilical cord around neck?
In the unlikely event that these blood vessels get compressed and there is reduced oxygen flow to the baby, your gynecologist will pick it up as part of their routine monitoring during labour. They might advise changes in your position to help relieve the compression or an emergency cesarean section. But it's important to keep in mind that a cesearean section is needed in very few cases.
Also Read: C Section Delivery: 9 Indications Where It May Be Avoidable
Divya couldn't help wondering how to remove a single loop of cord around the neck. 
What do you do when the umbilical cord is around the baby's neck?
There is nothing that can be done to remove the cord around the baby's neck. 
"All you need to do is remain optimistic and believe that your baby is well," counseled Dr. Anita.

Is normal delivery possible with cord around the neck?
The Sitaram Bhartia Maternity team has delivered several babies with cord around the neck normally.  There have even been a few mothers whose babies had 4 loops of nuchal cord around the neck.
Divya relaxed when she heard that a cord around the neck does not harm the baby in most cases. She was even more glad to learn that a normal delivery with cord around the neck is possible.  
With all her worries put to rest by the gynecologist, Divya decided to continue consulting Dr. Anita for the rest of her pregnancy.
 In a few weeks, she went into labour and delivered a healthy baby girl. Her baby was born with the umbilical cord wrapped twice around her neck but did just fine.
Are you based in Delhi? Our hospital, Sitaram Bhartia, is located in South Delhi and has a team of experienced gynecologist who have handled many cases of cord around neck. If you are interested in seeking a second opinion, click the WhatsApp button below to book a paid consultation. 

Watch as new mother Divya excitedly shares her experience: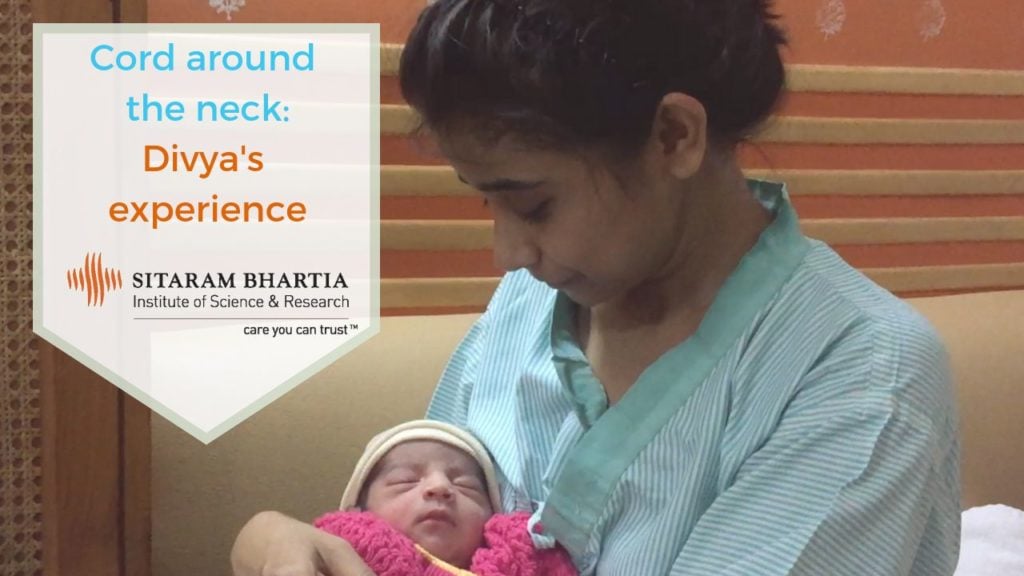 You may like to read:
Liked this article? Follow us on Facebook, Instagram and Youtube for more such content!
Come in for a consultation  Please Chat with us on WhatsApp to schedule an appointment.