When Geetika Mehta and her husband were preparing for pregnancy, the first thing the doctor advised was consumption of folic acid before pregnancy.
"We cannot stress how important it is to take folic acid before you conceive as well as during pregnancy," says Dr Anita Sabherwal, Consultant Obstetrician at Sitaram Bhartia.
Why is it important to take folic acid before pregnancy?
Folic acid, a synthetic form of folate (a vitamin B), helps prevent neural tube defects (serious abnormalities of the brain and spinal cord) that occur early in the pregnancy.
"I am so glad I came in for a preconception checkup and was informed of the need for folic acid before pregnancy, lifestyle changes and essential screenings" shares Geetika.
"It's different when you hear it directly from a doctor than when you read it online on a forum."
Geetika was keen on understanding how she could incorporate folic acid in her diet.
What foods are high in folic acid?
You should definitely include the following foods in your daily meals for a folic-rich diet –
Dark green, leafy vegetables like spinach are naturally rich in folate.  Just one plate of these green vegetables provides an immediate boost in folate in your body.
Beans, peas and lentils – Include a wide variety of lentils like

masoor

(red lentils),

arhar

(pigeon peas), and

urad

(black lentils) in your meals.




Chickpeas,

rajma

(kidney beans) and

lobia

(black-eyed peas) are other delicious additions to a folic-rich diet.

Beetroot – Beetroots act as great antioxidants as well as one of the best sources of

folic acid during pregnancy

. Eat one cup of beets (100 grams) for around 90-100 mcg of folate!

Okra/Bhindi – Great for digestion and to detox, bhindi is folic-rich and healthy. A 100 gms provide approximately 40-50 mcg of folic acid.
Citrus-rich fruits like oranges are the most folic-rich source. One orange contains about 30 mcg of folic acid.

You could eat pomegranate with your fruit salad and raita which are a good source of folates, iron and antioxidants.

Other fruits like papaya, grapefruit, banana and strawberries are good sources of folic acid as well.
Since Geetika was pre-diabetic, she was advised strict control of what she ate.

How much folic acid is needed during pregnancy?
The recommended dose for women is around 400 mcg of folate each day.
Folic acid supplements are routinely prescribed in pregnancy. So remember to consult a healthcare professional for the ideal folic acid requirement for you.
Geetika wanted to know whether there were other nutrients she should consume during pregnancy.
Is folic acid enough during pregnancy?
You should also consume nutrients such as calcium in pregnancy, iron (to prevent anaemia in pregnancy) vitamin C, vitamin D and omega 3 as these are essential for healthy fetal development.
Satisfied with the answers to her questions, Geetika felt prepared to begin her journey toward pregnancy.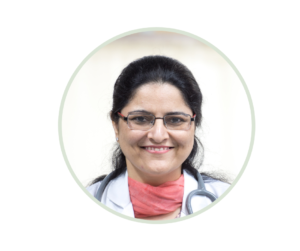 This article has been written with Dr. Anita Sabherwal Anand, Consultant, Obstetrician-Gynecologist at Sitaram Bhartia Hospital in South Delhi. Dr. Anita is a highly qualified gynecologist with 20+ years of experience who is trusted by low-risk and high-risk mothers alike for her guidance on having a healthy pregnancy and delivery.
Seek expert advice from our expert gynaecologist.. Come in for a complimentary consultation with Dr Anita Sabherwal. Please call on +91 9871001458 to schedule an in-person consultation with our expert gynaecologists at South Delhi.