When Prashant Kumar found out he was a dad to be, he was very excited about the journey toward parenthood. But he also knew that pregnancy and delivery called for participation from both parents to-be. He decided to support his wife Pooja in every way possible.
Eager to learn how to take care of his pregnant wife, he approached their obstetrician for advice.
1. Listen to her
"How can I comfort my wife if her mood keeps changing? " asked Prashant.
"It is common for women to experience mood swings during pregnancy because of hormonal changes. These changes also sometimes lead to change in taste and may make her feel lethargic."
"She may be uncomfortable with physical proximity. You should be sensitive to her preferences, listen to her, ask her what she is feeling and keep motivating her " advised Dr Priti Arora Dhamija.
2. Go along for antenatal check ups
"What else can I do to support her during pregnancy?" Prashant asked.
"Try to accompany your wife for prenatal check ups. That way, you will hear her voice her worries and also know how the pregnancy is progressing."  
"At the least, go with her for important appointments like those that include an ultrasound" Dr Priti said.
For more such caring ways, refer to our infographic below or read ahead.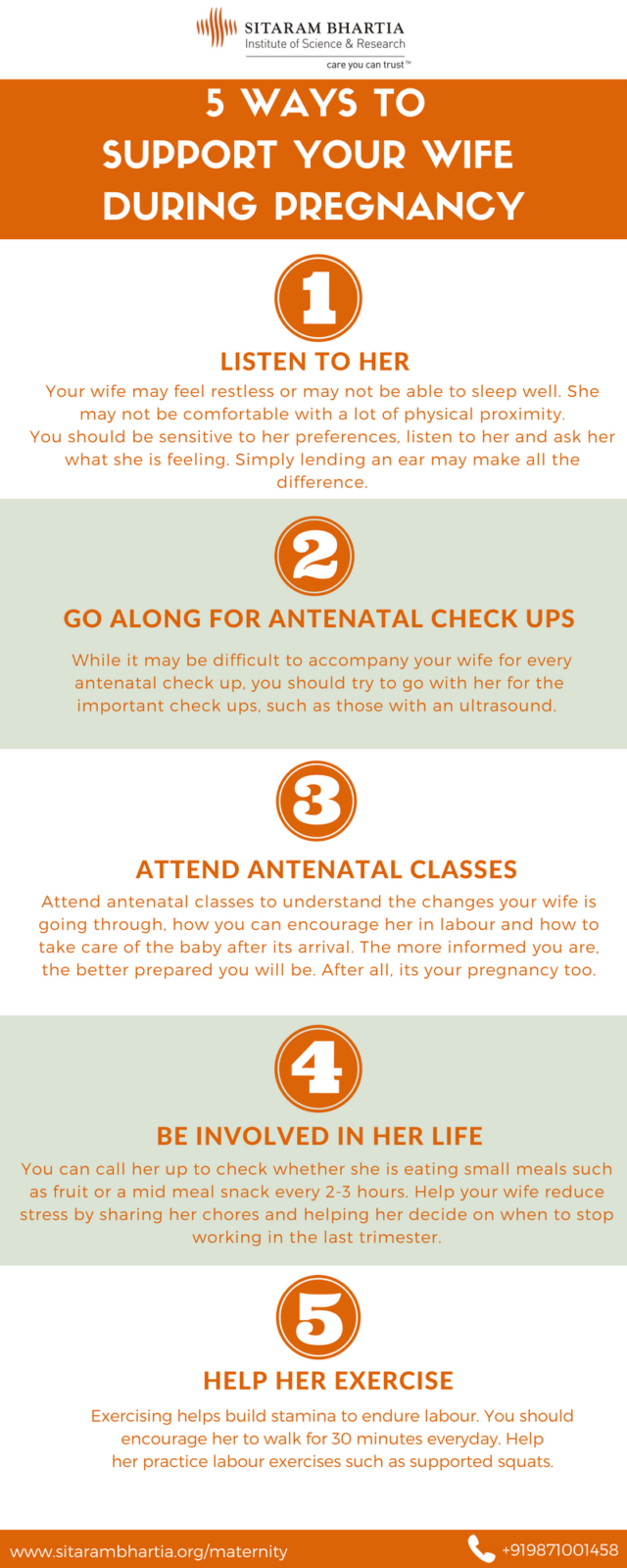 3. Attend Antenatal Classes together
"Make it a point to attend antenatal classes with your wife. These will also help you understand what she is going through and how to support her. "
"Is there any one class I must attend if I can't make it to all of them?" asked the concerned dad to be.
"Yes. The Labour and Delivery class is an important one. You'll both learn how to recognize the symptoms of labour pain and when to leave for the hospital."
"You'll also learn how to support your wife in labour by giving her a massage or helping her exercise" finished Dr Priti.
4. Be involved in her life
"We're both at work most of the day.  How can I take care of my pregnant wife while at work?" Prashant asked.
"Call or text her every 2-3 hours to check whether she has eaten fruit or another healthy snack between meals. Ask her to take a stroll in between work."
" Help her reduce stress by sharing her chores at home " Dr Priti suggested.
5. Help her exercise
"Is there anything I can do to help her prepare for labour?" asked the dad to be.
"Encourage her to take up some physical activity to help build stamina for labour. For example, she could walk for 30 minutes everyday. "
"You should also help her practice labour exercises such as supported squats."
Prashant went back feeling much more informed on how to take care of his pregnant wife. He was ready to support his wife and also be the ideal dad to be.
Did Prashant actually follow the doctor's advice? Watch the video below to find out!
This article has been written with inputs from Dr. Priti Arora Dhamija, who has over 16 years of experience as a fertility specialist and obstetrician-gynecologist. She has received training from the Indian Fertility Society in Assisted Reproductive Technologies and fertility enhancing laparoscopy.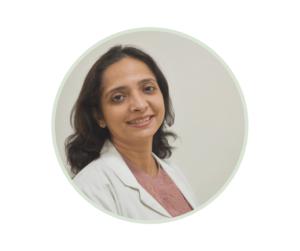 Dr. Priti Arora Dhamija, MBBS, Maulana Azad Medical College, Delhi (1999); M.D, Lady Hardinge Medical College (2004); DNB Obstetrics & Gynecology (2004); Diploma in Pelvic Endoscopy, Kiel, Germany (2014)
Do you have more questions in your mind? Ask our senior gynecologist. Book a free consultation by calling us on +91 9871001458. Consultation is available at our hospital in South Delhi.