"I was really worried when I had my ultrasound at 36 weeks. The doctor doing the ultrasound told me I had Oligohydramnios – low amniotic fluid level – and that my baby's health may be at risk" said Deepika as she began recounting the story of her delivery.
But when she met with Dr. Priti Arora Dhamija, she was told there was no reason to worry.
"Deepika did have moderately low amniotic fluid levels," Dr. Priti said, "but considering we discovered this so close to her due date and that her baby was doing well, we knew everything would be fine."
"The amniotic fluid begins to decline naturally towards the end of pregnancy."
At Sitaram Bhartia, we often get women who have been told by the ultrasonologist that they have Oligohydramnios and that they should have a repeat scan in a few days.  But as obstetricians, we have to interpret the clinical significance of the lower level of amniotic fluid.
"If the baby has been growing well, low amniotic fluid may have little relevance" explained Dr Priti.
How to Increase Amniotic Fluid
"I was a little surprised at how little I had to do to manage my condition," said Deepika.
"All I was asked to do was stay well hydrated by drinking 10-12 glasses of fluid a day and keep a watch on my baby's movements.
My doctor also emphasised that I should come in for my remaining appointments on time and not worry too much about how to increase amniotic fluid."
If you still have any concerns, speak to a senior gynecologist about it. Please call on +91 9871001458 to schedule a free consultation with a senior gynecologist at our hospital in South Delhi.
What is Amniotic Fluid and why is it so important?
Amniotic fluid is the water that cushions your baby in the womb and allows for its proper growth and development.
Oligohydramnios early in pregnancy is rare but it could be a significant concern as it can hamper your baby's lung development.
Most times, however, low levels of amniotic fluid are picked up when women are well into their third trimesters, just as it happened with Deepika. If your baby is growing well and the placental blood flow is normal, we will wait for you to go in spontaneous labour.
However if amniotic fluid goes below a critical level , then you may need to have your labour induced. Most women who are induced also have a normal delivery.
Deepika finally went into spontaneous labour at 40 weeks and delivered a 3.1 kg healthy baby normally. She was thrilled to have skin to skin contact and to be able to breastfeed the baby immediately.
We hope Deepika's story informed you that low amniotic fluid can be managed by following your doctor's advice and being regular with your check ups.
This article has been written with inputs from Dr. Priti Arora Dhamija, who has over 16 years of experience as a fertility specialist and obstetrician-gynecologist. She has received training from the Indian Fertility Society in Assisted Reproductive Technologies and fertility enhancing laparoscopy.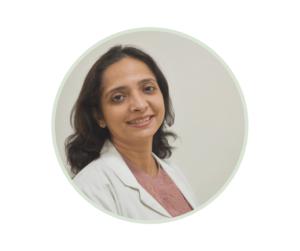 Dr. Priti Arora Dhamija, MBBS, Maulana Azad Medical College, Delhi (1999); M.D, Lady Hardinge Medical College (2004); DNB Obstetrics & Gynecology (2004); Diploma in Pelvic Endoscopy, Kiel, Germany (2014)
Do you have more questions in your mind? Ask our senior gynecologist. Book a consultation by calling us on +9871001458. Consultation is available at our hospital in South Delhi as well as online.
You may also like: