As maternity experts we often get asked how to reduce labour pain.  
"With proper preparation and labour support, 90% of women are able to cope very well in labour" says Dr. Panchampreet Kaur, Consultant Ob-Gyn at Sitaram Bhartia.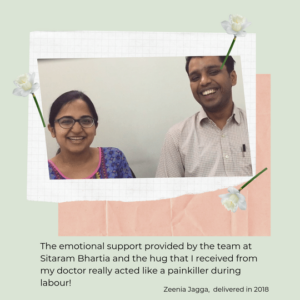 How to Reduce Labour Pain
Use these simple and effective tips to manage labour pain:
Prepare Early to Manage Labour Pain
Begin preparing in the antenatal period and ask your gynecologist which blogs or books you should read.  You should also prepare your body and build stamina by walking for 40-45 minutes a day or by taking up some light aerobic exercise.
Join Antenatal Classes to Help with Labour Pain
You should attend antenatal classes at your hospital and ask the antenatal educators all your questions and concerns.
Labour and Delivery antenatal classes are particularly useful – in teaching you breathing techniques and labour exercises that help the baby descend.
"Exercises such as bouncing on the birthing ball and all fours reduces labour pain and also shortens the duration of labour " says Dr. Pancham.
Tired of reading? Watch  this short video on how to reduce labour pain now!
3. Choose your Support System to Ease Labour Pain
The care and support you receive in the labour room determines your birthing experience. Choose a hospital that has well trained nurses who compassionately support you in labour.
Having a birthing partner in labour with you gives you confidence to endure labour.  " I would encourage you to select a birthing partner who can be your husband or mother, to motivate you in labour, help you exercise or give you a massage when needed " concludes Dr. Pancham.  
All women unable to bear labour pain should know that medications or epidural analgesia are an option and are very effective in taking away the pain of labour.
This article has been written with inputs from Dr. Panchampreet Kaur, who has over 12 years of experience as a Gynecologist.
Medically Reviewed by Dr. Panchampreet Kaur
MBBS, Govt. Medical College and Rajindra Hospital, Punjab (2005), DGO, Army Hospital Research & Referral, Delhi (2010), DNB, National Board of Examinations (NBE) (2012), MRCOG (Part One), Royal College of Obstetricians and Gynaecologists, London (2016), MNAMS: Member of National Academy of Medical Sciences (2018)
Experience: 12+ years
Do you have more questions on your mind? Ask our gynecologist. Book an appointment by calling us on +91 9871001458.
Liked this article? Follow us on Facebook, Twitter, Youtube and Instagram for more content!
You May Like to Read: