Advanced knee arthritis can cause severe knee pain and inability to walk and do daily activities. If you know you require knee surgery but have questions and concerns, read ahead.
Concern #1: Knee Replacement Surgery is Painful
It is natural to be afraid of knee replacement surgery and think of it as a very painful procedure.  "Modern methods of anesthesia and patient specific pain control can make your surgery absolutely smooth. Post operative pain can be controlled very well as per your needs" counsels Dr. Vikas J. Seth, Senior Orthopedic Surgeon at Sitaram Bhartia.
Concern #2: Knee Implants Don't Last Long
With improvements in implant quality, the implant could last up to 25-30 years provided you exercise regularly.
Concern #3: Recovery after Knee Replacement is Slow
You would be walking the same day or the very next day after the surgery with the help of a walker. With a proper physiotherapy and rehabilitation program, you can resume normal daily activities 4-6 weeks after surgery.
Concern #4: Bending the knees isn't possible
After the requisite physiotherapy program, you will be able to walk without pain. You would also be able to do daily activities, bend your knees and sit on the ground if needed.
Concern #5: Heart patients aren't advised surgery
"Even with a heart problem, you can safely be operated upon after a thorough check-up. The same goes for people with diabetes (including uncontrolled diabetes) and other chronic medical conditions like kidney failure" says Dr. Vikas.

Knee replacement is a minimal risk and relatively safe surgery. Minimally-invasive surgery procedures permit smaller incisions leading to minimal blood loss. It also facilitates faster recovery, shorter hospital stay and minimal pain.

It is important to clear your doubts before planning knee replacement surgery. You should understand the procedure and required physiotherapy program to undergo afterward.
Role of Physiotherapy after surgery
Physiotherapy sessions after surgery are a must! You will be made to  sit, stand and walk with the help of a walking aid. The first phase of physiotherapy includes breathing exercises, ankle and toe movements, quadriceps and hamstring exercises. Functional rehabilitation and a knee strengthening exercises programme appropriate for the patient's age should quickly follow.
"At Sitaram Bhartia Hospital, we also focus on making patients climb up and down the stairs during our physiotherapy sessions. This ensures fluidity in movements and also boosts the confidence of patients" adds Dr. Aman Sachdeva, Consultant, Physiotherapy.
Possibility of Treatment without Surgery
In the case of advanced knee arthritis, there are minimal chances of getting better without surgery. Painkillers provide partial relief and can be dangerous on a long term basis. The best way to treat your knee is through a knee replacement surgery, which is a simple procedure with low chances of  complications.
Quick action and guidance can help you avoid pain and suffering. Talk to a doctor, ask them questions and get the answers you need to ease your mind.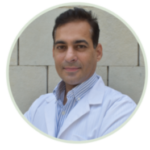 Medically Reviewed by Dr. Vikas J. Seth, Senior Consultant, Orthopedics
Experience: 20 years
Degrees: MBBS, NKP Salve Institute of Medical Sciences, Nagpur (1997), MS Ortho GSVM Medical College, Kanpur (2004), MRCS, Royal College of Surgeons, Edinburgh (2007)