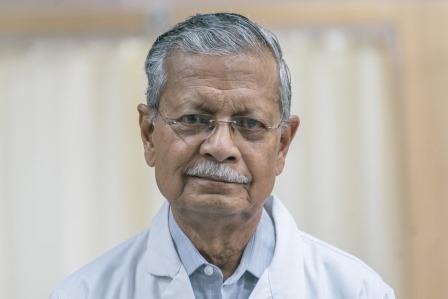 Dr. D.K. Mitra
Pediatric Surgery
Dr D.K. Mitra heads the Pediatric Surgery department at Sitaram Bhartia. With his wealth of expertise as a pediatric surgeon and his calm and confident demeanour, he instils supreme confidence in parents.
We take pride in Dr Mitra's accomplishments as a pediatric surgeon at Sitaram Bhartia Hospital which include surgeries such as hernia repair, chest tube insertions, complicated repairs on pre-term infants weighing 800 gms (26 – 27 weeks).
Degree: MBBS, Ranchi University (1966); MS (Surgery) AIIMS (1972); MCH, Pediatric Surgery, AIIMS (1975)
Experience: 45 Years
OPD Timings
Tuesday: 11:00 a.m. – 12:00 p.m.
Thursday: 11:00 a.m. – 12:00 p.m.
Saturday: 11:00 a.m. – 12:00 p.m.
Consultation Fees: ₹1000
For appointments please call us on 011 4211 1111.
24x7 Pediatric Support Available for Emergencies
Feel free to walk into our emergency anytime to get assisted by a qualified pediatrician round the clock. Call us at 011 – 42111197.
Recent Reviews
Patient reviews for Dr. D.K. Mitra
★★★★★

based on

10

reviews.

Overall rating:
Dr.dk mitra
★★★★★
"
Dr. Mitra is a jovel person. He is very caring towards his patient. He explain the procedure very well to the parents. Pre surgery and post surgery, advice very well. I am fully satisfied with his work and dedication towards his profession. I am very thankful that I met such a good doc . I will recommend my near and dear ones to him in future. Thank you very much.
"
Dr.dk mitra
★★★★★
"
Dr. Is very soft in his approach. Explains things properly and gives time
"
Dr.dk mitra
★★★★★
"
dr.dk mitra and his coordinator alpna has been very helpful and caring dr mitra is the best doctor we have expeienced for child pediatic and surgen
"
★★★★★
"
The services are very good.
"
★★★★★
"
Alpana, the coordinator she helped in coordinating. She is very good at her job. Dr D. K mitra is one of the best that this hospital has to offer.
"
★★★★★
"
Dr Mitra has been very courteous. There is no doubt regarding professional competency of Dr Mitra. He is highly experienced. Whole process and details were explained to us very well. Ms Alpana(coordinator) did her job very well, not even she was with us during all consultation but also during the surgery.
"
★★★★★
"
Dr. Mitra is an amazing doctor who treats your young one as the most important patient in the world, he patiently answers all your questions and makes you so comfortable about the surgery. Would forever be grateful to him.
"
Thankful
★★★★★
"
One of very few doctors I trust for advice for my son. A great doctor who thinks about his patient and family. Always reachable. Thanks.
"
★★★★★
"
Haven't come across a better Dr. You can trust your little ones in his safe and experienced hands. A wonderful human being who helped us cope with our infant's illness and surgery. Thank You Dr. Mitra
"
Best Pedestric Surgeon
★★★★★
"
Best in terms of vast experience and helpful.
"
How is pediatric surgery different from surgery in adults?
Surgery in children is different from surgery in adults because a child's body is still developing. This process of development influences decision making in many ways.
There are certain conditions that an adult surgeon may not be able to handle in a child. A pediatric surgeon with many years of experience may understand whether it is in the best interest of the child to intervene surgically right away or after attempting medical management of the condition.
What do pediatric surgeons do?
Pediatric surgeons understand the considerations that need to be kept in mind for a child. Our surgeons have expertise in performing complicated surgeries in children of all ages, especially pre-term infants.
They give attention to the complaints of the child and understand the impact on the child's physical, mental and emotional well being. Treating the child is far more important than treating abnormalities in the reports.
What type of surgeries do we offer?
Under the guidance of Dr DK Mitra, our Pediatric Surgery team has experience in a whole range of planned and unplanned surgeries such as:
Hernia (Inguinal, Umbilical etc)

Tongue Tie

Hydrocele

Circumcision

Appendicitis

Foreign body removal

Wound repair
Surgeries in neonates including Diaphragmatic hernia, Abdominal wall defects like gastroschisis, exomphalos, spinal defects eg meningo myelocoele, Tracheo esophageal fistula and many more.
For more information, visit the Pediatric Surgery webpage.
Informational Articles for Parents and Caregivers
Dr. D.K. Mitra would like all parents to be as informed as possible about their children's health. Check out these articles created with his editorial inputs.
Videos on Pediatric Surgery
We sat down with Dr. D.K. Mitra to get his thoughts on what factors pediatric surgeons and parents should keep in mind when considering surgery for children. He also speaks on the kind of facilities a hospital should be equipped with, and the necessity of teamwork among the specialists who care for your child.
Considerations in Pediatric Surgery