Piles during pregnancy is a common occurrence, especially in women who are in their third trimester. As per sources, 25% to 35% of pregnant women develop piles or hemorrhoids.
Mrs. Gayatri Patel, 29, was just about to enter her 30th week of pregnancy when she started experiencing soreness and swelling in her bottom area.
"At first I thought it would go away on its own. But then passing stool became very painful. That's when my husband suggested I seek medical guidance," Gayatri said as she walked in at Sitaram Bhartia for her appointment with one of the gynecologists at Sitaram Bhartia. 
The doctor listened to her symptoms carefully according to which she referred Gayatri to Dr. Nivedita Pandey who is a Gastroenterologist at Sitaram Bhartia.
Gayatri let out a sigh of relief when she got to know that there is a female Gastroenterologist present. She felt comfortable enough to share her distress with the doctor.
After hearing her symptoms, Dr. Nivedita decided to carry out a physical examination of the area around her rectum and anus.
The result was as the doctor expected.
"What you are going through, Gayatri, is a typical case of piles during pregnancy. When the blood vessels in and around the lower rectum and anus become swollen and inflamed, they are referred to as piles," Dr. Nivedita explained.
Gayatri was visibly shocked as she never expected it to be as serious as piles. To this, Dr. Nivedita tried to console her by saying, "There's no need to worry. It is a fairly common condition in pregnant women and is completely treatable."
Piles during pregnancy: What are its symptoms?
"Is soreness and pain while defecating the only symptoms of piles? Gayatri asked.
"No. there are a few other  symptoms that one may experience during piles." These are:
Painless bleeding from the bottom area. Women may also spot blood after passing stool.
Itching around the anus
Pain while passing stool and mucus discharge afterwards
A lump hanging out of the anus, especially after passing stool
Feeling of fullness in the rectum even after defecation
Piles during pregnancy: Is piles dangerous in pregnancy?
This is the question gayatri asked when she couldn't control her anxiety.
The gynecologist was there to clear this doubt, "No, piles is not threatening for you or your baby throughout the course of the pregnancy. Although it may be a little annoying and uncomfortable to deal with."
"But why are pregnant women prone to developing piles?"Gayatri asked.
Causes of piles during pregnancy
"During pregnancy, the amount of blood circulating in your body greatly increases. Also, your body is producing high levels of hormone progesterone which makes the veins and vessels sluggish and relaxed. Due to this, the vessels swell up," Dr. Nivedita explained.
"The veins below the uterus are more likely to swell and stretch, due to the pressure of the growing baby. This further puts pressure on the vessels surrounding the rectum and anus, causing them to swell as well."
Another reason behind developing piles during pregnancy is constipation.
Constipation is very common in pregnancy. As the baby grows, it puts pressure on the rectum and slows down the bowel movement leading to constipation.
"Constipation causes you to strain in order to pass stool. This continuous straining also results in piles at times," said Dr. Nivedita.
After hearing this, Gayatri realised how she might have developed piles. She always had trouble passing stool on a regular basis and this problem naturally aggravated when she became pregnant.
"Does piles go away on their own? Gayatri asked the doctor next.
How to get rid of piles in pregnancy?
Dr. Nivedita prescribed Gayatri an ointment and a cream to relieve the aching sensation and soreness in her bottom area. She also wrote down a fibre supplement that is safe to take in pregnancy and will help Gayatri in passing stool on a regular basis.
"I would suggest some remedies that you can adopt at home to get relief from piles during pregnancy.One thing which is most important is to make sure your stool is soft and regular."
Follow these remedies to treat piles during pregnancy –
Use a cold compress which is basically a cloth dipped in cold water to ease the soreness in your anus and rectum area.
Avoid sitting or standing for too long. Sitting puts pressure on the swollen vessels.
Try to make it a habit to sleep on your left side. This will ease pressure on your abdomen and give you relief.
You can also use a hemorrhoid pillow known as a ring cushion to sit when you can't lie down or stand.
Avoid straining while passing stool. It may make your piles worse.
Wipe your anus with a moist toilet paper instead of a dry one after defecation. Remember to always pat the area rather than rubbing it. It may aggravate the swelling.
Use a safe to use stool softener if necessary to pass stool regularly.
There are also some steps you can take to treat as well as prevent piles during pregnancy.
These are –
Eat fiber-rich food. Include lots of fruits, vegetables, wholemeal bread, brown rice and cereals in your diet.
Drink lots of water on a regular basis.
Include regular exercise in your routine. You can go for short, brisk walks during pregnancy.
Do pelvic floor exercises to strengthen your pelvic muscles. This will also help in having a normal delivery.
Go to the toilet immediately whenever you feel the urge. Don't wait for too long. Waiting will make the stool hard and difficult to pass.
Gayatri listened to all of it carefully and then asked, "Will piles go away after my delivery?"
Piles after pregnancy
"In most cases, piles tend to go away or shrink after giving birth. But it will be better if you try to avoid constipation after the delivery to make sure it goes away," Dr. Nivedita said.
"Your body sheds all the fluid it has been hoarding during pregnancy and also uses fluid to produce breast milk. Hence, I advise my patients to eat more and more fiber, drink lots of water and stay active which will help them in avoiding constipation and getting rid of piles."
Gayatri went home with a clear mindset to exercise regularly and include fiber-rich food in her diet. The ointment and cream prescribed to her also helped her in getting relief from the soreness in her bottom area.
She went into labour 8 weeks later and gave birth to a beautiful baby girl.
Thankfully, by following the advice of her doctor, her piles got better after delivery.
This article was originally published in March 2019 and has been medically reviewed by Dr. Namrita Gurpal Singh Sandhu, Consultant Obstetrician-Gynecologist at Sitaram Bhartia Hospital in South Delhi who has over 12 years of experience.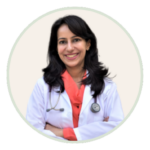 Medically Reviewed by Dr. Namrita Gurpal Singh Sandhu
MBBS, Government Medical College & Hospital, Chandigarh, India (2005) DNB, National Board of Examinations (2012), ­­­­MRCOG (Part One), Royal College of Obstetricians and Gynaecologists (2015), Diploma in Gynecological Laproscopy, Hysteroscopy and Urogynecology, Kiehls school, Germany (2019)
Experience: 10+ years
Liked this article? Follow us on Facebook, Twitter, Youtube and Instagram for more content!