An ovarian cystectomy is the removal of an ovarian cyst through minimally invasive surgery. Ovarian cysts are usually harmless and disappear after a few months. In a few cases, ovarian cysts may linger on. They may cause persistent pain, irregularities in the menstrual cycle or grow bigger in size. 
What size of ovarian cyst requires surgery?
Ovarian cysts that are larger than 5 cms or those that cause pain and discomfort require surgery. 
An ovarian cyst may also require surgery if your gynecologist suspects it to be malignant.
According to the American Cancer Society, however, "it is rare to find ovarian cancer in women younger than 40 years. The incidence of ovarian cancer increases after menopause."
How do they remove a cyst from your ovaries?
In most cases, a laparoscopic ovarian cystectomy is performed in which a small incision is made in the abdomen. A laparoscope inserted through this incision allows the gynecologist/surgeon to view the cyst. 
During the surgery, only the cyst is removed and the ovary is preserved (unless malignancy is suspected/confirmed). The decision also depends upon the age of the patient. 
"A laparotomy or surgery involving a bigger abdominal incision is performed either when the patient is medically unfit for a laparoscopic cystectomy or if the procedure itself is not suitable for the patient's condition, "says Dr. Priti Arora Dhamija, Senior Obstetrician-Gynecologist & Fertility Expert at Sitaram Bhartia Hospital in South Delhi.
Is ovarian cyst removal major surgery?
An ovarian cystectomy involves the use of general anesthesia and depending on the type of the procedure (laparoscopy or laparotomy) may require a hospital stay of upto 4 days.  
There are few risks or side effects of ovarian cyst removal such as infection, adhesions, bowel/bladder injuries and recurrence of the cyst.
"But these should not stop you from getting surgery if your situation warrants it, " counsels Dr. Priti.
You should get ready for a cystectomy just like any other surgery. 
Preparing for ovarian cyst removal surgery
Routine tests and pre-anesthetic check-up
You will be advised routine tests and investigations to assess your eligibility for surgery.
You will have to undergo a pre-anesthetic consultation in which the anaesthetist will take a detailed history and discuss the anaesthesia that is planned for your procedure. 
You may be asked to discontinue certain medications (such as blood thinners) as they increase the risk of bleeding during surgery.
On the Day of Ovarian Cystectomy 
You need to fast for 6-8 hours before surgery. Make sure you remove any jewellery, nailpolish and cut your finger and toenails before your visit. 
Take the medicines that have been advised by your surgeon and the anaesthetist. 
Bathe well before coming to the hospital.
Duration of surgery
The procedure takes about an hour to complete after which you will be closely monitored in the recovery/post-op area for the next 2-3 hours. After that you will be  moved into your room.
What happens after the removal of the ovarian cyst?
Immediately after surgery, you may have a sore throat because of the anesthesia. 
"There is minimal pain because of the small incisions made during laparoscopic surgery."
"You will most likely be started on a liquid/soft diet on the day of the surgery."
You will be sent home the next morning on oral medications and a normal diet. 
The recovery is slower in case of open surgery wherein the incision is bigger and the surgery is extensive.
You may have a small scar as a result of the ovarian cyst removal but this will heal in a few weeks.
How long does it take to recover from ovarian cyst removal?
With a laparoscopic ovarian cystectomy, you should be able to resume your routine in a day as the recovery time is much shorter than for a laparotomy. 
"You should refrain from exercising or putting pressure on your abdomen at least for a week after surgery."
Ovarian Cystectomy Patient Success Stories 
Under 40 years

Above 40 years
Under 40 years
Sonam Mehrotra, 27, visited a gynecologist when an ovarian cyst was detected on an ultrasound. She was advised to return three months later for a follow up or sooner in case symptoms appeared.
"When I realized that the abdominal pain I was experiencing may not be caused by my periods alone, I contacted my doctor," recalls Sonam.
"After a thorough check-up, she advised an ovarian cystectomy to remove the cyst and prevent complications in the future."
"Since I wanted to get married and have children, I was naturally worried about the impact it may have on my fertility."
Does ovarian cystectomy affect fertility?
Most of the time, the ovary is left in place and only the cyst is removed. This does not impact fertility.
"I felt reassured when my doctor explained that I will be able to have children in the future provided the surgery is done at the right time."
"After clearing all my doubts, I scheduled the surgery. And now here I am!  Not only was my surgery successful but I was also able to resume work within two days, with minimal disruption to my routine."
Above 40 years
Parvati Pasricha, 64, learned about the presence of an ovarian cyst through a preventive health check-up. In a consultation with her gynecologist, she mentioned instances of abdominal discomfort that she had previously ignored. 
"I was surprised to find out that my pain was due to the cyst," shared Parvati.
"I was very afraid when I heard that half of all ovarian cancers are found in women older than 63 years. That's when I realized that I shouldn't have dismissed my discomfort."
"The doctor explained the situation in great detail and I understood that an ovarian cystectomy was the only way out."
"I got the surgery done within the same week without any trouble."
"Much to my relief, the biopsy confirmed that the growth was benign. "
"I feel like a heavy load has been lifted off me. I am glad I got the surgery done without hesitation."
This blog post has been written with editorial inputs from Dr. Priti Arora Dhamija, who has over 17 years of experience as a practicing obstetrician-gynecologist.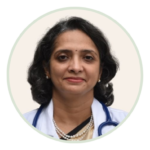 Medically Reviewed by Dr. Priti Arora Dhamija
MBBS, Maulana Azad Medical College, Delhi (1999); M.D, Lady Hardinge Medical College (2004); DNB Obstetrics & Gynecology (2004); Diploma in Pelvic Endoscopy, Kiel, Germany (2014)
Come in for a consultation, please call on +919871001458 to schedule an appointment.
You may like to read:
Liked this article? Follow us on Facebook, Twitter, YouTube and Instagram for more content!