Antenatal classes help you and your birthing partner prepare mentally and physically to have a positive birth experience.
What are antenatal classes?
Antenatal or prenatal classes are held for expecting women and their partners to help them understand the process of birth and how to prepare for labour and delivery. 
"At Sitaram Bhartia hospital in South Delhi, our antenatal classes are taught by gynecologists, physiotherapists and pregnancy counselors," says Dr. Anita Sabherwal Anand, Senior Consultant Obstetrician-Gynecologist at Sitaram Bhartia. 
What are the types of antenatal classes available?
"We offer the Labour and Delivery class in two modules that must be attended by expecting women in the third trimester, " says Dr. Anita.
"You don't need to be registered at Sitaram Bhartia Hospital to attend these classes."
These antenatal sessions are usually limited to 20 couples so that there is enough room for everyone to practice exercises taught in the class.
"If you think you need individual attention, you could sign up for our Lamaze classes that allow only 5-8 couples per class."
Most couples also opt for our 'Preparing for the New Arrival' class to learn how to take care of their newborn and how often to breastfeed. This class is taken by our pediatricians and lactation counselors.

What is taught in antenatal classes?
The topics covered in these classes depend on the type of class. Some classes are held in the first trimester and cover changes in your baby and you.
Antenatal classes at Sitaram Bhartia for labour and delivery teach you
How to recognize signs of labour

Stages of labour

How to prepare for labour

Positions during labour

Labour exercises to ease pain and help the baby descend

Breathing exercises

What you can expect in the labour room

Benefits of Skin to skin contact
Glimpses of our antenatal classes in progress: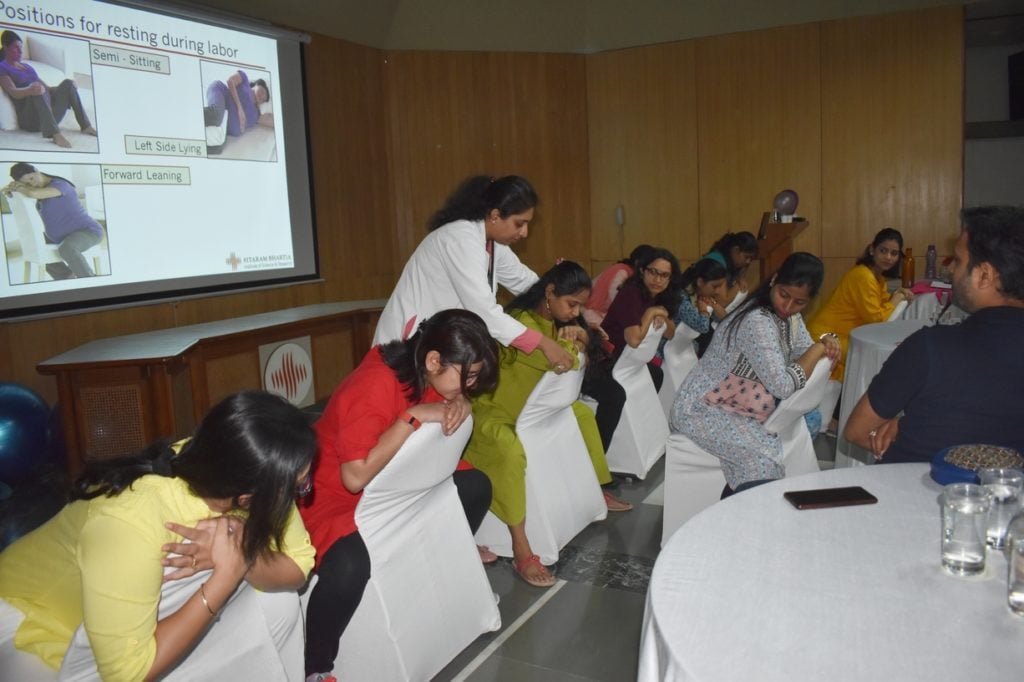 Couples practising breathing techniques in the classes
Should you go to antenatal classes?
Yes! You will learn what to expect in labour and how to manage pain. When you know what to expect, your anxiety levels are lower and you are better prepared for labour. By enrolling in classes conducted by doctors, you receive authentic information straight from the experts.
"I would recommend every expecting couple to attend these classes. You will find a lot of information on the internet but will not know what to follow. In contrast, these classes inform you of what is right, how to recognize the onset of labour and how to comfort your wife," says Sumit Khanna, second time father on antenatal classes at Sitaram Bhartia. 
You also get a chance to meet and interact with other parents-to-be who are expecting their children around the same time. Speaking to one another, and learning from their questions and experiences can be very helpful as you progress through pregnancy.
When should you start prenatal classes?
It depends on the class you are attending and the course of the class. If you're attending a class to prepare for labour and birth, you should enroll toward the end of your second trimester or third trimester. This would be around the 6th month or week 22 to week 36.
How much do antenatal classes cost?
The Labour and Delivery classes (module 1 & 2) and the Preparing for the New Arrival class are offered at a combined price of Rs 3000. A couple must attend all these classes to prepare properly for delivery and looking after your newborn. 
Where can you find antenatal classes?
If you live in Delhi and are in the third trimester, you can sign up for our online/in-person antenatal classes by calling us on +919871001458. 
"Instead of choosing antenatal classes near me in Gurgaon, I decided to attend the prenatal classes at Sitaram Bhartia in South Delhi. People are often surprised when they hear this,  but I know that for natural birthing, this is the place to be!" concludes Nidhi, Sumit's wife.
Watch Nidhi and Sumit share tips in their video below.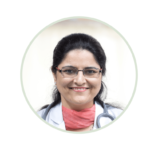 This article was originally published on July 5, 2017 and has been updated. This article has been written with inputs from Dr. Anita Sabherwal Anand, who has over 24 years of experience as a Gynecologist.