When Shireen, a 14 weeks pregnant mother, met Dr. Anita Sabherwal Anand, Senior Obstetrician-Gynecologist in the OPD, she was more cheerful than usual. "Doctor, I have finally got rid of my constant sickness and nausea" she said.
Read: Vomiting during Pregnancy: 5 Effective Remedies for Morning Sickness
The second trimester (13 weeks to 28 weeks) is the golden period of pregnancy as physical discomforts disappear – allowing mothers to travel and carry on with their usual activities.
Although Shireen was feeling energetic and relaxed she wanted to know about the changes she should expect in the second trimester.
1. Feeling your baby's movement
Shireen excitedly asked 'When will I start feeling the baby move?'
"Sometime between the 18th and 22nd week, you should begin feeling a fluttering sensation in your abdomen – also referred to as 'quickening'.
By the 24th to 28th week, your baby may be able to move in response to sounds such as your voice."
2. Return of appetite
"Is it okay for me to be eating more now?" Shireen wanted to know.
The doctor informed her that the absence of morning sickness in this trimester may cause her appetite to increase.
"But It is important to not overeat and put on too much weight. Remember most women need only about 200-300 extra calories per day in the second trimester."
"And you should get these extra calories from healthy food choices – whole grains, daals, milk and milk products" advised the doctor.
Read: What You Need to Know about Pregnancy Diet Chart
3. Increase in skin pigmentation
"My skin is undergoing some pigmentation. Is it normal?" asked Shireen a bit anxious.
"Hormonal changes during pregnancy may cause an increase in pigmentation. This can result in brown patches on your face or a dark line down your abdomen. These skin changes gradually disappear after delivery." counsels the doctor.
Happy that she had answers to her questions, Shireen felt prepared for the second trimester.
She went home reassured and looked forward to the time when she would actually begin to feel her baby move.
Do you have more questions in your mind? Come in for an antenatal check up. Book your appointment by calling us on +91 9871001458.
This article has been written with editorial inputs by Dr. Anita Sabherwal Anand, practicising obgyn with 24+ years of experience.
Medically Reviewed by Dr. Anita Sabherwal Anand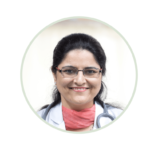 MBBS, MD (Obstetrics & Gynaecology), DNB Secondary (Obstetrics & Gynaecology), National Board of Medical Education, New Delhi (1999)
Liked this article? Follow us on Facebook, Twitter, Youtube and Instagram for more content!
More Resources: