Some of the most common questions raised to our doctors are around fruits to avoid during pregnancy.
"We don't advocate strict regulations or restrictions on everything," said Dr. Namrita Gurpal Singh Sandhu, Consultant Obstetrician at Sitaram Bhartia. "Pregnancy is a normal life stage, so we should treat it as such."
Worried about their baby's health, first-time mothers Bhavna Ahuja, 27, and Aparna Goyel, 31 insisted on some more information.
What fruits should be avoided during pregnancy?
"More often than not, people are unable to correctly regulate and control portions of fruits. That is why you are advised to remove certain fruits from your diet.
Papaya


There are some reports that say papaya is one of the

fruits to avoid during pregnancy

as it can trigger contractions and may result in a miscarriage.

"An enzyme called papain, abundant in unripe or semi-ripe papayas, is speculated to trigger abortions."Consumption of ripe papayas in small portions only is advised as they contain low levels of papain and are rich in antioxidants and vitamins.
Pineapple
Pineapples are a good source of vitamins and minerals but they should be avoided, especially in the early stages of pregnancy."Pineapples contain an enzyme called bromelain that may cause early labour pain or miscarriage if consumed in a higher quantity."Since they are medium Glycemic Index fruits, women with gestational diabetes mellitus (GDM) are advised to lessen the consumption of Pineapples as well.
"High to medium GI fruits increase your blood glucose levels quickly and can be harmful to mothers with GDM."
Fruits to Eat During Pregnancy for Women with Gestational Diabetes
Bhavna who was diagnosed with GDM was advised some more fruits to avoid during pregnancy:
Mangoes

Bananas

Sapota (chikoo)

Grapes

Custard Apple
"Note that if you do consume these, the quantities should be regulated as per your dietician's advice and you should regularly test your blood glucose levels," says Dr. Siliviya Irene, Consultant Endocrinologist at Sitaram Bhartia Hospital.
Consult your dietician for further details on the right pregnancy foods suited for you.
What are the best fruits to eat while pregnant?
Aparna and Bhavna both were encouraged to eat 3-4 fruits in a day of as much variety as can be included.
"Fruits provide minerals and nutrients to the body along with enzymes that help in the absorption of other nutrients like proteins," emphasized Dr. Namrita Gurpal Singh Sandhu.
Here is a suitable list of fruits to eat during pregnancy for expecting women with and without diabetes –
Apples

Oranges

Guava

Pear

Peach

Plum

Sweet Lime (Mosambi)

Berries like Indian blueberries, gooseberry, strawberry
"Avoid fruit juices or fruit salads. Limit intake of these fruits to around 100-150 gms per serving during your mid-meals."
You may avoid combining fruits with your meals as the additional carbs can cause your blood glucose levels to shoot up.
Confident with the new information about fruits to avoid during pregnancy, Bhavna and Aparna felt ready to undertake the upcoming months for their babies.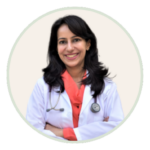 Medically Reviewed by Dr. Namrita Gurpal Singh Sandhu
MBBS, Government Medical College & Hospital, Chandigarh, India (2005) DNB, National Board of Examinations (2012), ­­­­MRCOG (Part One), Royal College of Obstetricians and Gynaecologists (2015), Diploma in Gynecological Laproscopy, Hysteroscopy and Urogynecology, Kiehls school, Germany (2019)
Experience: 10+ years
Book your free consultation with us today at our hospital in South Delhi. Please call on +91 9871001458