Would you hop on to an 8-hour flight if it meant you could try for a normal delivery? Priyanka Singh, who was diagnosed with Gestational Diabetes Mellitus (GDM), did exactly that.
Priyanka and her husband, Arun, work at the Indian Embassy in Cairo and when she entered her seventh month, they made the decision to fly back to Delhi for her delivery.
"I found out that the caesarean rate in Cairo was really high. Someone told me that it might be as high as 80% and I wasn't willing to risk having my delivery there. So, here I am," she smiled.
When Priyanka came to Sitaram Bhartia for an initial check-up, she had a surprise waiting for her.
"As soon as I had my tests done, I was diagnosed with Gestational Diabetes and all this time in Cairo, no one had checked my blood sugar. Can you imagine? I don't even know how long my condition went undetected."
Gestational Diabetes Mellitus (GDM) is a frequently occurring condition especially in Indian women who are genetically predisposed towards it.
Dr. Swati Sinha tells us that often pregnancy leads to higher blood sugar and the body responds by releasing more insulin. Sometimes during a pregnancy the body is unable to produce sufficient insulin which leads to the development of gestational diabetes.
"Gestational diabetes usually occurs in the second half of a pregnancy and several factors can be responsible for this. Usually, if a woman has previously delivered a large baby, is overweight or has a family history of diabetes, her chances of developing GDM are higher," Dr. Sinha told us.
A woman who develops gestational diabetes requires special care and close monitoring. Even so, this doesn't mean she should have a caesarean delivery.
"Once my diabetes was diagnosed, I was immediately put on a special diet. And I had to closely monitor my blood sugar levels –two to three times every day," said Priyanka. "I was also asked to exercise, but my sugar was still not under control. I finally had to go on insulin."
Priyanka also had to come in for additional ultrasounds to monitor the growth of her baby. "Mothers with GDM sometimes have bigger babies but that doesn't mean they can't try for a normal delivery; but we do recommend induction of labour at 38 – 40 weeks," said Dr. Sinha.
Eventually, Priyanka's labour was induced at 39 weeks and she delivered a 4 kg baby vaginally.
Gestational Diabetes – What comes after delivery?
With most women, GDM resolves itself after birth. But moms need to be careful for the future.
"It's very possible that Priyanka could develop GDM again if she has another baby. She'll need to keep up with her lifestyle changes to avoid being in the same situation," Dr. Sinha warns.
After the delivery, Priyanka and Arun are getting ready to head back to Cairo with their newborn. "You know, returning to work is also a reason for having a normal delivery. We live far away from friends and family. I needed a quick recovery so I could join back faster. I'm so glad I didn't have a caesarean just because of my GDM!"
This article has been written with editorial inputs from Dr. Swati Sinha, who has decades of experience as an Obstetrician-Gynecologist and has handled high-risk and low-risk pregnancies successfully. She is loved and appreciated by couples not only for her expertise but also for her optimistic and supportive nature.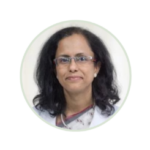 Dr. Swati Sinha, MBBS, Maulana Azad Medical College, New Delhi (1996); MD (Obstetrics & Gynaecology), Lady Hardinge Medical College, New Delhi (2001); MRCOG Part 1 (October 2010)
Ask our senior gynecologist about GDM. Please call on +91 9871001458 to schedule a free consultation.