Labour is induced when it is safer for the mother or the baby to deliver by a certain time rather than wait for labour to start naturally.
What is the induction of labour?
Labour is a natural process that usually starts on its own when a baby is ready to be delivered. Sometimes, labour pain is started artificially, and this is called induced labour or the induction of labour.
Why or when does labour need to be induced?
Labour needs to be induced when the continuation of the pregnancy may compromise the health of the baby or mother.

According to Dr. Anita Sabherwal, Consultant Gynecologist at Sitaram Bhartia Hospital in Delhi, a common indication for induction of labour is pregnancy going past the Expected Due Date (EDD).
"Another common indication is when your water bag breaks but labour does not begin."
Other indications are:
Low amniotic fluid or oligohydramnios

Pregnancy Induced Hypertension (PIH)

Intrauterine Growth Restriction (IUGR)
How is labour induced?

A tablet or gel containing prostaglandin is placed high up in the vagina. The prostaglandin softens the cervix (opening of the uterus) and may induce mild contractions.
Your membranes may also be ruptured.
You may also be put on an oxytocin drip which will stimulate uterine contractions.
We will monitor your progress and your baby's heartbeat.
How long does it take to have a baby after being induced?
It can take 4-12 hours for induced labour pains to get established.
If you are a first-time mother, it can take a further 8-10 hours to deliver your baby.
Are there any risks involved with having labour induced?

As with any medical intervention, induction of labour also has risks.
With induced labour, you could have contractions that are too strong and frequent. This can impact your baby's heart rate and require a cesarean section for fetal distress.
Sometimes contractions remain too weak and you may need a cesarean for "failed induction."
Can I choose to have an induction on a particular date and without a medical reason?
An induction, like all medical procedures during pregnancy, should only be carried out when clearly indicated.
If you're induced before your body is ready for labour, you may be at a higher risk for a failed induction and cesarean section.
Delivering a baby before 39 weeks without medical indication can unnecessarily increase the risk of admission to the nursery.
Induction of Labour – Anu Bhutani's Story
Anu Bhutani's blood pressure during pregnancy remained high through most of her pregnancy. She was advised medication and a special diet to keep her BP under control. Despite all these measures, her BP remained high.  
"Anu's labour had to be induced at 38 weeks because her BP stayed around 150/100," says Dr Anita.
Anu recounts her experience "At first I was scared because I really did not know what to expect."
"But then my doctors explained the whole procedure."
"I was also reassured that it was the safe thing to do given my BP condition."
Anu's labour was induced with an intra-vaginal gel followed by an oxytocin drip. She delivered a healthy baby with no complications.
This article has been written with Dr. Anita Sabherwal Anand, Consultant, Obstetrician-Gynecologist at Sitaram Bhartia Hospital in South Delhi. Dr. Anita is a highly qualified gynecologist with 20+ years of experience who is trusted by low-risk and high-risk mothers alike for her guidance on having a healthy pregnancy and delivery.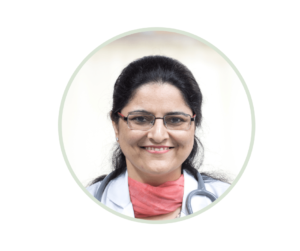 MBBS, Lady Hardinge Medical College, University of Delhi (1992); MD (Obstetrics & Gynaecology), Lady Hardinge Medical College, University of Delhi (1997); DNB Secondary (Obstetrics & Gynaecology), National Board of Medical Education, New Delhi (1999)
Seek expert advice from our expert gynaecologists in-person at our hospital in South. Please call on +91 9871001458 to schedule a consultation.