Shweta Gandhi, 33, a first-time mother had crossed her due date. She was growing anxious with each passing day. When she posted her questions on social media, she got a spectrum of answers that only added to her fears.
As she neared 41 weeks she decided to consult her obstetrician.
"Post dated pregnancy is when the pregnancy crosses 40 gestational weeks without any signs of labour or delivery" explains Dr. Kusum Lata Bhardwaj, Consultant Obstetrician-Gynecologist at Sitaram Bhartia Hospital.
"Women usually expect to deliver around the estimated due date (EDD) which is calculated by their care providers. So it's natural to start worrying when you go beyond the date."
Approximately 1 in 5 mothers will go into labour after 40 weeks.
What are the causes of prolonged pregnancy?

Shweta wanted to know the causes of post dated pregnancy.
"The most common cause of prolonged pregnancy is miscalculation of the estimated date of delivery" explains the doctor.

"Sometimes women don't remember exactly when they had their last period"
"In those situations, we use the early ultrasound reports to calculate a rough estimate for the due date. "
"We cannot give an exact date on which you will deliver."

Certain factors such as a history of post dated pregnancy, a first-time pregnancy or maternal obesity may predispose you toward post dated pregnancy.

In few cases, placental problems could result in an overdue pregnancy as well.

What are the risks associated with post dated pregnancy?
If the pregnancy stretches past 41 gestational weeks, there may be risks of certain complications for the mother and the baby.

Your infant could be overweight. There could be less amniotic fluid and reduced placental blood flow leading to deprivation of oxygen.
The baby may pass meconium (stools) which may rarely cause lung inflammation and infection.
Shweta was reassured when she learned that timely intervention by a doctor could help reduce these risks.
She was even more at ease when she found out her baby was healthy and showed no signs of distress.
What should be done in case of post dated pregnancy?

If you've passed your due date, your doctor would monitor the baby more closely. This monitoring is usually done after 40 weeks.  

"Your doctor may also suggest a biophysical profile to check on the baby's health" states the doctor.

"If you don't show signs of labour or deliver even after 41 weeks, your doctor would advise induction of labour to reduce the chances of complications."
Shweta's Delivery
"We decided to induce labour because Shweta experienced no signs of labour at 41 weeks to protect her and the baby from risks."

She was induced with a vaginally inserted gel. Her labour progressed well and she gave birth to a 3.5kg healthy baby vaginally.

"I was so worried about crossing my due date. I finally calmed down when my doctor explained everything to me"

"I cannot express how relieved I am that it turned out well and I can finally hold my baby in my arms!" smiles Shweta.  

This blog post has been written with editorial inputs from Dr. Kusum Lata Bhardwaj, who is a practicing Obgyn at Sitaram Bhartia Hospital in South Delhi.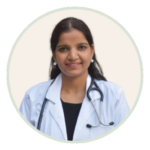 Medically Reviewed by Dr. Kusum Lata Bhardwaj
MBBS Panjab University, Chandigarh (2008); MD Panjab University, PGIMER, Chandigarh (2012); DNB National Board of Examinations (2013)
Experience: 10+ years
Come in for a consultation! Call us on +91 9871001458 to schedule an appointment.