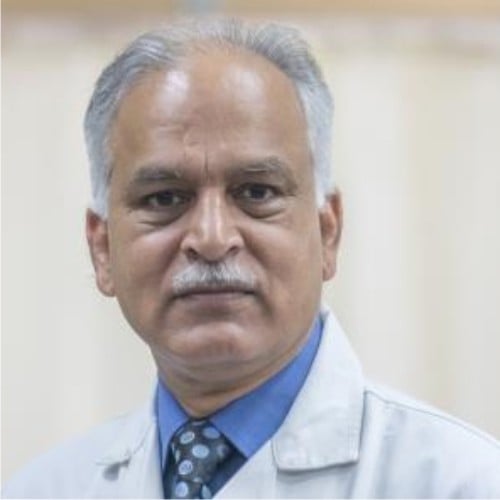 Dr. J Maheshwari
Senior Consultant, Orthopedics
Dr. J. Maheshwari has over 40 years of experience in Orthopaedics. He was associated with AIIMS, New Delhi as Professor of Orthopedics. He has also been with Max Hospital, Saket as Head of Orthopaedics Department.
Dr. Maheshwari and team has performed over 20000 operations over the years. This includes over 6000 total and partial knee replacements, and over 200 shoulder replacements. He is a pioneer in arthroscopic knee and shoulder surgery. He gets referrals from all over India for re-doing failed knee and shoulder operations. He is an often invited speaker for national and international conferences. His academic oriented practice keeps him up-to-date with cutting-edge technologies. He has performed live surgery demonstrating modern surgical techniques in well-attended orthopaedic conferences across the length and breadth of the country.
He is the author of the text book of Orthopaedics – Essential Orthopaedics, which is maintaining number one position as an orthopaedic book for over 25 years.
He has invented and published a number of new operations in knee & shoulder surgery.
Degree: MS Ortho and MBBS both from the Iconic AIIMS, New Delhi
Experience: 40+ years
Specializations include:
Full spectrum knee and shoulder surgery:
Knee Preservation Surgery: partial knee replacement, knee alignment correction surgery (HTO), complex knee fractures and Re-do knee fracture surgery, post-operative stiff knee surgery, arthroscopic (key-hole) knee ligament and meniscus surgery
Reconstructive Shoulder Surgery: arthroscopic (key-hole) surgery, Complex primary and re-do trauma surgery of the shoulder
Shoulder Replacement Surgery: total shoulder replacement and reverse shoulder replacement
OPD Timings
Monday to Saturday: 03:00 Pm – 6:00 Pm
Consultation Fees
Rs. 2000
Dr. J Maheshwari Overall rating: ☆☆☆☆☆ 0 based on 0 reviews.
Anonymous