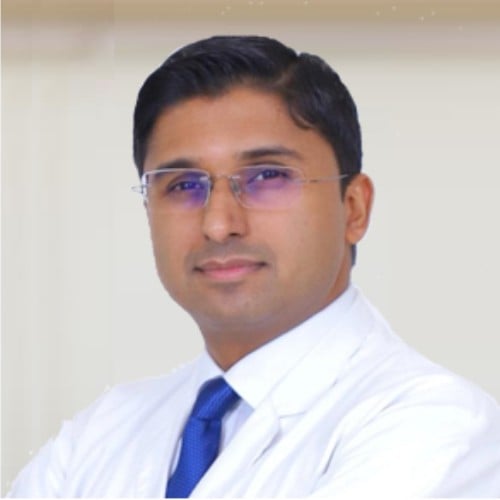 Dr. Vikram Arun Mhaskar
Consultant, Orthopedics
Dr. Vikram Mhaskar is an exclusive knee and shoulder surgeon having trained extensively in India and abroad.
A passionate sportsman himself, he specialises in advanced surgeries of the knee and shoulder especially advanced ligament reconstructions, meniscus repairs, meniscus transplants and advanced shoulder surgeries using cutting-edge technology with a high return to sport rate in his patients.
He has over 25 publications in international peer reviewed journals and had 5 original surgical techniques to his credit with 3 being named after him.
He is the co-author of 'Essential Orthopaedics', India's leading textbook of orthopaedics.
He also specialises in knee preservation surgeries like osteotomies and unicondylar knee replacements as well as total knee replacements .
He is a sought after faculty in international and national conferences on knee and shoulder surgeries. He has been a Consultant, Knee and Shoulder Surgeon at Max Super Speciality Hospital, Saket for over 5 yrs.
Degree: MBBS, St. John's National Academy of Health Sciences, Bengaluru; Education Commission for Foreign Medical Graduates, (ECFMG certified) USA; MS (Orthopedics) St. John's National Academy of Health Sciences, Bengaluru; MCh (Orthopedics), University of Dundee, United Kingdom; AOA & ISAKOS Fellowship in Knee Surgery (Australia, France)
Experience: 13 years
Specializations include:
The whole spectrum of knee and shoulder surgeries
Advanced ligament reconstructions of the knee like
Primary ACL repair, biological ACL reconstructions , PCL reconstructions, multiple ligament injuries meniscus repairs and meniscus transplant surgeries.
Knee preservation surgeries like high tibial osteotomies and unicondylar knee replacements and deformity correction surgeries
Knee replacement surgeries
Advanced arthroscopic shoulder surgeries like bankart and rotator cuff surgeries
OPD Timings:
Monday to Saturday: 12:00 pm – 2:00 pm
Consultation Fees: ₹1200
Dr. Vikram Arun Mhaskar Overall rating: ★★★★★ 5 based on 1 reviews.
Anonymous
Great Doctor, great experience.
★★★★★
"
I had an acl reconstruction in the past and my knee kept troubling me for 2 years after that, cause I suffered from a meniscus tear later on, but my previous doctor could not recognise the cause of it. But I liked Dr Vikram's theory about it, and as I have seen many doctors in the past, I can confidently say that he is very knowledgeable. He outshines all others. The surgery was smooth. The whole experience was smooth. And he was ready to reconstruct my acl that would have costed me 3 lakhs but he is an honest person and when he found out that the meniscus was the only problem. Our bill was almost halved. He also recorded the whole operation which he has promised to give me on the next visit. I feel that such professionalism and knowledge must be there with every doctor out there.
"