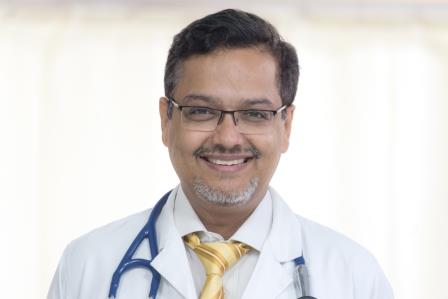 Dr. Jitender Nagpal
Pediatrics
Degree: MBBS, Maulana Azad Medical College, University of Delhi (1997); MD (Paediatrics), Maulana Azad Medical College, University of Delhi (2001)
Experience: 20 years
Key Skills:
Comprehensive Child Care
Vaccination
New Born Care
Pediatric Intensive Care Unit (PICU)
Neonatal Intensive Care Unit (NICU)
OPD Timings
The Pediatrics unit is available from
Monday: 09:00 a.m. – 01:00 pm
Wednesday: 09:00 a.m. – 01:00 pm
Friday: 09:00 a.m. – 01:00 pm
Saturday: 02:00 pm – 07:00 pm
Consultation Fees: ₹1300
Please call 011 4211 1111 to schedule your appointment.
24x7 Pediatric Support Available for Emergencies
Feel free to walk into our emergency anytime to get assisted by a qualified pediatrician round the clock.
"Implementing a triage tool to improve appropriateness of care for children coming to the emergency department in a small hospital in India"

"Efficacy of maternal B12 supplementation in vegetarian women for improving infant neurodevelopment: protocol for the MATCOBIND multicentre, double-blind, randomised controlled trial"

"Effect of Vitamin D Supplementation on Blood Pressure: A Systematic Review and Meta-analysis Incorporating Individual Patient Data." JAMA internal medicine5 (2015): 745-754.
"Widespread non‐adherence to evidence‐based maternity care guidelines: a population‐based cluster randomised household survey." BJOG: An International Journal of Obstetrics &Gynaecology (2014).
"Efficacy of fermented milk and whey proteins in Helicobacter pylori eradication: A review." World journal of gastroenterology: WJG3 (2014): 724.
"A Review of Literature to Understand the Complexity of Equity, Ethics and Management for Achieving Public Health Goals in India." Journal of clinical and diagnostic research: JCDR2 (2014): 1.
"Cross‐cultural adaptation and translation of a quality of life tool for new mothers: a methodological and experiential account from six countries." Journal of advanced nursing4 (2013): 970-980.
Awarded Satya Gupta Award of the IAP (Indian Association of Pediatrics) for paper presentation in 2002.
Awarded Pyare Lal Sharma Bishan Devi Gold Medal for "Best Thesis in Clinical Subjects" in 2001.
Recent Reviews
Patient reviews for Dr. Jitender Nagpal
★★★★★

based on

15

reviews.

Overall rating:
Feedback
★★★★★
"
Dr Nagpal is an amazing person and an extremely knowledgeable doctor. He provides perfect consultatio and never let's parents enter into any stress. We are delighted.
"
★★★★☆
"
A thoughtful clinician. He is patient and calm in dealing with my nephew. Would recommend him highly.
"
Dr jitender nagpal
★★★★★
"
Super happy with my son's doctor Jitender nagpal. He is very poliet and good in handling babies and very knowledgeable.
"
Dr nagpal
★★★★★
"
Good pediatrician.. Always good review n advice. Helpful nature
"
Dr. Nagpal
★★★★★
"
Dr. Nagpal is the best doctor when it comes to children. We have been visiting him since the day our child was 3 months old and till date we can't think of anyone else other than him. Nowadays one thing which is getting extinct amongst doctors is the time which they allot to each patient. Dr. Nagpal is an exception. His diagnose has been perfect and true all the times and that too without any tests. Believes in giving less medicines and that only those are required. I believe world will be much better place if we have doctors like him who has value of human life and treat everyone with empathy. God bless him. For us he is God's angel. Thanks for always being there for yuvaan.
"
Dr jitender nagpal
★★★★★
"
We always having a good experience from dr nagpal side he the best for our baby thanks to Dr nagpal .
"
★★★★★
"
Dr. Nagpal is one of the best pediatrician. He prescribes less medicines and his diagnosis has always helped my kids.
"
★★★★★
"
We have been visiting Dr Nagpal for the last 16 years. He is our first choice for everything...right from simple health issues to more serious problems. He is a wonderful doctor who is patient, competent and aware of the latest developments. He relates well to children.
"
Dr Nagal
★★★★★
"
Excellent expirence with sir
"
Best Doctor For My Ward!
★★★★★
"
Dr. Nagpal is an excellent person and a wonderful human being. For the last 14 years me and my daughter are referring to him. He can solve any kind of ailment with his magical healing power. A lot of times we come with a lot of distress but leave the hospital with a big smile. Dr. Nagpal is the best pediatric doctor we have ever associated with. He has an excellent team and it is the best we have ever met. It is
"
Very sensitive doctor
★★★★★
"
Dr jitendra Nagpal is one of the best pediatrician I have met for my baby girl. He is so sensitive in taking care of my kid and believe in prescribing less medicines as well as he has very sharp observation. Many a times, we visited him in panic and came out with big relief. The nursing staff as well as the cordinating team is also very helpful..
"
Great #Doctor#Helping nature
★★★★★
"
New born daughter admitted @SRB @NICU.Great guidence & help @ newly papents. Thanks a lot sir!!!!!!!
"
Amicable response
★★★★★
"
Dr. Nagpal ji had attended my son Harsh for cure of acute appendicitis. He was very cordial and good in handling him. He could diagnose the problem at the very initial stage. We followed his advices and my son is alright. Thanks to him for all his appropriate actions.
"
Best Doctor for you little angels
★★★★★
"
Dr. Nagpal is consultant for my little boy Abhigyan and must say his hands are best hands for your little angels. His understanding the problem by only touching baby is remarkable. Your trust will increase each and every vist. Sir we trust you more than any one else. Thanks, Anurag
"
Excellent Pediatrician
★★★★★
"
Had diagnosed my nephew last year and we have best exp. with dr. nagpal. he advised rightly and did not mislead us. He listen properly. Patient friendly approach.
"
Tips for Parenting and Child Care
Dengue symptoms in babies in Hindi | 0-1 years